Firmware V7.020 KTAG ECU Programming Tool Master version is released now,and newer hardware KTAG newly add ECU Type: Toyota 76FXXX, PSA 17.4.4, Ford E83, VW 17.5.5 (1766), Mercedes-Benz 276ECU,Toyota 76F, and so on, at least 100 more ECU Types added.Here we will display some tips about how to use Fimrware KTAG V7.020 Ecu Programmer.
1.How to reset the tokens of Firmware V7.020 KTAG?
When the tokens use up, insert the USB into the computer and the red indicator flashes, then press the Reset button, wait until the indicator flashes off, unplug the USB cable and again insert the USB cable to the computer, now you have 30 tokens.
Tip (Very important):
During operation, disable the internet connection; otherwise the software may get damaged.
2.How to Update Ktag to Firmware V7.020 KTAG?
If you have bought KTM100 KTAG V7.003, you want to update to KTAG V7.020, You need to send back complete whole package for KTM100 to us, the update fees is 140USD, Not including the shpping cost.
3.When I open the Ktag master V7.020 diagram, it displays in words not pictures.
Answer: In the diagrams, there are some words in different colors, click it you will see the Chip Tuning Tools. (Take the following picture for example, click the blue "Here" you can see the connection instructions)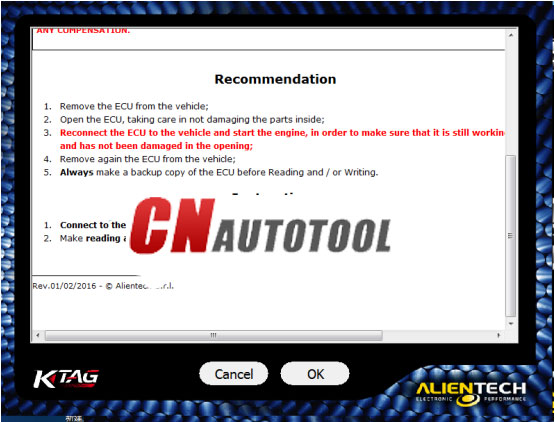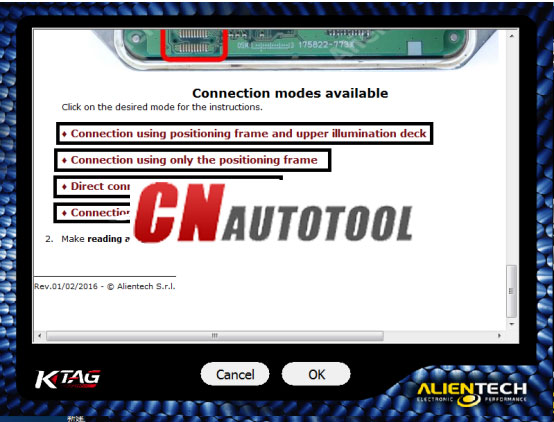 4.V7.020 KTAG ECU Programming Tool  FROM CnAutotool Support Type
TYPE BRAND ECU ECU_TYPE K-TAG
Car FORD BOSCH EDC 16C34-2.20 1060
Car FIAT BOSCH EDC 16C39 1070
Car SEAT BOSCH EDC16 1002
Car SKODA BOSCH EDC16 1002
Car VOLKSWAGEN BOSCH EDC16 1002
Car Mercedes BOSCH EDC16 C2 1004
Car BMW BOSCH EDC16 C31 1003
Car Mercedes BOSCH EDC16 C31 1004
Truck Mitsubishi Fuso BOSCH EDC16 C31 1043
Car BMW BOSCH EDC16 C31 1065
Car Volvo BOSCH EDC16 C31 1068
Car Mercedes BOSCH EDC16 C31 1071
Car Mitsubishi BOSCH EDC16 C31 1077
Car BMW BOSCH EDC16 C35 1003
Car BMW BOSCH EDC16 C35 1065
Car Kia BOSCH EDC16 C39 1061
Car MAHINDRA BOSCH EDC16 C8 1021
Car JEEP BOSCH EDC16 C-C2 1014
Car Mercedes BOSCH EDC16 CP31 1071
Car BMW BOSCH EDC16 CP35 1065
Car Mercedes BOSCH EDC16 CP36 1071
Car HYUNDAI BOSCH EDC16+ 1061
Car LANCIA BOSCH EDC16+ 1070
Car FORD BOSCH EDC16+ C34 1060
Car MAZDA BOSCH EDC16+ C34 1060
Car PEUGEOT BOSCH EDC16+ C34 1060
Car FORD BOSCH EDC16+ C34/5.95 1060
Car CITROEN BOSCH EDC16+ C34/C39 1060
Car PEUGEOT BOSCH EDC16+ C34/C39 1060
Car MINI BOSCH EDC16+ C35 1065
Car BUICK BOSCH EDC16+ C39 1074
Car CHEVROLET BOSCH EDC16+ C39 1074
Car GM DAEWOO BOSCH EDC16+ C39 1074
Car HOLDEN BOSCH EDC16+ C39 1074
Car OPEL GM BOSCH EDC16+ C39 1074
Car SAAB BOSCH EDC16+ C39 1074
Car SATURN BOSCH EDC16+ C39 1074
Car SUBARU BOSCH EDC16+ C39 1074
Car VAUXHALL BOSCH EDC16+ C39 1074
Car GWM BOSCH EDC16+ C39 1084
Truck IVECO TRUCKS BOSCH EDC16+ C39 1140
Car SUZUKI BOSCH EDC16+ C39 1212
Car CHRYSLER BOSCH EDC16+ CP31 1077
Car JEEP BOSCH EDC16+ CP31 1077
Car DODGE BOSCH EDC16+ CP31 1080
Car SMART BOSCH EDC16+ CP32 1077
Car VOLKSWAGEN BOSCH EDC16+ CP34 1067
Car LAND ROVER BOSCH EDC16+ CP39-6.40 1120
Car SEAT BOSCH EDC16+ U31/U34 1067
Car SKODA BOSCH EDC16+ U31/U34 1067
Car VOLKSWAGEN BOSCH EDC16+ U31/U34 1067
Tractor LINDE AG BOSCH EDC16+ U31/U34 1067
Car SMART BOSCH EDC16+C31 1077
Car NISSAN BOSCH EDC16+C36 1029
Car OPEL GM BOSCH EDC16+C36 1029
Car RENAULT BOSCH EDC16+C36 1029
Car CITROEN BOSCH EDC16C0/C3 1005
Car PEUGEOT BOSCH EDC16C0/C3 1005
Car NISSAN BOSCH EDC16C0/C3 1006
Car OPEL GM BOSCH EDC16C0/C3 1006
Car RENAULT BOSCH EDC16C0/C3 1006
Car SUZUKI BOSCH EDC16C0/C3 1016
Car HONDA BOSCH EDC16C1-7 1012
Car FORD BOSCH EDC16C3 1011
Car MAZDA BOSCH EDC16C3 1011
Car FORD BOSCH EDC16C34 1060
Car FIAT BOSCH EDC16C39 1060
Car Alfa Romeo BOSCH EDC16C39 1070
Car FIAT BOSCH EDC16C39 1070
Car LANCIA BOSCH EDC16C39 1070
Car FORD BOSCH EDC16C7-7 1011
Car MAZDA BOSCH EDC16C7-7 1011
Car Alfa Romeo BOSCH EDC16C8 1001
Car FIAT BOSCH EDC16C8 1001
Car LANCIA BOSCH EDC16C8 1001
Truck IVECO TRUCKS BOSCH EDC16C8 1130
Car FIAT BOSCH EDC16C9 1001
Car HOLDEN BOSCH EDC16C9 1007
Car OPEL GM BOSCH EDC16C9 1007
Car SAAB BOSCH EDC16C9 1007
Car SATURN BOSCH EDC16C9 1007
Car SUBARU BOSCH EDC16C9 1007
Car VAUXHALL BOSCH EDC16C9 1007
Car CHEVROLET BOSCH EDC16C9 1017
Car Audi BOSCH EDC16CP34 1067
Car Audi BOSCH EDC16CP34 V8 M&S 1067
Car Audi BOSCH EDC16U 1002
Car Audi BOSCH EDC16U31 1067
Car SKODA BOSCH EDC16U31 1067
Car Audi BOSCH EDC16U34 1067
Truck FORD TRUCKS BOSCH EDC7 1031
Truck VOLVO TRUCKS BOSCH EDC7 C1 1059
Truck MAN TRUCKS BOSCH EDC7/C 1135
Truck MAN TRUCKS BOSCH EDC7+/C32 1139
Truck AGRALE TRUCKS BOSCH EDC7C1 1383
Truck FORD TRUCKS BOSCH EDC7C1/C2 1031
Truck VOLKSWAGEN TRUCKS BOSCH EDC7C1/C2 1058
Tractor CASE TRACTORS BOSCH EDC7C1/C2 1129
Tractor NEW HOLLAND BOSCH EDC7C1/C2 1129
Truck IVECO TRUCKS BOSCH EDC7C1/C2 1129
Tractor LEXEA BOSCH EDC7C1/C2 1134
Truck AGRALE TRUCKS BOSCH EDC7C1/C2 1134
Truck ASTRA TRUCKS BOSCH EDC7U31 1137
Truck IVECO TRUCKS BOSCH EDC7U31 1137
Tractor AGCO TRACTORS BOSCH EDC7UC31 1089
Tractor CASE TRACTORS BOSCH EDC7UC31 1089
Tractor FENDT TRACTORS BOSCH EDC7UC31 1089
Tractor MASSEY FERGUSON BOSCH EDC7UC31 1089
Tractor VALTRA TRACTORS BOSCH EDC7UC31 1089
Tractor FENDT TRACTORS BOSCH EDC7UC31 1160
Tractor NEW HOLLAND BOSCH EDC7UC31/EDC16U40 1143
Tractor DEUTZ BOSCH EDC7UC31/EDC16U40 1144
Tractor FENDT TRACTORS BOSCH EDC7UC31/EDC16U40 1160
Tractor LAMBORGHINI TRACTORS BOSCH EDC7UC31/EDC16U40 1160
Car FORD BOSCH ME9 1076
Car Volvo BOSCH ME9.0 1073
Car BMW BOSCH ME9.2 1019
Car VOLKSWAGEN BOSCH ME9.5 FSI 1064
Car OPEL GM BOSCH ME9.6 1225
Car OPEL GM BOSCH ME9.6.1 1225
Car Mercedes BOSCH ME9.7 1102
Car FERRARI BOSCH MED 9.6.11 1335
Car Audi BOSCH MED9.1.1 1064
Car Audi BOSCH MED9.1.5 1064
Car Audi BOSCH MED9.5.10 1064
Car BMW BOSCH MEV946 1019
Car BMW BOSCH MEV946 1103
Car SSANGYONG DELPHI DCM 1022
Car Kia DELPHI DCM3.2 1112
Car SSANGYONG DELPHI DCM3.2 1112
Truck DAF TRUCKS DELPHI DMCI 1142
Car FORD DELPHI MPC 555 1020
Car JAGUAR DELPHI MPC 555 1020
Car OPEL GM MARELLI MAREL0100 Z13DTJ 1107
Car CHEVROLET MARELLI MARELLI+ 6O203D 1107
Car HOLDEN MARELLI MARELLI+ 6O203D 1107
Car OPEL GM MARELLI MARELLI+ 6O203D 1107
Car SATURN MARELLI MARELLI+ 6O203D 1107
Car SUZUKI MARELLI MARELLI+ 6O203D 1107
Car VAUXHALL MARELLI MARELLI+ 6O203D 1107
Car Alfa Romeo MARELLI MJD6F3 1085
Car FIAT MARELLI MJD6F3 MPC563 1085
Car LANCIA MARELLI MJD6F3 MPC563 1085
Car FIAT MARELLI MJT 1300 1008
Car LANCIA MARELLI MJT 1300 1008
Car SUZUKI MARELLI MJT 1300 1009
Car CHEVROLET MARELLI MJT 1300 1010
Car HOLDEN MARELLI MJT 1300 1010
Car OPEL GM MARELLI MJT 1300 1010
Car VAUXHALL MARELLI MJT 1300 1010
Truck VOLKSWAGEN TRUCKS MOTOROLA CM850 1093
Tractor CASE TRACTORS MOTOROLA CM850 1124
Tractor MC CORMICK MOTOROLA CM850 1124
Tractor NEW HOLLAND MOTOROLA CM850 1124
Truck DAF TRUCKS MOTOROLA CM850 1125
Tractor HYUNDAI TRACTORS MOTOROLA CM850 1169
Tractor John Deere MOTOROLA CM850 1190
Tractor JCB TRACTORS MOTOROLA CM850 1191
Tractor John Deere PHOENIX L3-4-6-9-11-12-14-15-16 1123
Tractor CLAAS TRACTORS PHOENIX 1123
Tractor CMI PHOENIX 1123
Car BMW SIEMENS MS45 1018
Car BMW SIEMENS MSS70 1110
Car BMW SIEMENS MSV70 1110
Car Audi SIEMENS PPD1.2 1075
Car VOLKSWAGEN SIEMENS PPD1.5 1075
Car SEAT SIEMENS PPD1.XX 1075
Car SKODA SIEMENS PPD1.XX 1075
Car VOLKSWAGEN SIEMENS PPD1.XX 1075
Car LAND ROVER SIEMENS SID 201-203-204 1098
Car Volvo SIEMENS SID 206 1082
Car JAGUAR SIEMENS SID 20X 1105
Car NISSAN SIEMENS SID 301 1081
Car RENAULT SIEMENS SID 301 1081
Car Volvo SIEMENS SID 803 1032
Car Volvo SIEMENS SID 803A 1078
Car PEUGEOT SIEMENS SID201 1104
Car FORD SIEMENS SID206 1082
Car MAZDA SIEMENS SID206 1082
Car CITROEN SIEMENS SID803 1032
Car PEUGEOT SIEMENS SID803 1032
Car CITROEN SIEMENS SID803A 1078
Car FORD SIEMENS SID803A 1078
Car PEUGEOT SIEMENS SID803A 1078
Car FIAT SIEMENS SID803A 1083
Car LANCIA SIEMENS SID803A 1083
Car Kia SIEMENS SIM2K 1194
Car Audi SIEMENS SIMOS 6.2/6.3 1174
Truck RENAULT TRUCKS TRW TRW EMS2 1138
Truck VOLVO TRUCKS TRW TRW EMS2 1138
Truck RENAULT TRUCKS TRW TRW EMS2 DXI12 1138
J-TAG NEXUS MPC5xx
TYPE BRAND ECU ECU_TYPE K-TAG
Car CITROEN DELPHI DCM3.5 244
Car FORD DELPHI DCM3.5 244
Car Mercedes DELPHI DCM3.5 248
Car JEEP DELPHI DCM3.5 – CRD2 248
Car FIAT MARELLI 7GF 247
Car SUZUKI MARELLI 8DS 364
Car Abarth MARELLI 8GMF 243
Car Alfa Romeo MARELLI 8GMF 243
Car FIAT MARELLI 8GMF 243
Car FIAT MARELLI 8GSF 243
Car LANCIA MARELLI 8GSF 243
Car Alfa Romeo MARELLI MJ8DF 303
Car CITROEN MARELLI MJ8DF 303
Car FIAT MARELLI MJ8DF 303
Car LANCIA MARELLI MJ8DF 303
Car PEUGEOT MARELLI MJ8DF 303
Car Fiat MARELLI MJ8F3 382
Truck VOLVO TRUCKS TRW TRW EMS2 246
J-TAG RENESAS SH705x
TYPE BRAND ECU ECU_TYPE K-TAG
Car CITROEN DELPHI DCM3.4 257
Car PEUGEOT DELPHI DCM3.4 257
Car DACIA DELPHI DCM3.4 258
Car NISSAN DELPHI DCM3.4 258
Car RENAULT DELPHI DCM3.4 258
Car PEUGEOT DELPHI DCM3.4 362
Car SUZUKI DENSO 057L1 370
Car SUZUKI DENSO 062J0 262
Car OPEL GM DENSO 1.7 253
Car SUZUKI DENSO 79J2 316
Car SUBARU DENSO CJ 281
Car NISSAN DENSO D3 264
Car RENAULT DENSO D3 264
Car Subaru DENSO DM 375
Car SUBARU DENSO DT 276
Car NISSAN DENSO E1x 315
Car NISSAN DENSO H1 294
Car SUBARU DENSO KS 275
Car JAGUAR DENSO MB079700 346
Car Mazda Denso N3J1 395
Car MAZDA DENSO R2AX 263
Car Mitsubishi DENSO RA6 265
Car Mitsubishi DENSO RA6 319
Car Mitsubishi DENSO RA6 324
Car MAZDA DENSO RF7K 278
Car MAZDA DENSO RF7X 278
Car MAZDA DENSO RF8G 277
Car MAZDA DENSO RF8K 277
Car Mitsubishi DENSO RHF4 265
Car MAZDA DENSO ZJ77 344
Car OPEL GM DENSO 253
Car MAZDA DENSO 262
Car NISSAN DENSO 264
Car OPEL GM DENSO 295
Car NISSAN DENSO 314
Car NISSAN DENSO 315
Car SUZUKI DENSO 316
Car MAZDA DENSO 321
Car OPEL GM DENSO 322
Truck HINO DENSO 347
Car NISSAN HITACHI 296
Car NISSAN HITACHI 298
Car NISSAN HITACHI 299
Car RENAULT SAGEM SAGEM 3000 210
Car RENAULT SAGEM SAGEM 3000 250
Car RENAULT SAGEM SAGEM 3000 280
Car RENAULT SAGEM SAGEM S3000 280
Car RENAULT SIEMENS SIM32 252
Car DACIA VALEO V40 251
Car RENAULT VALEO V42 280
Car HOLDEN
Car OPEL GM
Car SATURN
Car SUZUKI
Car VAUXHALL
Car Alfa Romeo
Car FIAT
Car LANCIA
Car CHEVROLET
Car FIAT
Car HOLDEN
Car LANCIA
Car OPEL GM
Car SUZUKI
Car VAUXHALL
Tractor CASE TRACTORS
Tractor HYUNDAI TRACTORS
Tractor JCB TRACTORS
Tractor John Deere
Tractor MC CORMICK
Tractor NEW HOLLAND
Truck DAF TRUCKS
Truck VOLKSWAGEN TRUCKS
Tractor John Deere
Tractor CLAAS TRACTORS
Tractor CMI
Car BMW
Car BMW
Car BMW
Car Audi
Car VOLKSWAGEN
Car SEAT
Car SKODA
Car VOLKSWAGEN
Car LAND ROVER
Car Volvo
Car JAGUAR
Car NISSAN
Car RENAULT
Car Volvo
Car Volvo
Car PEUGEOT
Car FORD
Car MAZDA
Car CITROEN
Car PEUGEOT
Car CITROEN
Car FIAT
Car FORD
Car LANCIA
Car PEUGEOT
Car Kia
Car Audi
Truck RENAULT TRUCKS
Truck VOLVO TRUCKS
Truck RENAULT TRUCKS
BOOTLOADER MITSUBISHI MH72xx/MH8xx
TYPE BRAND ECU ECU_TYPE K-TAG
Car Kia KEFIKO EH8 317
Car Kia KEFIKO KTS3 351
Car Mitsubishi MELCO G1Tx 350
Car Mitsubishi MELCO MH72XX 259
Car Volvo MELCO MH72XX 259
Car Mitsubishi MELCO MH72XX 260
Car Mitsubishi MELCO MH72XX 297
Car Mitsubishi MELCO MH72XX 318
Car Mitsubishi MELCO MH8304F 255
Car Mitsubishi MELCO MH8XXX 260
Bike SUZUKI MARINE MELCO 254
Bike YAMAHA MELCO 284
Bike KAWASAKI MELCO 285
Car SUZUKI MITSUBISHI E6T172 369
Car Mitsubishi MITSUBISHI E6T49xxx 391
Car SUZUKI MITSUBISHI E6T900 M0 355
Car MAZDA MITSUBISHI L3Bx 345
Car SUZUKI MITSUBISHI MH72XX 259
Car Brilliance MITSUBISHI MH72XX 297
Car FORD MITSUBISHI MH72XX 297
Car HYUNDAI MITSUBISHI MH72XX 297
Car MAZDA MITSUBISHI MH72XX 297
Car SMART MITSUBISHI MH8304F 255
Bike KAWASAKI MITSUBISHI 300
BOOTLOADER INFINEON TRICORE
TYPE BRAND ECU ECU_TYPE K-TAG
Car BMW BOSCH EDC17 C06 1156
Car OPEL GM BOSCH EDC17 C19 1153
Car BMW BOSCH EDC17 C41 DDE8 1220
Car MINI BOSCH EDC17 C41 DDE8 1220
Car Mercedes BOSCH EDC17 C43 1231
Car Mercedes BOSCH EDC17 CP01 1157
Car BMW BOSCH EDC17 CP02 1156
Car SEAT BOSCH EDC17 CP04/CP14 1126
Car SKODA BOSCH EDC17 CP04/CP14 1126
Car VOLKSWAGEN BOSCH EDC17 CP04/CP14 1126
Car BMW BOSCH EDC17 CP09 1156
Truck Mitsubishi Fuso BOSCH EDC17 CP15 1170
Car Chevrolet BOSCH EDC17 CP18 1394
Car GMC BOSCH EDC17 CP18 1394
Car Volvo BOSCH EDC17 CP22 1158
Car LAND ROVER BOSCH EDC17 CP42 1177
Car FORD BOSCH EDC17 CP42 1197
Car BMW BOSCH EDC17 CP45 DDE8 1220
Car Fiat BOSCH EDC17 CP52 1363
Car HYUNDAI BOSCH EDC17C08 1127
Car Kia BOSCH EDC17C08 1127
Car Audi BOSCH EDC17CP14 1126
Car Audi BOSCH EDC17CP20 1126
Car SEAT BOSCH EDC17U01 1126
Car SKODA BOSCH EDC17U01 1126
Car VOLKSWAGEN BOSCH EDC17U01 1126
Car VOLKSWAGEN BOSCH EDC17U01/U05 1126
Car HYUNDAI BOSCH ME 17.9.11 1339
Car Kia BOSCH ME17.9 1339
Car SUZUKI BOSCH ME17.X 1340
Car Alfa Romeo BOSCH MED17.3.1 1150
Car LANCIA BOSCH MED17.3.1 1150
Car CITROEN BOSCH MED17.4/MEV17.4 1196
Car PEUGEOT BOSCH MED17.4/MEV17.4 1196
Car Audi BOSCH MED17.5 1128
Car Audi BOSCH MED17.5.1 1128
Car Audi BOSCH MED17.5.20 1128
Car Audi BOSCH MED17.5.5 1128
Car Mercedes BOSCH MED17.7.1 1249
Car SEAT BOSCH MED17.X CAN 1128
Car SKODA BOSCH MED17.X CAN 1128
Car VOLKSWAGEN BOSCH MED17.X CAN 1128
Car MINI BOSCH MED17x/MEV17x 1148
Car BMW BOSCH MEV1746 1171
Car BMW BOSCH MEVD17.2 1215
BOOTLOADER ST10
TYPE BRAND ECU ECU_TYPE K-TAG
Car PEUGEOT BOSCH EDC15C2 397
Car PEUGEOT BOSCH EDC15C6/C7 397
Car PEUGEOT BOSCH EDC16+ 397
Car PEUGEOT BOSCH EDC16+ C34 397
Car PEUGEOT BOSCH EDC16+ C34/C39 397
Car PEUGEOT BOSCH EDC16+ CP39 397
Car PEUGEOT BOSCH EDC16C0/C3 397
Car PEUGEOT BOSCH EDC16C34/5.90 397
Car Kia BOSCH M7.9.8 167
Car Volvo BOSCH ME7.0 325
Car Audi BOSCH ME7.1.1 51
Car Audi BOSCH ME7.1.1 52
Car Audi BOSCH ME7.1.5 51
Car PORSCHE BOSCH ME7.2 240
Car FERRARI BOSCH ME7.3.2 42
Car MASERATI BOSCH ME7.3.2 42
Car PEUGEOT BOSCH ME7.4.4 397
Car Chery BOSCH ME7.4.4 409
Car CITROEN BOSCH ME7.4.5 25
Car PEUGEOT BOSCH ME7.4.5 397
Car Audi BOSCH ME7.5.10 49
Car VOLKSWAGEN BOSCH ME7.5.20 186
Car VOLKSWAGEN BOSCH ME7.5.30 186
Car Audi BOSCH ME7.5.5 48
Car OPEL GM BOSCH ME7.6.4 192
Car SMART BOSCH ME7.7.0 23
Car PORSCHE BOSCH ME7.8 41
Car PORSCHE BOSCH ME7.8.2 40
Car Abarth BOSCH ME7.9.10 24
Car Alfa Romeo BOSCH ME7.9.10 24
Car FIAT BOSCH ME7.9.10 24
Car FIAT BOSCH ME7.9.10 24
Car LANCIA BOSCH ME7.9.10 24
Car OPEL GM BOSCH ME7.9.9 224
Car PEUGEOT BOSCH MED17.4/MEV17.4 397
Car Alfa Romeo BOSCH MED7.1.1 30
Car Alfa Romeo BOSCH MED7.6.1 27
Car Alfa Romeo BOSCH MED7.6.2 26
Car PEUGEOT DELPHI DCM3.4 397
Car CITROEN JOHNSON VALEO 122
Car PEUGEOT JOHNSON VALEO 122
Car CITROEN JOHNSON VALEO V34P 211
Car FIAT JOHNSON VALEO V34P 211
Car PEUGEOT MARELLI IAW 48P2 397
Car FIAT MARELLI IAW 4AF 390
Car Mitsubishi MARELLI IAW 4AM 232
Car VOLKSWAGEN MARELLI IAW 4AVP 183
Car VOLKSWAGEN MARELLI IAW 4BV 184
Car Ford MARELLI IAW 4CF 393
Car FIAT MARELLI IAW 4DF 44
Car VOLKSWAGEN MARELLI IAW 4GV 185
Car SEAT MARELLI IAW 4HV 185
Car SKODA MARELLI IAW 4HV 185
Car VOLKSWAGEN MARELLI IAW 4HV 185
Car FIAT MARELLI IAW 4SF 44
Car SEAT MARELLI IAW 4TV 173
Car SKODA MARELLI IAW 4TV 173
Car VOLKSWAGEN MARELLI IAW 4TV 173
Bike APRILIA MARELLI IAW 5DM 94
Car FIAT MARELLI IAW 5SF 28
Car LANCIA MARELLI IAW 5SF 28
Car FIAT MARELLI IAW 5SF 63
Car LANCIA MARELLI IAW 5SF 63
Bike DUCATI MARELLI IAW 5SM 87
Bike MV AGUSTA MARELLI IAW 5SM 87
Car CITROEN MARELLI IAW 6KPB 91
Car PEUGEOT MARELLI IAW 6KPB 397
Car CITROEN MARELLI IAW 6LP 45
Car FIAT MARELLI IAW 6LP 45
Car PEUGEOT MARELLI IAW 6LP 45
Car PEUGEOT MARELLI IAW 6LP 397
Bike MV AGUSTA MARELLI IAW 7BM 217
Bike APRILIA MARELLI IAW 7SM 239
Car PEUGEOT MARELLI MJ8DF 397
Car Catehram MBE 959 392
Bike POLARIS POLARIS M7.4.4 56
Car PEUGEOT SIEMENS SID201 397
Car PEUGEOT SIEMENS SID801 397
Car PEUGEOT SIEMENS SID803 397
Car PEUGEOT SIEMENS SID803A 397
Car PEUGEOT SIEMENS SID804 397
Car HYUNDAI SIEMENS SIMK43 353
Car Kia SIEMENS SIMK43 353
Car CHEVROLET SIEMENS SIMTEC 76 333
Car HOLDEN SIEMENS SIMTEC 76 333
Car FORD VISTEON DCU102 37
Car LAND ROVER VISTEON DCU102 37
Car CITROEN VISTEON DCU102 38
Car FIAT VISTEON DCU102 38
Car PEUGEOT VISTEON DCU102 397