When the MaxiSys Elite is properly connected to the vehicle, and paired to the MaxiSys Display Tablet, the platform is ready to start vehicle diagnosis. Tap on the Diagnostics application button on the MaxiSys Job Menu, the screen then opens the Vehicle Menu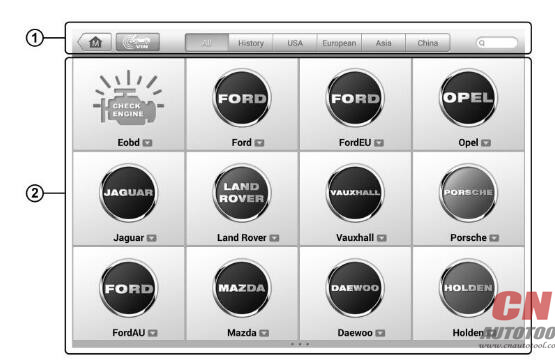 1.Top Toolbar Buttons
2.Manufacturer Buttons
Top toolbar Buttons
The operations of the Toolbar buttons at the top of the screen are listed and described in the table below:
Manufacturer Buttons
The Manufacturer buttons display the various vehicle logos and the brand names. Select the required manufacturer button after the VCI device from CnAutotool is properly connected to the test vehicle to start a diagnostic session.
The small envelop icon displays beside the vehicle brand name is tappable, touching which displays an attached PDF file, showing relevant information, such as vehicle coverage,function list,and so on for the corresponding vehicle make.
Vehicle Identification
The Autel Tool MaxiSys Elite diagnostic system supports four methods for Vehicle
Identification.
1.Auto VIN Scan
2.Manual VIN Input
3.Manual Vehicle Selection
4.OBD Direct Entry