1.What is John Deere Service ADVISOR(SA)?
What is the first step in John Deere tractor repair and maintenance process? Of course, it's dealer level repair and diagnostic software and hardware package  — John Deere Diagnostics Kit repair and diagnostic kit full version.  Good question: what is john deere service advisor? We got it covered!
JD Service ADVISOR — is windows desktop application and diagnostic adapter kit which allows you: to connect with the vehicle and get maximum possible analysis from the error log, change some factory parameters, connect with the tractor and get maximum reasonable analysis such as:
Read diagnostic trouble codes,
Shift some factory parameters,
Make tests and calibrations,
Program controllers.
From the other hand, John Deere Service Advisor EDL V2 Diagnostic Kit is a database of repair, technical manuals, diagnosis and test manuals and dealer technician assistance center (DTAC) solutions – DTAC is the way frequently asked questions are answered, and those answers are shared with Deere dealerships. Information that does not get into the current version of a manual or solutions to problems with equipment that needs to be shared with all dealerships is added to DTAC, so technicians have access to the most current information to service Deere equipment.
The second important part of Service Advisor John Deere diagnostic kit is an edl v2 adapter and cables. So you're able to connect your PC / laptop with installed Service Advisor application to the tractor engine.
2 What are John Deere (DTAC) solutions?
There are two versions of JD Service Advisor available at the moment: 4.2 release – full offline desktop application – support for this version was discontinued in January 2017. System requirements of that version were much lower than for SA 5.2. It comes as Agricultural, Construction & Forestry, Commercial & Consumer, and Power Systems Equipment divisions. Each Division consists of actual models from 2000 release year and historical data from the 1950's till the 2000 year. John Deere Service Advisor v5.2 is the version that completely replaced SA v4.2 starting 2017 year. Entirely new interface design with bigger system requirements. Currently available in two editions: Agriculture and Turf equipment, Construction and Forestry.
3 What is the difference between SA 4.2 and 5.2?
The main difference is that now SA 5.2 using web browser Internet Explorer instead of application shell which is more convenient for the most users. JD SA 5.2 is fully compatible with Windows 10 including EDL v2 KIT. JD Service Advisor 5 no longer needs DATA DVDs with models data or Historical information. All the files are available on a USB Stick or HDD and can be easily accessed via SA web search. So you no longer need to play with dozen DVDs to be able to get a proper manual or DTAC solution. On that note, I'd like to introduce you JS Service Advisors system requirements.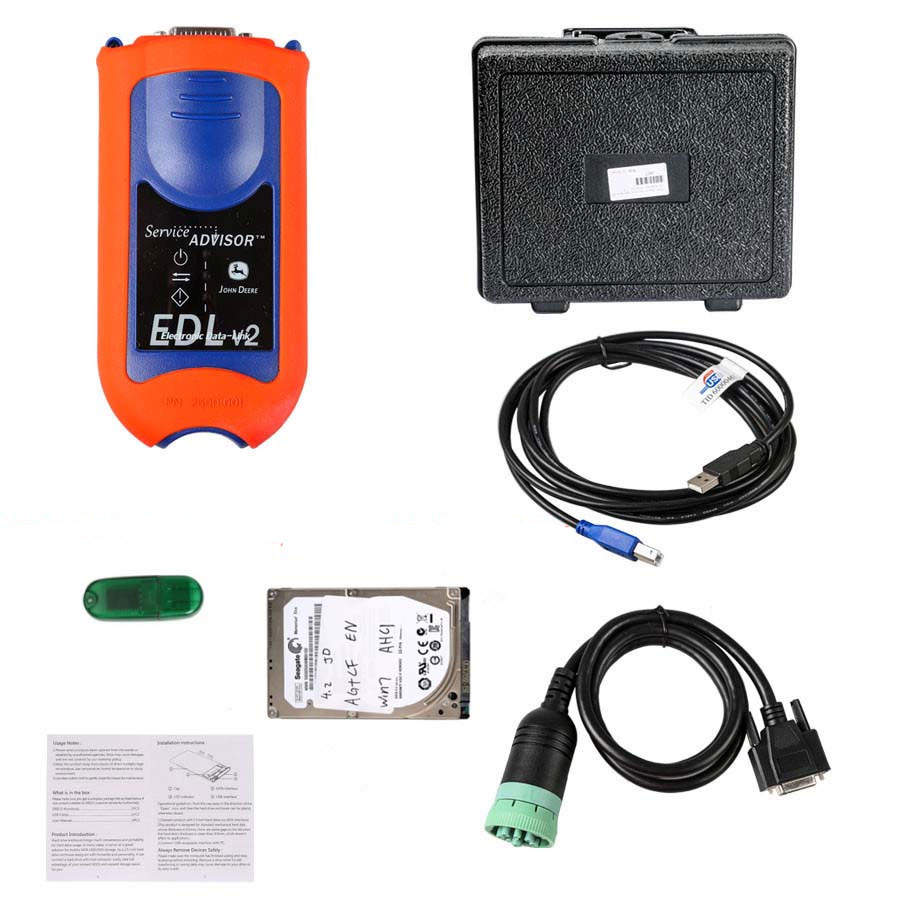 4 Available divisions of Service ADVISOR 4.2
John Deere Service Advisor 4.2 System requirements:
– O.S.: Windows XP; Windows Vista; Windows 7; Windows 8
– CPU: Pentium/Athlon 1.8 GHz or higher
– RAM: 256 MB of system memory
– Hard Drive: 10 GB of available space
– DVD-ROM(optionally)
5 Available divisions of Service ADVISOR 5.2
John Deere Service Advisor 5.2 System requirements:
– O.S.: Windows 7 Pro/Ultimate; Windows 8 Pro, Windows 8.1 Pro, Windows 10 Pro
– CPU: Any CPU for Windows platform
– RAM: 8 GB of system memory
– Hard Drive: 150 GB of available space
As you can see, the system requirements are significantly different. This information will help you choose in favor of 4.2 or 5.2 version.
Currently, there are four original versions of Heavy Duty Vehicle Diagnostics John Deere Service ADVISOR 4.2 application:
John Deere Service Advisor 4 (4.2.005) Agricultural Equipment,
Construction & Forestry Equipment,
Commercial & Consumer Equipment,
Power Systems and OEM Engines