What is advantange of X431 V+?
Original Launch X431 X-431 V+ (X431 Pro3) Wifi/Bluetooth taking the advantage of mobile internet, can share maintenance data and case library, provide instant maintenance information, and build public and private maintenance social circle,etc.,thus lead to wide car diagnostic community.  It is a typical diagnostic device contributed by Launch to diagnostic industry concerning internet application.
Launch X-431 PRO3 based on Android system, is a new car malfunction diagnostic device developed by Launch Tech for internet application. X-431 V+ completely substitutes X431 IV and X431 Diagun III.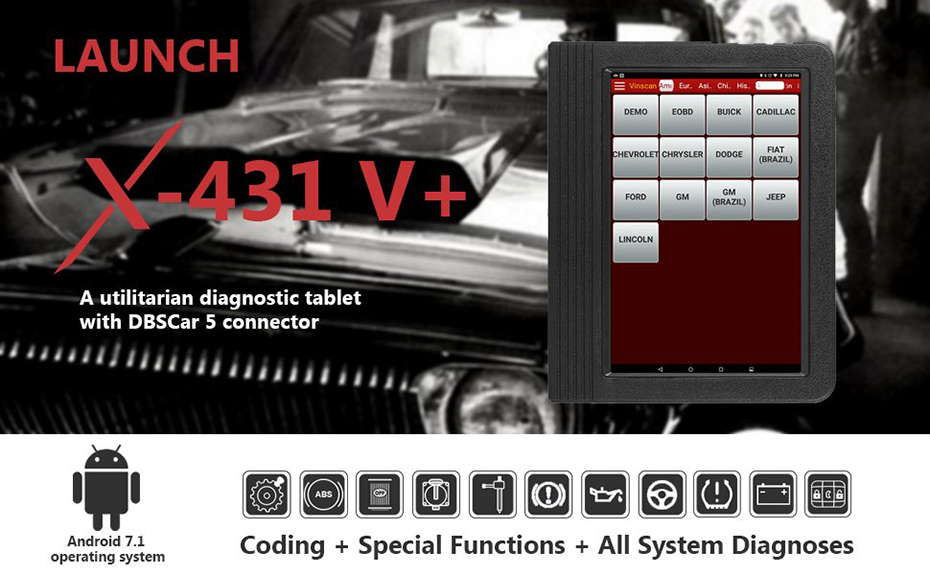 Comparisions for Old red color X431 V+ and New black color X431 V+  :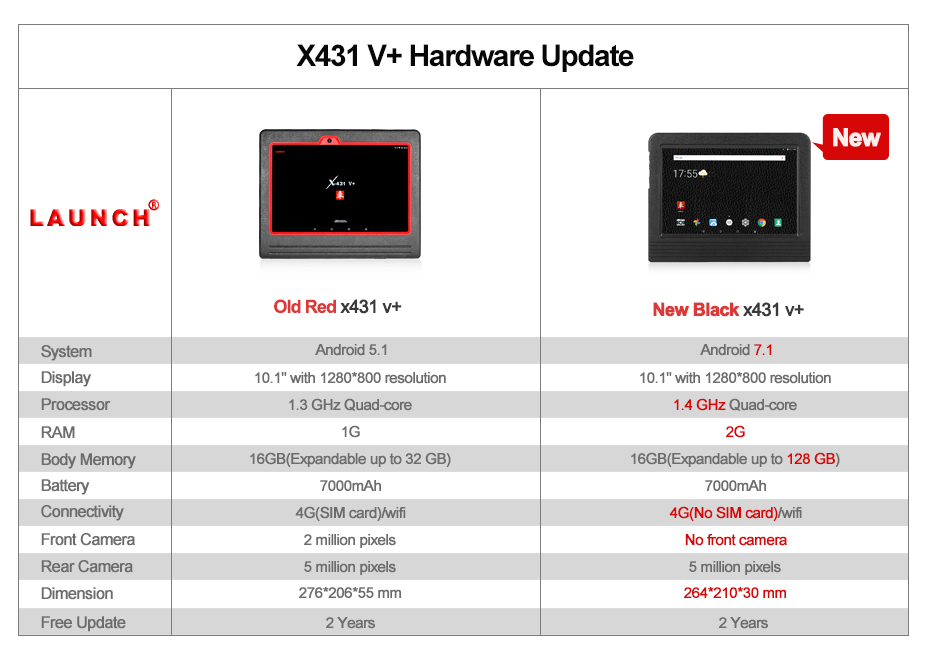 X431 V+ Features :
1. THE MOST ADVANCED UI: Utilizes Android 5.1 to provide you with an easy to use interface that has powerful functions, quick auto scanning and vehicle diagnosis, and a touch screen user interface that is easy to learn
2. BEST HARDWARE: The Launch X431 V+ is the newest version of the X431 standard and is the successor to the V, IV and X431 Diagun III versions. This model has a higher hardware configuration, larger storage capacity, faster processor, latest display technology (10 inch capacitive touch screen), and bigger battery for a longer use time between recharging
3. WIRELESS CONVENIENCE: With a Bluetooth OBDII connector module& wifh function, you can wirelessly communicate directly with any vehicle. Since you do not need to be wired into the dashboard when using the Launch X431 V+, you are now free to run the scanning, repair and diagnostic tests while you are working under the hood or while doing other maintenance tasks at your workbench
4. POWERFUL FUNCTIONS: Diagnosis functions include: Read DTCs, Clear DTCs, Read Datastream, Maintenance Recommendations, Special Repair Functions
5. DIAGNOSTIC TOOL FOR EVERY SITUATION: Supports over 68 car brands and 220 car models from America, Europe, Asia
CnAutotool.com Launch X431 V+ Functions:
1. Diagnose:
1).Can diagnose the electronic control system of prevailing vehicle models covering Asian, European, American and Chinese. Diagnosis functions include: Read DTCs, Clear DTCs, Read datastream, Special functions etc;
2).Specially designed for Android platform with clear and user-friendly interface;
3).Via Bluetooth, it is simple for DBScar diagnostic connector tocommunicate with X-431 V+;
4).Equipped with an exclusive X-431 V+ protection sleeve to prevent it from being damaged;
5).support system:Engine,A/T,ABS, SRS, electronic control system,body control system,vehicle theft  eterrent,instrument panel cluster,radio
2. Browser:     built-in Wi-Fi module makes surfing on the internet freely;
3. Email: allows you to send and receive email. External POP3 or IMAP email account for some common Web email service provider can be added;
4. Search: enables you to locate your target quickly and conveniently;
5. File Manager: with it, you can manage the files or downloaded files stored in SD card efficiently;
6. Settings: to configure your personalized X-431 V+ through it;
7. Other additional functions: alarm, calendar and calculator etc.
8. Applications: Other android based applications can be customized to install or uninstall.
9. Social Network Service: Built-in Social Network Service allows access to diagnostic community
10. One-click update online by Wi-Fi
11. Remote diagnosis & maintenance: work with golo(optional golo,Purchased separately)
12. Print Diagnostic Result: Optional (Wi-Fi),and you can order the LAUNCH X431 Mini WIFI Printer(Purchased separately)
13. Extended Trucks diagnostic functions: Optional LAUNCH X431 HD Truck Module,you can Purchased X431 HD separately and free update trucks diagnostic software to diagnostic trucks.(if you are order the x431 HD and work with X431 V+,your LAUNCH X431 V+ will be Expanded into a petrol cars and diesel trucks 2 in 1 diagnostic device.)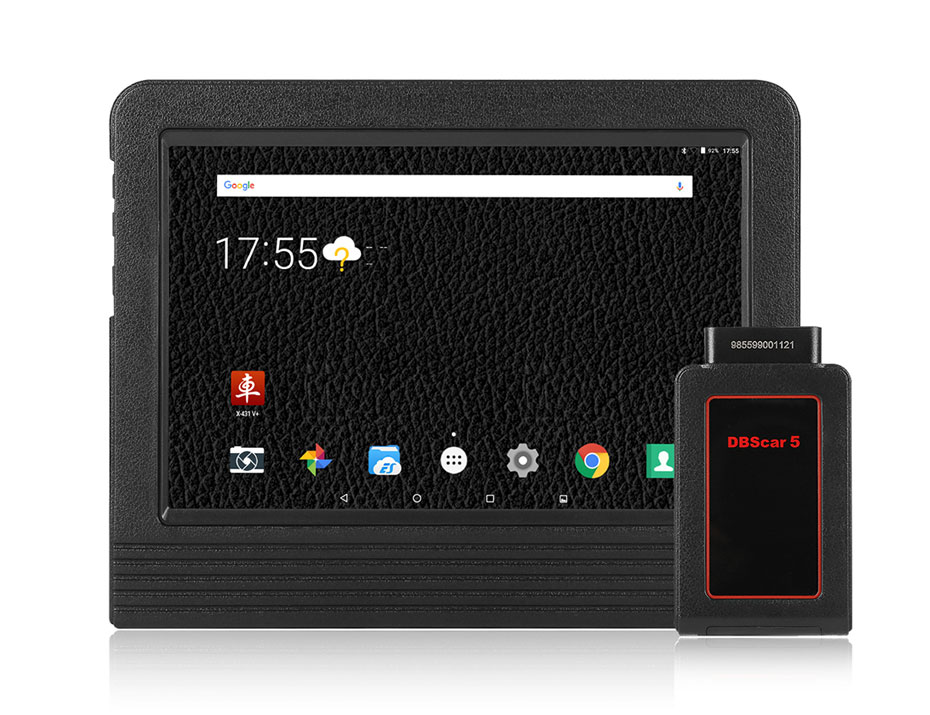 Highlights of Launch X431 V+:
1. Supported Languages: English, Italian, German, Japanese, Russian, French, Spanish, Portuguese, Polish, Turkey, Dutch, Greek, Hungarian, Arabic, Denish, Korean, Farsi, Romanian, Serbian, Finish, Swedish, Czech.
2. Wi-Fi: Supported
3. Bluetooth: Supported
4. Dealer Code: 86A
5. One click update: You do not have to download software to memory card anymore, can do one click update directly through your machine.
6. There is the Manual in the Multiplexer, you can check it when you use the device. it is in " cnlaunch" file.
7.  Download launch x431 v+ Software List and Pack List