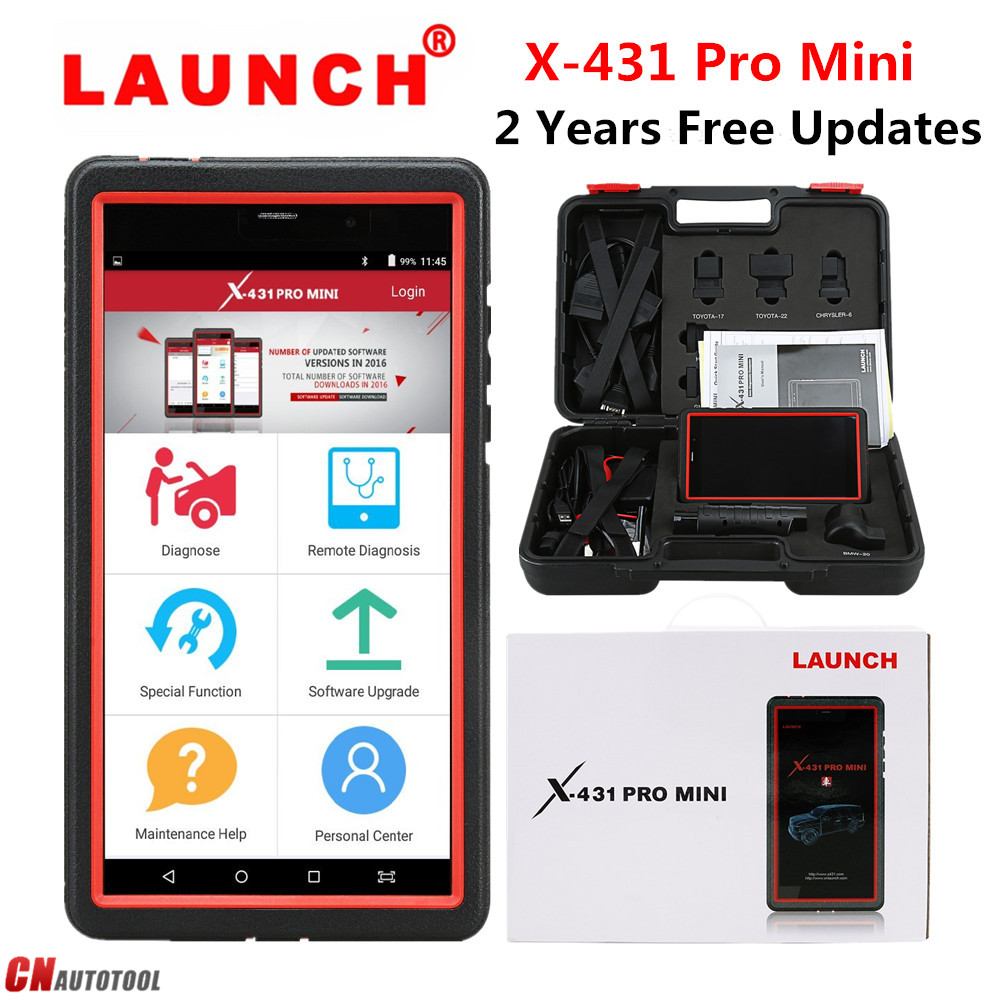 The X-431 PRO MINI KIT has everything you need, including the X431 tablet, 14 vehicle connectors, shockproof storage case, and two year of software updates! The pro kit sold here comes with all of the adaptors for 1996 and newer vehicles, software for Domestic, Asian, & European vehicles, and all the accessories needed to get the job done.
X431 Pro Mini Features:
1. Supports FULL system diagnosis for your car, including: Fuel system, Emission system, Transmission, Engine, Body, Power train and more.
2. Read DTCs and view live data stream before driving out, and clear DTCs by one click when malfunctions are handled.
3. Supports identifying vehicles by via vehicle's VIN, reducing vehicle diagnostic steps and improving diagnostic efficiency
4. Supports ECU coding and anti-theft matching for most models
5. Oil Reset Service & Steering Angle Calibration & Electronic Parking Brake Reset
6. Battery Register & ABS Bleeding & Electronic Throttle Position Reset/Learn
7. Diesel Particulate Filter (DPF) Regeneration & Tire Pressure Monitor System Reset & Tooth Learning
8. You can get remote control tech support from LAUNCH tech team by sending one-click recorded videos and accurate diagnostic results to them.
9. Software one-click upgrade: When there is a new software version, the system will immediately remind you to update version.
X431 Pros Mini Unique Design
Compared with the supper devices such as Launch X-431 V+, this diagnostic tool is more compact and portable. You are able to use this diagnostic tool to do the same functions as the V+, while the size decreased from 10.1-in to 6.98-in. The lightweight feature makes it very suitable to carry for on-site service.
X431 Pros Mini 11 Special Functions
This diagnostic scanner has full special reset function (11 reset service): · Oil Reset to reset service mileage and service interval;
· EPB Reset to reset new electronic parking brakes for braking wheels safely again;
· TPMS Service to perform TPMS programming and reset procedures after tire sensors are replaced;
· SAS Reset to perform calibration for the Steering Angle Sensor;
· BMS Service to reset battery management system;
· DPF Service supports forced DPF regeneration and adjusting injectors;
· ABS Brake Bleeding to get a firm brake pad;
· Tooth Learning to make new crankshaft be used and IMMO (Anti-theft matching) to finish keys coding;
· Throttle Matching to ensure communication with ECU after replacement;
· Injector Programming to let new injectors function well;
· Anti-theft Matching to clear the lost car key information and program new key.
X-431 PRO MINI whole set: X-431 PRO MINI is mainly composed of an X-431 PRO MINI handset, and a DBSCar II VCI module.

Launch x431 pro mini Diagnostic Tool
1 VCI module
2 Reset hole
3 Rear camera
4 Camera flash
5 Slot for VCI module For housing the VCI module.
6 POWER/Screen lock key In Off mode, press it to turn X-431 PRO MINI on; In On mode, turn X-431 PRO MINI off with long press or lock screen with short press.
7 Carry strap
8 Air intake vent
9 USB/Charging port To connect to the power adaptor for charging.
10 Microphone
11 LCD screen
12 VOLUME +/- Key  To adjust the volume. To print the screen, hold and press the POWER and VOLUME – key until a snapshot pops up on the screen.
The captured snapshot is saved in the "Screenshots" folder.
13 Speaker
14 Front camera
15 Earphone Jack
X-431 PRO MINI Technical Parameters:
Operating system: Android 5.1
Processor :Quad core 1.3 GHz
Memory: 2GB
Storage:16GB
LCD screen: 6.9 inch with a resolution of 1280 x 720 pixels
Camera :Front-facing 2MP camera + rear-facing 5MP camera
Battery :3.7V/3000mh rechargeable polymer lithium battery
Connectivity : Wi-Fi: WLAN 802.11b/g/n ,Bluetooth: Bluetooth 4.1
Working temperature: 0℃ ~ 45℃
Storage temperature: -10℃ ~ 50℃
VCI module:
Working voltage 9 ~18V
Average working current About 85mA
Standby current About 55mA
Working temperature -10℃ ~ 55℃
Storage temperature -20℃ ~ 70℃
Relative humidity 20% ~ 90%
DBScarIII adapter parameters:
The brand-new DBScarIII adapter is small size and can be easily plugged into the handset to diagnose and matching, it tests car models stably, it supports
CAN diagnosis also USB data transfer.
Size: 69 × 40 × 18 mm
Operating voltage: 9V DC – 18V DC
Test voltage: DC12V
Typical power consumption: ≤2W
Bluetooth distance: 100 m
Connectivity: Bluetooth + wired
Operating temperature: -10℃to 50℃
Red Indicator: Turns red when connected to power supply;
blue Indicator: Turns blue then wireless Bluetooth work;
USB work: Turns green when the connector is connected to the USB cable
Launch X431 Pro MINI Package Includes:
1pc x X-431 PRO MINI tablet
1pc x Password envelope
1pc x VCI module (For connecting OBD II vehicles)
1pc x OBD II extension cable
1pc x OBD I adaptor (For connecting the non-16pin diagnostic connector and the
VCI module)
1pc x Battery clamps cable
1pc x Power adaptors
1pc x Non-16pin connectors (For connecting non-OBD II vehicle)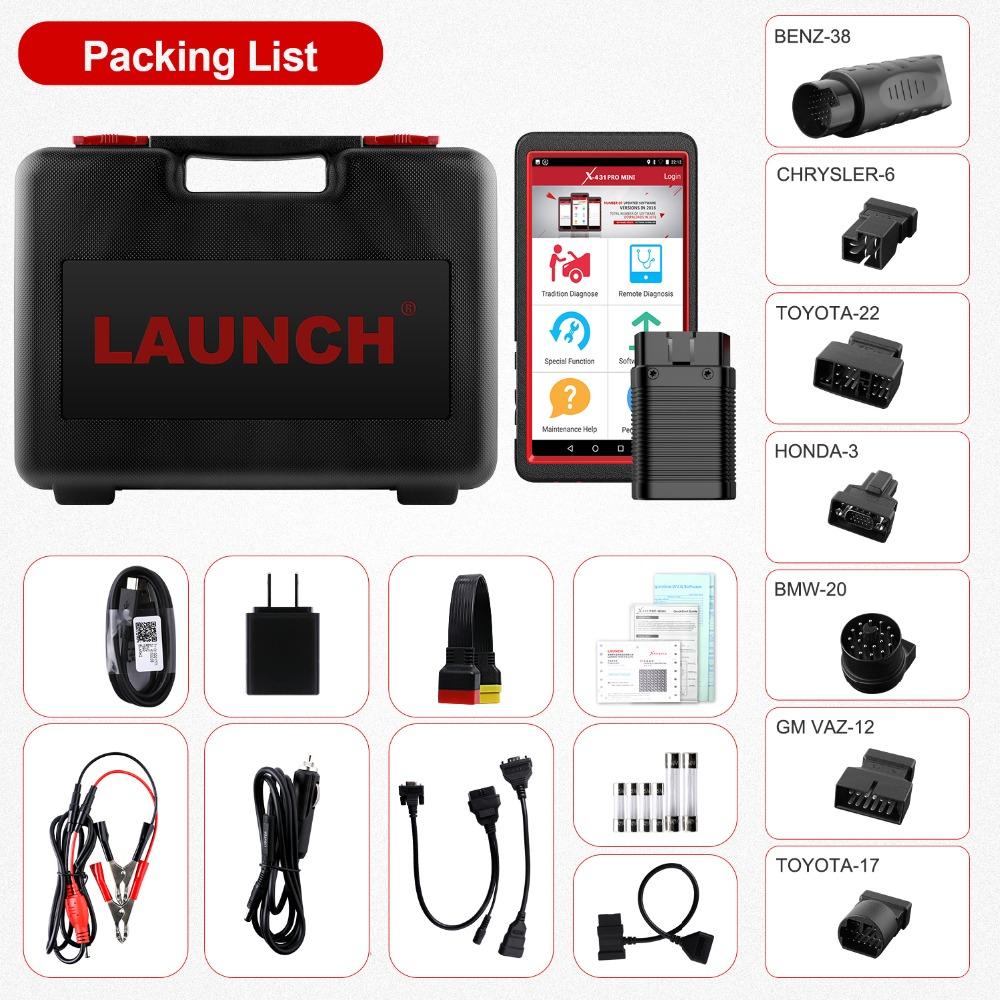 If you have any problem, please do not hesitate to contact us with www.cnautotool.com.There have more Launch X431 diagnostic tool.