2022 Newest Autel MaxiSys MS908CV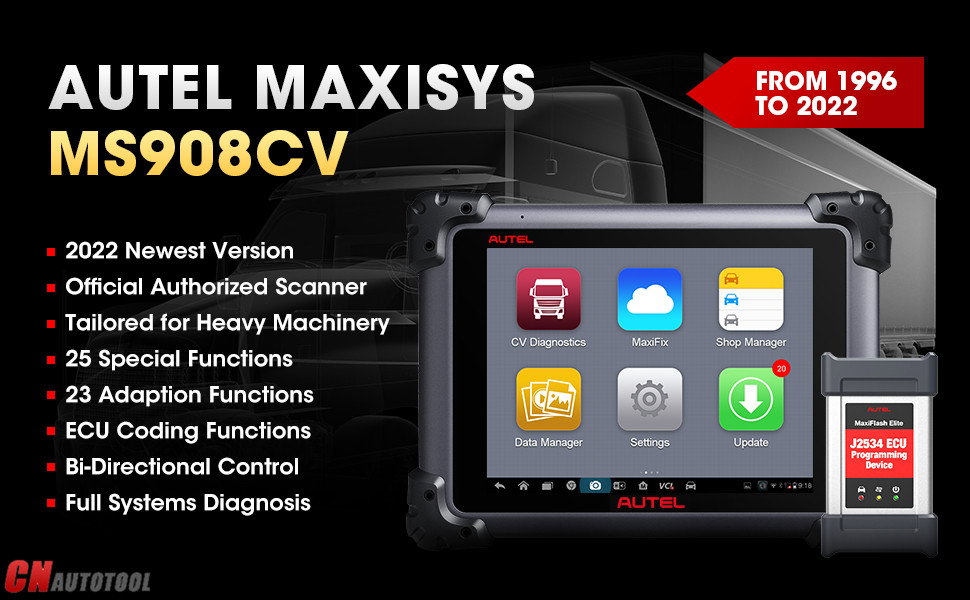 As a new member of Autel's MaxiSys family, the MaxiSys CV is built on the powerful MaxiSys 908 platform and provides a comprehensive disgnostic solution for virtually all commercial vehicles as well as machines made in North America, Europe and Asia. Offering advanced features and extreme ease-of-use, MaxiSys CV is the ideal solution for independent repair shops, owner-operators and various sized fleets seeking a single scan tool for all their professional heavy duty needs.
 The Reasons You May Want to Come on Board
As a new member of Autel production line, Autel scanner MaxiSys MS908CV is updated from MS906CV with even more functions, which means it's a tablet scanner especially designed for independent workshops or pro mechs who makes friends with heavy machinery. Let's check out what it got!
Adjustable parameter programming on PCM, ABS, EATS, ADAS, and TPMS.
OE-level bi-directional control and relearn processes.
Cover the vehicles from 1990-2020 including light-duty trucks such as Ford F150, Ram Trucks, and semi-trucks such as Freightliner, Kenworth, Volvo, etc.
25 service functions for passenger cars and 23 adaption functions for commercial vehicle.
ECU coding and J2534 online ECU programming for passenger vehicles and commercial vehicles
A high-end diagnostic tool tailored for commercial vehicles such as semi-trucks, light-duty trucks, buses, construction vehicles, agricultural vehicles and supports 80+ brands and MFR.
2022 Newest Autel MaxiSys MS908CV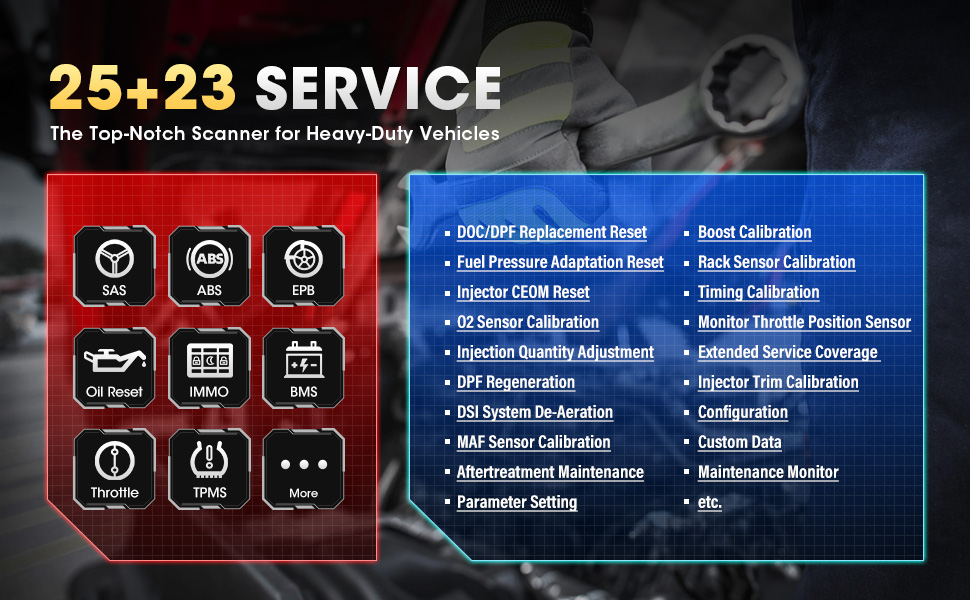 25 Service Functions and 23 Adaption Functions
As a scanner especially designed for passenger vehicles and commercial vehicle, the MaxiSys MS908CV comes with a full-set of functions for your daily repair and maintenance. Let's check out if there are something you've been looking for
For passenger vehicles:
Gearbox Calibration: Complete the self-learning and calibrate the gearbox with other onboard systems after replacing or repairing.
Throttle Matching: Initialize the throttle actuators so that the "learned" values stored on ECU are returned to the default state.
ABS Bleeding: Bleed the brake system when the ABS system contains air to restore its braking sensitivity.
BMS: Reset the monitoring unit of the car battery after replacing battery or battery monitoring sensors.
Brake Reset: After or before changing the brake pads, the tool can help you reset the brake sensor.
DPF Regeneration: Clear particulate matter from the DPF filter through continuous combustion oxidation mode to stabilize the filter performance.
Injector Coding: Match the ECU to the injectors after replacement.
Oil Reset: After the vehicle has been tuned, zero the oil light as well as set the next service mileage.
SAS Calibration: calibrate the steering angle after replacing steering related parts.
TPMS: reset the tire pressure and turn off the tire pressure fault indicator.
For commercial vehicles:
DOC/DPF Replacement Reset, Fuel Pressure Adaptation Reset, Injector CEOM Reset, O2 Sensor Calibration, Injection Quantity Adjustment, DPF Regeneration, DSI System De-Aeration, MAF Sensor Calibration, Parameter Setting, Aftertreatment Maintenance, Aftertreatment SCR Catalyst Cold Soak Override, Boost Calibration, Timing Calibration
2022 Newest Autel MaxiSys MS908CV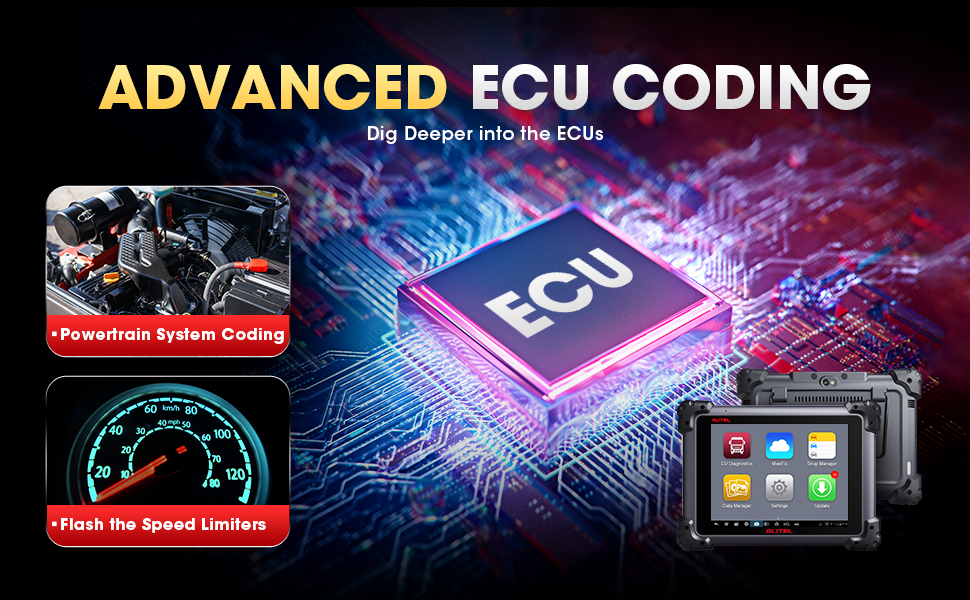 ECU Coding & J2534 ECU Programming
With the increasing complexity of automotive electronic control systems, ECU programming & ECU coding have become a must-learn skill for almost every pro mechanic. So we have pre-emptively followed in the footsteps of the times and have update the MS908 up to a brand new level.
ECU Coding: The ECU coding for the heavy machinery is always a nightmare, but the time has changed. Once having heavy-duty scanner MS908CV by you side, you can match the modules with components, flash the hidden functions, and customize the OE-settings as you wish. And also it has extensive compatibility, such as light-duty truck Ford F-Series, RAM Trucks Series, Scania (Including CCC, CTS, EACS, EHS, EQU, FSS and SRC), Mercedes-Benz, Iveco, etc.
J2534 ECU Programming: Along with Autel MaxiSys MS908CV comes a newly updated J2534 ECU programming VCI. It helps you to pass-thru the gateway, access the online data, and flash the emission-related ECUs regardless of the communication protocol that is used by the ECU.
J2534 is fully compatible with both SAE J2534-1 and J2534-2 reprogramming standards
Performs the standard PassThru J2534 functionality
Fast performance ensures quickly reprogramming even the newest controllers
Wireless with advanced networking functions
Built-in wireless and data storage
Rugged design capable of withstanding harsh environments
Internet updateable
2022 Newest Autel MaxiSys MS908CV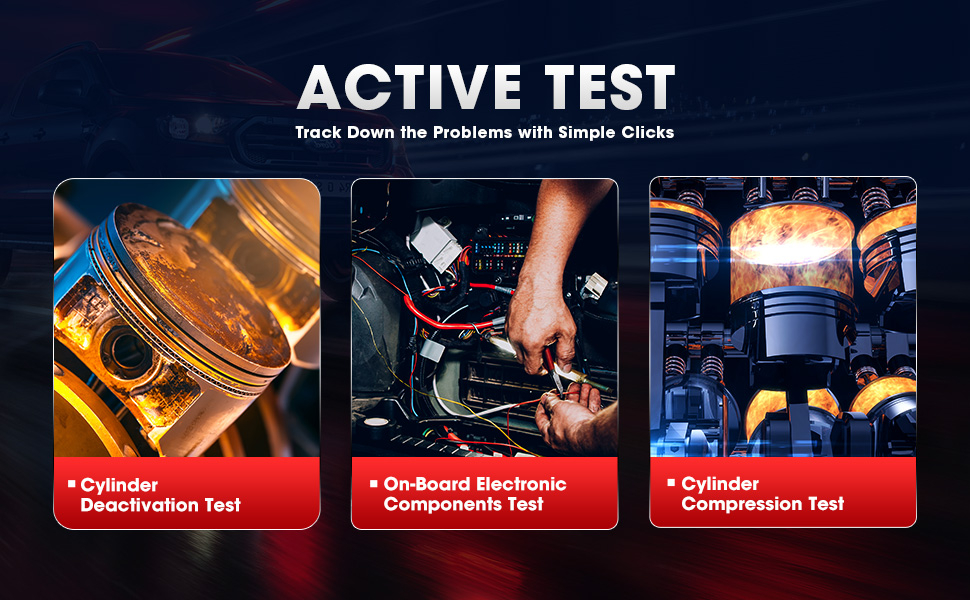 Mutual Communication with On-Board Systems
To help you track down the problems hidden underneath the hood, Autel scanner MaxiSys CV can build a bridge for you to mutual communicate with on-board systems through the function-Active Test. It can greatly help you to identify whether the source of the problem is the signal transceiver, control modules, or electronic parts.
Cylinder Cut Out Test: Determine if the injectors are working properly.
Cylinder Compression Test: Test the compression pressure of the cylinders to determine the operating capacity of the cylinders.
On-board Electronic Components Test: Test the vehicle engine system and other components to see if they are working normally.
And More
Have Everything in the Palm of Your Hands
The Full-System Diagnostic empowers the diagnostic tool to dive into every corner of on-board systems and bring you back with a detailed vehicle health report so that you could have a clear picture of every systems status. To give you a more visual overview of the working conditions of each system, you can select the relevant on-board systems to generate the waveform live data stream, which you can have everything in a view.
With Autel MaxiSys, you can work on all parts of the truck systems to enhance the performance, save energy, reduce emissions, etc., and save the hassle of diagnosing any un-identified car errors in:
Engines | Auto Transmission | Airbags | Immobilizer | Key Coding | ABS | Cruise Control | Instruments | Self Leveling Suspension systems | Seats | Doors | Gateway | Steering Angle | Air Suspension | Body Systems | Electronic Power Steering & Motor Assisted | Power Steering | Tyre Pressure | Rain Sensors | 4WD System | Stabilizer | Intelligent Parking Assist | Door Motors | Audio Systems | Air Conditioning | Tiptronic | Anti Theft | Soft Top | Headlamp Leveling | Central Locking | Automatic Clutch | DPF Reset | Electric Windows | Plip Programming | Heated Rear Window | Xenon Headlights | Wash Wipe | Fuel Burning Heater | Transfer Box | Seat Memory | Oil Life Service Reset | Sliding Doors | Electronic Throttle | Navigation System | Rollover Sensor | Cruise Control | Multi-Function Steering Wheel | Aux Heating | Electronic Parking Brake | Clutch Electronics …


Bonus Functions Can Help You a Lot
Key Programming: OBD2 Scanner MaxiSys CV can access relatively low-level anti-theft systems to obtain codes and program keys or remotes.
Access ECU Info: Heavy Duty Truck Scanner 908CV, can automatically read the VIN number and then present you with information about the vehicle, such as the vehicle manufacturing date, vehicle manufacturer, vehicle engine code, etc.
Waveform Live Data Streaming: To help you gain a deeper understanding of the vehicle's real-time operating conditions, MS908CV for commercial cars integrates the operating conditions of each system into a single waveform graph. As the data changes, the graph will show you the changes in the values of each system.
    Software
Open source Android Operating System for fast boot-up and multitasking
Easy and intuitive navigation makes finding what you need simple and fast
Extensive vehicle coverage for more than 80 US, Asian and European commercial vehicle makes and machines
Complete capabilities for codes, live data, actuation tests, adaptations and ECU coding
Displays live data in text, graph, analog and digital gauge for easy data review and analysis
Configures display options, sets triggers, records and playbacks results with one touch
Records and playbacks live data to pinpoint troubles of sensors and components
Cloud-based Data Manager saves customer and vehicle records, scanner data and technician notes
Remote technical support for convenient demonstration, training and increased customer satisfaction
Prints out recorded data anytime and anywhere with Wi-Fi technology
Automatic Wi-Fi updates available in new software releases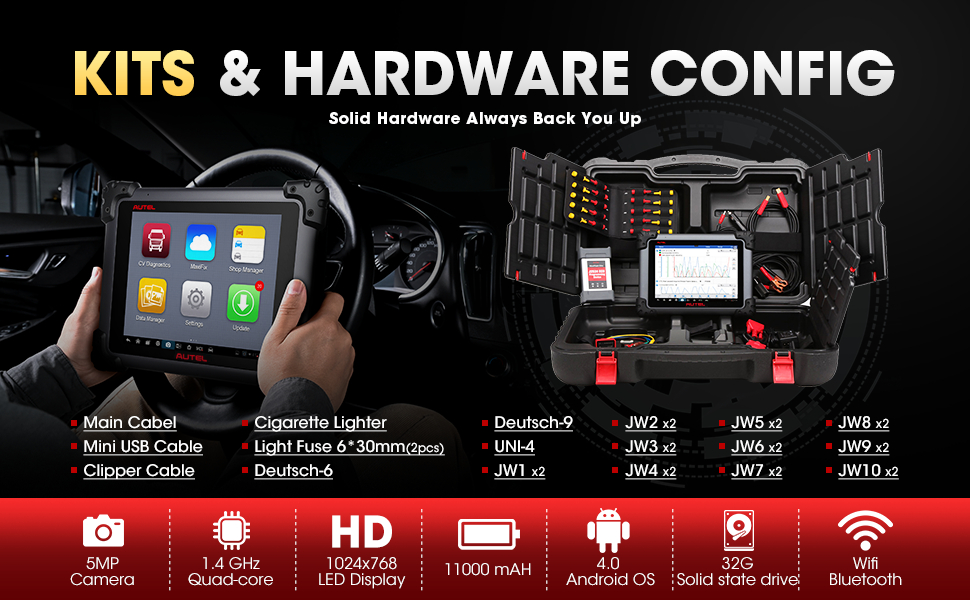 High-end Configuration
 Comprehensive Vehicle Coverage:
As a product tailored for heavy-duty vehicles, we have adapted our model support to the market in the country or region where it is located. Here is a list, come and check it out!
Freightliner, Kenworth, Peterbilt, International, Volvo, DAF, MAN, Dodge, Ford, Hyundai USA, Isuzu, Iveco, MACK, Mercedes-Benz, Nissan, Renault, Peugeot, Toyota, etc.
Hardware Expansion Support:
It supports an extremely rich hardware expansion such as multimeter, oscilloscope, endoscope to provide greater convenience for your work or you can work with MV105, MV108, MV400.
more information at https://www.cnautotool.com/category-37-b0-Autel+Tools.html