I have a 2010 Panamera, and need to update the maps. How do I tell which version PCM I haver please?
Can i update the map without going to the dealer?
User experience:
1)
It is easy to DIY a navigation update on PCM3.x.
First you have to update the system software with CDs/DVDs, then enter an Activation Code (based on the VIN) with a PIWIS2 or PIWIS3 tester and then load the map data to the hard disk with 4 DVDs. Can take between 2 and 4 hours, depending on the existing software version and if PCM3.0 or PCM3.1. I think the Panamera is 3.1.
2)
In Panamera 2010 it should be installed PCM3.1. But to be sure what exactly version of PCM3.x do you have you need to turn on the PCM and wait until the main menu loads than push simultaneously (in one time) buttons SOURCE and INFO. Porsche PCM will show you 'hidden' menu (like on attached picture) where you could see all the necessary service information including the version of your's Porsche unit PCM3.x.
Hope this information will be useful to members of this forum.
To update the maps in Porsche PCM3.0 or PCM3.1 you need to have disk with PCM firmware last version upgrade and 4 DVDs with maps update. The main problem on this way is that you also need a Porsche Map Update Activation code and dealership Porsche computer called Porsche Piwis Tester III.
3)
The NAV data is on a 4 disc set for Europe and the update needs to be activated using an enabling code (derived from VIN number and specific to car and held by PAG on their IPAS system). The discs are pennies; the enabling code (licence key) is where the cost is.
VXDIAG Porsche Piwis 3 with the same functions of Porsche Piwis3
PIWIS III with Piwis Software Overview
1. Software Version:
Dual System: V38.300+ V39.800
V38.300 (without Engineering software support online programming)
V39.800 (with Engineering software support offline programming)
2. Functions: Diagnosis and Programming
3. Update: By SSD
4. Connection: Via USB or LAN or Wifi
5. Support Vehicles: Support all Porsche till 2020
Support Multi-Languages:German,English,France,Italian,Spanish,Japanese,Russian,Portuguese,Dutch.
Porsche Piwis 3 software is the third generation of Porsche diagnostic tool which will definitely grow your business to the new highest level of services. This masterpiece is created by Porsche engineers, provides to its user a plenty of possibilities for providing high qualified diagnostics and repairing services for the newest produced models of Porsche cars all over the world.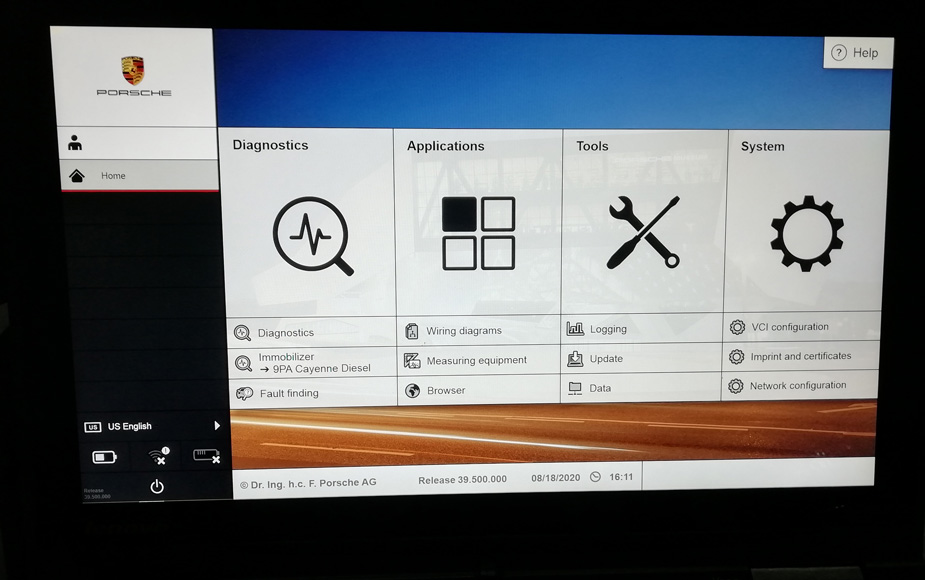 Exclusive support for Porsche!!
The only Vxdiag tool supports Porsche PIWIS 3
New DoIP diagnostic technique based on Ethereum
Diagnosis for luxury vehicles but without lots of requirements
VXDIAG VCX-DoIP Porsche Piwis 3 III Features:
New operation system and more intuitive diagnostic interface
New VCI for post-2017 vehicles with DoIP diagnosis
Good at maintenance, repair, control units change and programming & setting codes
To login for online immobilizer programming
To find out leading faults
To look for maintenance wiring diagram
To support special functions like modification or flashing, with Engineering mode (Development version)
Porsche Piwis III Functions & Features:
1.New operation system and more intuitive diagnostic interface
2.New VCI for post-2018 vehicles with DoIP diagnosis
3.Good at maintenance, repair, control units change and programming & setting codes
4.To login for online immobilizer programming
5.To find out leading faults
6.To look for maintenance wiring diagram
7.To support special functions like modification or flashing, with Engineering mode (Development version)
VXDIAG Porsche Piwis III New & Old Cars:
All Porsche from 1998-2019:
Porsche 911(997) (991)
Boxster/Cayman (987)
Cayenne up to MY 2010
Cayenne from MY 2011
Panamera
Especially the latest models:
Paramera (971) 2019
Caynenne (92A) 2019
Macan (95B) 2019
911 (991) 2019
and other old models+