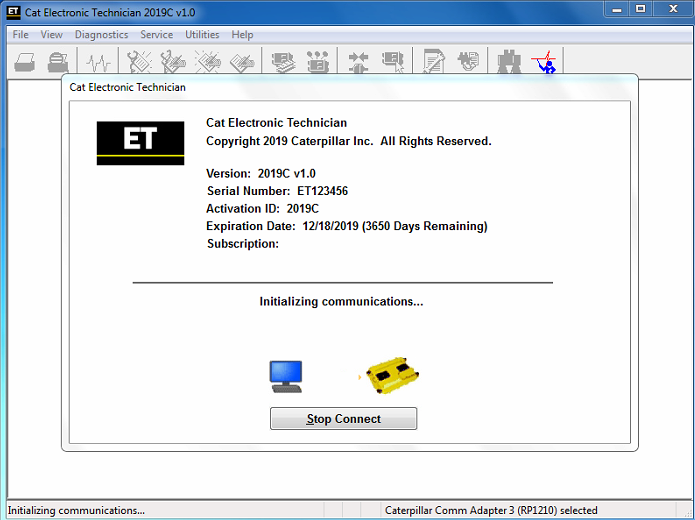 Caterpillar ET 2019C (replaces CAT ET 2018b, 2019A,2019B) Electronic Technician Diagnostic Software :
Brand: Caterpillar
Region: WorldWide
Support Multi-language :English, Chinese, Danish, French, German, Italian, Japanese, Portuguese, Russian, Spanish
Publication date: 10.2019 year
Support All cars of CAT
CAT Caterpillar ET Diagnostic Tool  Product Description :
CAT Caterpillar ET Diagnostic Tool from Caterpillar provide the capability to access Electronic Control Modules (ECMs) from a personal computer. Many job-critical tasks can be performed with an electronic service tool. The user can display the status of a group of parameters (temperatures, pressures, etc.) simultaneously, view active and clear logged diagnostics, display the current configuration of an ECM and much more. The service tool works with a communication adapter to allow connection to an ECM. A graphical interface makes this software quick to learn and easy to use. A separate pull-down menu for each function enhances the "ease of use." The version and identification of the ECM is automatically retrieved and is displayed on a summary screen when the program is started. Diagnostic tests and calibrations can also be performed.
CAT Caterpillar ET Diagnostic Tool enable service technicians to reprogram ECMs, reconfigure control system parameters, fine tune performance or diagnose the root cause of a failure the first time. These powerful tools allow service personnel to display and analyze vital performance and health information from any system quickly and accurately. The service tool communicates with any system using ATA (J1708), J1939 or the Caterpillar proprietary data link networks. The service tools provide information and features needed to help a technician diagnose problems and perform repairs and to customize and personalize the operation of a product. By allowing customers to design flexibility and configurability into a product, Caterpillar service tools stretch beyond the capabilities of preprogrammed ECMs or onboard display systems.
Support car list of CAT Caterpillar ET Diagnostic Tool :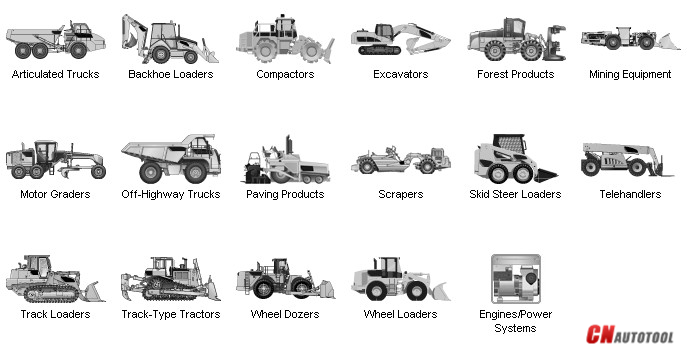 One of Our custorm has some questions for Caterpillar electronic technician as below.
Q1: Can apply for marine engine(C18, C34, etc…)?
A1:Cat ET we have 2019C version.
This is the lastest version.
Caterpillar electronic technician with WinFlash future is an updated version of the caterpillar dealer diagnostic software that can help technicians to diagnose existing and potential problems with their electronically controlled Caterpillar Engines and Machines.
To get the vehicle information the Cat ET software must be connected to the Electronic Control Module (ECM). For this purpose, you need a suitable diagnostic link adapter (DLA), for instance, Genuine CAT Comm Adapter III
The list of supported CAT machines and engines can be found below(if your vehicle is missing, please contact us we will double check):
Engines:
Electric Power
Electric Power Generation
Industrial
Marine Power Systems
Oil and Gas
Machines:
Articulated Trucks
Asphalt Pavers
Backhoe Loaders
Cold Planers
Compactors
Dozers
Drills
Excavators
Feller Bunchers
Forest Machines
Forwarders
Harvesters
Hydraulic Mining Shovels
Knuckleboom Loaders
Material Handlers
Motor Graders
Off-Highway Trucks
Pipelayers
Road Reclaimers
Site Prep Tractors
Skid Steer and Compact Track Loaders
Skidders
Telehandlers
Track Loaders
Underground – Hard Rock
Underground – Longwall
Underground – Room and Pillar
Utility Vehicles
Wheel Dozers
Wheel Excavators
Wheel Loaders
Wheel Tractor-Scrapers
Q2: Can use this tool without authorized license?
A2: This tool can work without authorized license. If you order with laptop, We will activation the software for you before ship out the package to you. If you order without laptop, we will activation for you via teamviewer.
Q3: How to update software for 2021year if need it?
A3: Next year if we have new version software, you can purchase the update software from us. The cost is about 888USD
Q4: Can we use 2019C without update in 2021?
A4: At present, the lastest version software V2019C. You can keep this version software for your work in 2021.
Q5: What is different between Item no.A154 and A239 (Real Caterpillar ET Adaptor 3 PLUS DELLd630 laptop)?
A5: The different between Item no. A154 and A239
A154 is the lastest version software with lastest version hardware. So the price is higher.
We recommend you to choice A154.