LAUNCH X431 Pros mini OBD2 Diagnostic Tool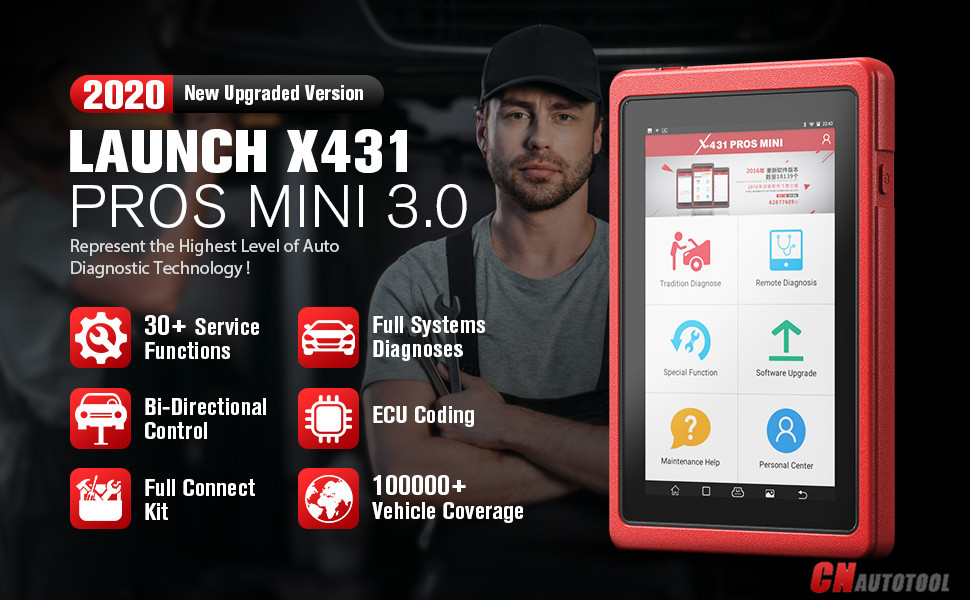 What puts LAUNCH X431 PROS MINI on the summit of automotive diagnostics market?
*LAUNCH has put more OE-level functions into X431 PROS MINI 3.0 by the needs of the newest released vehicle models.
*To make the entire diagnostic process more efficient and smooth, we have further upgraded our hardware. For details, please read the following contents.
*31+ special functions empower you program and code the electronic control system of prevailing vehicle models, also perform special functions.
*Full System Diagnostics is the perfect key for you to access the central systems and sub-systems to troubleshoot through reading/erasing DTCs, reading live data stream, matching the sub-systems with main system, etc. For instance: Engines, Auto Transmission, Airbags, Immobilizer, Key Coding, ABS, Cruise Control, Instruments, Self-Leveling Suspension systems, etc.
There are many other powerful features for you to discover such as online coding, active test, online repair database, etc.
What you're looking at is not just a simple diagnostic tool, but one that can do the job as a daily assistance and lend you a hand whenever needed!
The ultimate goal of hardware upgrades is to make you more productive, save you time and troubles!
*Android 7.0: The Android-based OS is designed to bring you a smoother operating experience while significantly improving productivity and software compatibility.
*32GB Memory: Comparing with the previous version, we have extended the storage from 16GB to 32GB giving you more "private space" for data, application or even music!
*4680mAh battery: We've significantly expanded the battery storage capacity from 3500mAh to 4680mAh! 34% more juice to empower the scanner!
*7.0-inches touchscreen: To keep up with the trends of handheld devices, PROS MINI 3.0 has equipped with a 7.0" LCD touchscreen to present you with clear picture of diagnostic results!
*Rear 5.0 Megapixel Camera: With a 5.0 Megapixel Camera on the back, you can shoot pictures or videos about the vehicle's condition and share it with the pals or peers immediately.
*Wi-Fi/VCI Bluetooth: Multiplatform data transfer is a pain in the head? Wi-Fi and BT transfer could free you from cables or wires!
* Type C: LAUNCH X431 PROS MINI has outgrown the traditional USB port and replaced it with the trend-setting Type C port.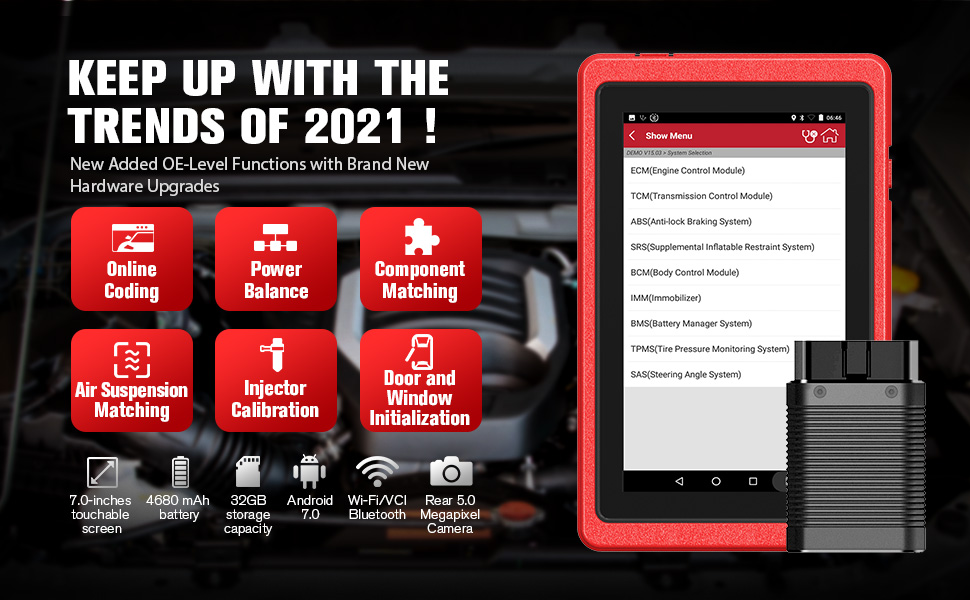 What upgrades did we make for the new 2021 LAUNCH X431 PROS MINI 3.0? OE-level Functions update? What are they?
The Online Coding: LAUNCH X431 PROS MINI 3.0 would open a door for you to pass through and receive the OE data especially for coding. *Please Note: Only support Mercedes-Benz, BMW, VW, Porsche, Skoda, Seat, etc.
Power Balance: LAUNCH X431 PROS MINI 3.0 would help you tuning the ignition time or injection time to balance the power which outputs from each cylinder so as to provide you with a stable, smooth RPM while driving. *Please Note: Only support Chrysler, GM, Ford.
Component Matching: After changing the components in specific systems, you might need to conduct a matching process to ensure the components do their job, such as steering angle matching, ignition coil matching, Clutch Matching, etc. X431 PROS MINI 3.0 would do its job to make them calibrate correctly. *Please Note: Only support Volkswagen, Audi, Seat, Skoda, BMW, Chrysler, GM, Ford, Opel, Mazda, Fiat, Honda, Nissan, Hyundai, Kia, Subaru.
Air Suspension Matching: After tuning or changing the venerable air suspension, you might need to conduct a matching process to make sure the suspension is working properly. *Please Note: Only support AUDI, BMW, CITROEN, CHRYSLER, FORD, GM, MERCEDES-BENZ, SEAT, SKODA, VW, SGM, etc.
Injector Calibration: To gain more power or improve fuel economy, tuning the injector is the easiest way to meet your requirements. X431 PROS MINI 3.0 would match the injectors with ECU after cleaning or changing the injectors. *Please Note: Only support ACURA, AUDI, BMW, CITROEN, CHRYSLER, JEEP, DODGE, FORD, FIAT, GM, HONDA, HYUNDAI, INFINITI, LANDROVER, LEXUS, etc.
Door and Window Initialization: After changing the central lock, window lift motors, or control units, you could connect the ECU with certain component through the X431 PROS MINI 3.0. *Please Note: Only support ACURA, BMW, MINI, CITROEN, PEUGEOT, FORD, GM, HONDA, JAGUAR, LANDROVER, NISSAN, INFINITI, OPEL, VAUXHALL, VOLVO.
Seat Matching / Sunroof Initialization / AFS Reset / EGR Adaptation / GEARBOX Reset / SUNROOF / SUS Reset
Transmission Control Module Calibration
Basic Functions & Maintenance Services: For all models (chassis) till 2020. Some models for 2020.
Personalization : For BMW/Porsche/Toyota/Subaru
Programmable Module Installation: For Ford/Mazda
Offline Coding: for Benz/BMW
Online Calibration : For Volkswagen/Audi/Skoda/Seat.etc
Online Account Login Service: For Volkswagen/Audi/Skoda/Seat.etc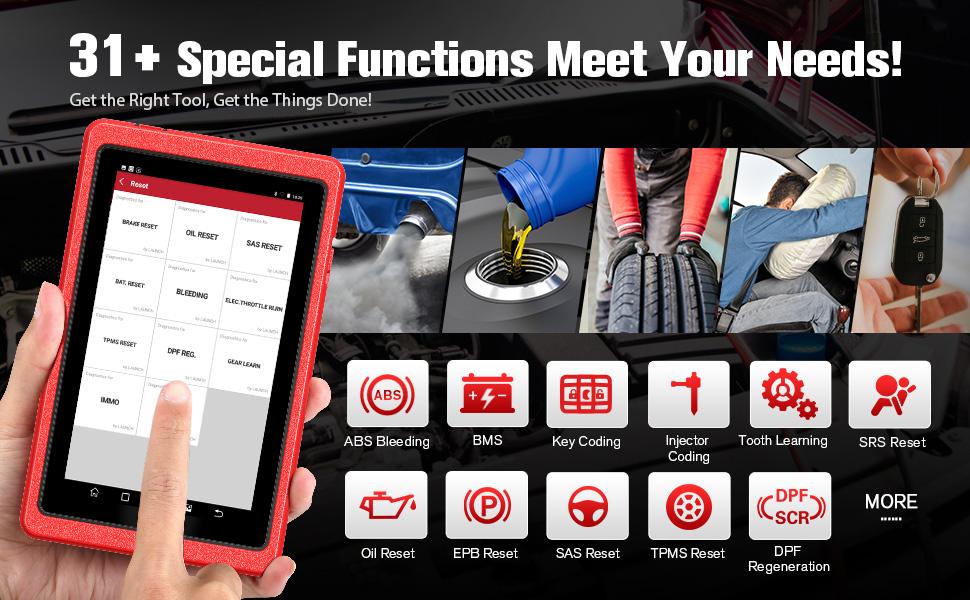 LAUNCH X431 PROS MINI Diagnostic Tool Supports More than 31 special Reset functions
Along with the latest update comes the following 31+ special functions. As your daily repair assistance, the 31+ special functions would meet your needs and solve 99% of problems. Let's check out if something you're looking for is on the list:
*LAUNCH X431 PROS MINI Supports More than 31 special Reset functions.
*NEW RESET FUNCTION ADDED: AFS/EGR/GEARBOX/SUSPENSION/SUNROOF RESET.
*Some new functions is developing. You can give your car all-round detection with this scan tool.
*Oil Reset Service: Reset the oil life systems every time the oil and oil filter are changed
*Steering Angle Calibration: Perform steering angle sensor calibration and clear records .
*Electronic Parking Brake Reset: Deactivate and activate the brake control system, assist with brake fluid control, open and close brake pads, etc
*Battery Register / Battery Maintenance: Evaluate the battery charge state, monitor the closed-circuit current, register the battery replacement, etc .
*ABS Bleeding: When the ABS contains air, the ABS bleeding function must be performed to bleed the brake system to restore ABS brake sensitivity
*Electronic Throttle Position Reset / Learn: Initialize the throttle actuators so that the "learned" values stored on ECU are returned to the default state.
*Diesel Particulate Filter (DPF) Regeneration: Clear PM (Particulate Matter) from the DPF filter through continuous combustion oxidation mode to stabilize the filter performance .
*Tire Pressure Monitor System Reset: Tire pressure resetting is required to be performed after maintenance is performed .
*Gear Learning: Perform gear learning for the car when the engine ECU, the crankshaft position sensor, or the crankshaft flywheel is replaced
*Immobilizer Matching : Read pin code from vehicle security immo system,mainly used to disable the lost vehicle keys and program a new replacement key fob.
*Fuel Injector Coding: Code new injector numbers to replace the previous one when fitting the new injectors or after the replacement is completed.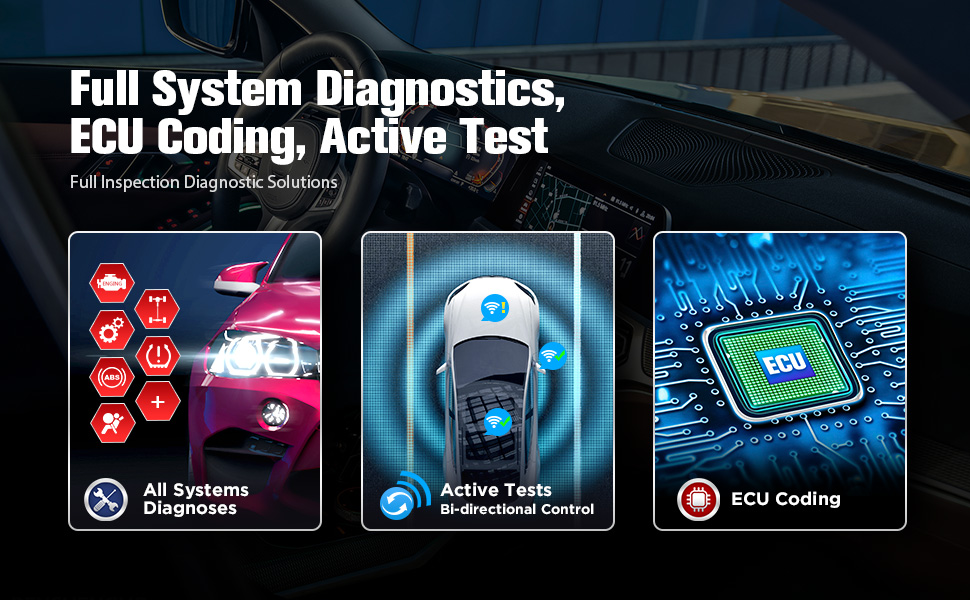 launch x431 pros mini x-431 v pro bidirectional obd2 scanner diagnostic scan tool escaner automotriz
*Modern automobiles are equipped with multiple complex electronic control systems, which means the old-school diagnostic methods and tools can no longer meet mechanics requirements. If you want to root out the problem underneath the hood accurately, you might need the help of LAUNCH X431 PROS MINI 3.0.
*Full System Diagnostics: Which gives you a key to access the deep inside of each sub-system to conduct a test, read the data, tune the components, etc.
Engines / Auto Transmission / Airbags / Immobilizer / Key Coding / ABS / Cruise Control / Instruments / Self Leveling Suspension systems/Seats / Doors / Gateway / Steering Angle / Air Suspension / Body Systems / Electronic Power Steering & Motor Assisted / Power Steering / Tire Pressure / Rain Sensors / 4WD System Stabilizer / Intelligent Parking Assist/Door Motors / Audio Systems / Air Conditioning / Tiptronic / Anti-Theft / Soft Top / Headlamp Leveling / Central Locking / Automatic Clutch / DPF Reset, etc.
*Active Test: Which is the best way to target the problems before taking off the control units or components. LAUNCH X431 PROS MINI 3.0 would be a commander instead of being an order receiver of ECU.
With Launch X431 diagnostic tool  LAUNCH X431 PROS MINI on your side, you could conduct a test on main systems or any other sub-systems only with a click. Every detail about the systems would be in the palm of your hands!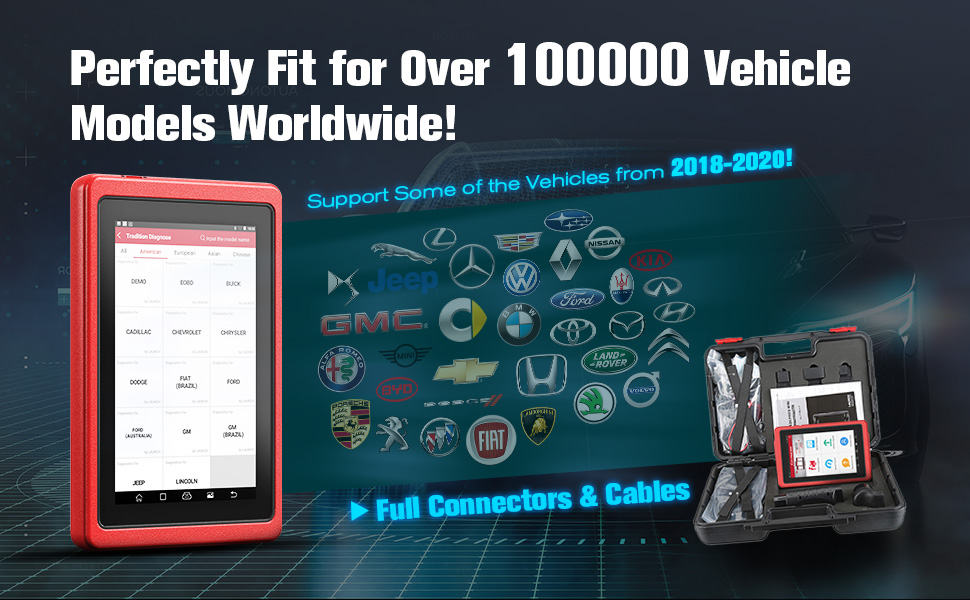 Wide Vehicle Coverage across the Global
99% of vehicles have been fully covered. Nine out of ten cars you see on the street are perfectly compatible with LAUNCH X431 PROS MINI 3.0. From east to west, from Asia to Europe, from North America to the south, as long as you don't tell me that you bought your vintage car from the museum. Then this LAUNCH scanner would fit with your vehicle!
  American Cars
Compatible With: Buick; Cadillac; Chevrolet; Chrysler; Dodge; Ford; GM; Hummer; Jeep; Lincoln;
    European Cars
Compatible With: Abarth; Alfa Romeo; Audi; Bentley; Benz; BMW; Bugatti; Citroen; Dacia; EU-Ford; Ferrari; Fiat; Jaguar; Lamborghini; Lancia; Land Rover; Maserati; Maybach; Mini; Opel; Peugeot; Porsche; Renault; Rolls-Royce; Rover; Saab; Seat; Skoda; Smart; Sprinter; Vauxhall; Volvo; VW; GAZ; IZH; PAZ; SEAZ; UAZ; VAZ
    Asian Cars
JAPAN: Acura; Daihatsu; Honda; Infiniti; Isuzu; Lexus; Mazda; Mitsubishi; Nissan; Nissan; Scion; Subaru; Subaru; Suzuki; Toyota;
KOREA: Daewoo; Hyundai; KIA;
INDIA: Mahindra; Maruti; Tata;
Australian Cars
Au-Ford; Holden
24 Languages Support
Italian, English, Chinese simplified, Chinese traditional, German, Japanese, Russian, French, Spanish, Portuguese, polish, Turkish, Dutch, Greek, Hungarian, Arabic, Danish, Korean, Persian, Romania, Serbia, Finnish, Swedish, Czech.
OBD 1 Connector: For older models, we have also prepared the 12 pins OBD1 connector to make sure that you can satisfy every customer comes to your door.
Package Contents:
Main Unit:
1pc x X431 Pro Mini
Connector:
1pc x DBScar III BT Connector
1pc x Benz-38
1pc x BMW-20
1pc x CHRYSLER-6
1pc x FIAT-3
1pc x GM/VAZ-12
1pc x HONDA-3
1pc x MITSUBISHI/HYUNDAI-12+16
1pc x NISSAN-14+16
1pc x TOYOTA-17
1pc x TOYOTA-22
Test Cable:
1pc x OBDII-16
1pc x OBDI Adaptor BOX switch wiring
1pc x CI_IPPER
Accessories:
1pc x X431 PIN envelope
1pc x X431 Pro Mini manual
1pc x X431 Pro Mini quick start
1pc x Clippers fuse 5''20mm