The new JLR approved DOIP VCI is the only unit that will be compatible with Pathfinder and all JLR vehicles with the new vehicle architectures (from the Range Rover/Range Rover Sport (L405/L494) 17MY onwards) Jaguar S-Type Jaguar F-Pace 17MY onwards or allow the enhanced diagnostics that Pathfinder will offer the retailer.
In addition to the 17MY vehicle line applications, the DOIP VCI will be capable of interfacing with 14-16MY Multi-CAN architecture vehicle lines on the Pathfinder diagnostic system.
Jaguar  XE (X760)
Jaguar  F-Pace (X761)
Jaguar  F-Type (X152)
Jaguar  XF (X260)
Jaguar  XJ (X351) – 16MY only
Jaguar F-Pace 2017
Jaguar SType 2017
Evoque (L538)
Discovery Sport (L550)
Range Rover (L405)
Range Rover Sport (L494)
Pre-14MY and vehicles not detailed above will continue to use the current diagnostic system and VCIs and uses SDD software.
JLR VCI Product Overview:
-Jaguar Land Rover Approved device
– Replacement for JLR SDD VCI's
– Covers CAN, MultiCAN, ISO9141 and SCP Vehicle Networks
– Suitable for Legacy, Current and Future Vehicles
– 2m USB Cable as standard included
– Easy to update for J2534 new functionality updatesThe JLR VCI connects directly to the vehicle OBDII (Diagnostic) connector, it then connects to the laptop via a USB cable for use with SDD. Once the J2534 DLL files are loaded, this product will allow normal operation with JLR SDD Diagnostic Tool. All communication is possible on with this device.
How does the JLR DoIP VCI get updated for future Software Updates?
Periodically JLR will release updates to its products' drivers and software. These updates are necessary to either release further device functionality or to resolve field issues.
The updating of the drivers and software is handled by the diagnostic test application which will install the updates on request.
If problems are experienced during device use, always make sure that the latest device software and drivers have been installed.
Vehicle Coverage:
The JLR VCI is suitable for use with all JLR vehicle models with the following exceptions:
Flash programming of Engine Control Modules (ECMs) on XJS and pre-2003 XJ and XK models (AJ16, AJ26, AJ27 engines).
Simultaneous logging of ECM and TCM datalogger signals on 2006my Range Rover.
Jaguar Land Rover DoIP VCI  Functions:
Work with all Jaguar & Land Rover models after 2005 year.
Work with the models after 2017, support Pathfinder software application
Work with the models before 2016, support SDD software.
Support all of the SDD's diagnostic & programming protocol.
Support all of the Pathfinder's diagnostic & programming protocol
Support Pathfinder activation service offline.
Support WIFI connection
Support VBF file edit
Support EXML file edit
Support SDD engineering software application
Support Pathfinder engineering software application
Support online programming, coding & key programming
SDD software can update to the newest version in the assistance of manufactures' engineer, and perform online programming.
Pathfinder can update to the newest version in the assistance of manufactures' engineer, and perform online programming.
Can replace JLR VCI box
Can replace JLR DoIP VCI box
This tool is need to fully work with the following
DoIP VCI Applications:
· XE (X760)
· F-Pace (X761)
· F-Type (X152)
· XF (X260)
· XJ (X351) – 16MY only
· Evoque (L538)
· Discovery Sport (L550)
· Range Rover (L405)
· Range Rover Sport (L494)
PanasonicPanasonic CF53 Second Hand Laptop
Panasonic CF53 Second Hand Laptop
Processor: Intel Core i5 3320U
Memory: 8GB
Screen size:14.0 inches
Resolution:1366 × 768
CPU frequency:2GHz
Number of cores: dual core / four threads
Graphics Type: Core Graphics
Video memory capacity: shared memory capacity
Battery type: lithium battery, 6750 mAh
Battery life:about 11 hours, depending on the specific use environment
Packing List:
1pc x Original JLR DoiP VCI
1pc x OBD cable
1pc x USB cable
1pc x network cable
1pc  x  Second Hand Panasonic CF53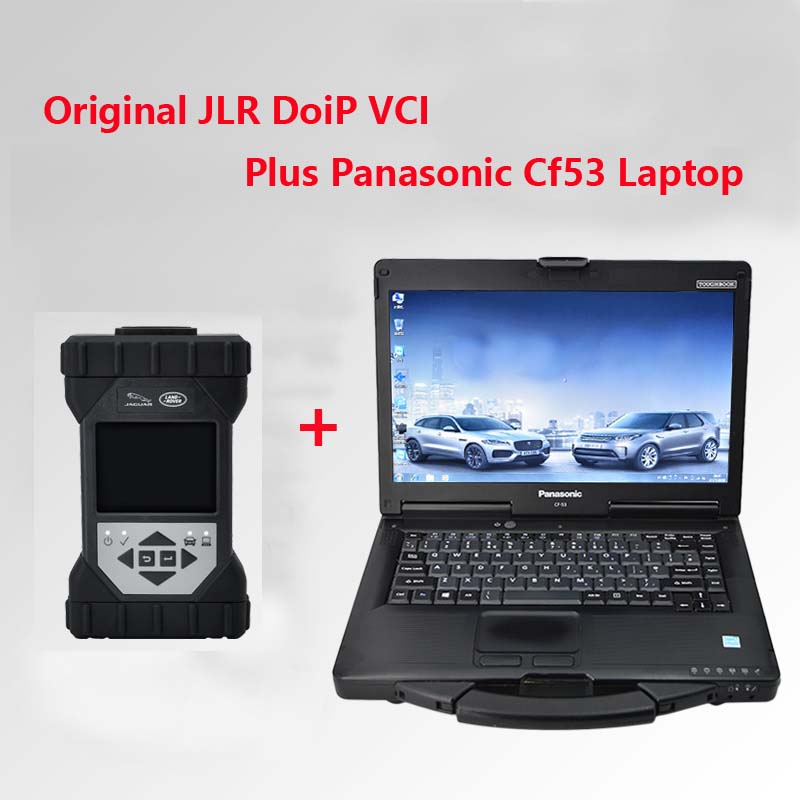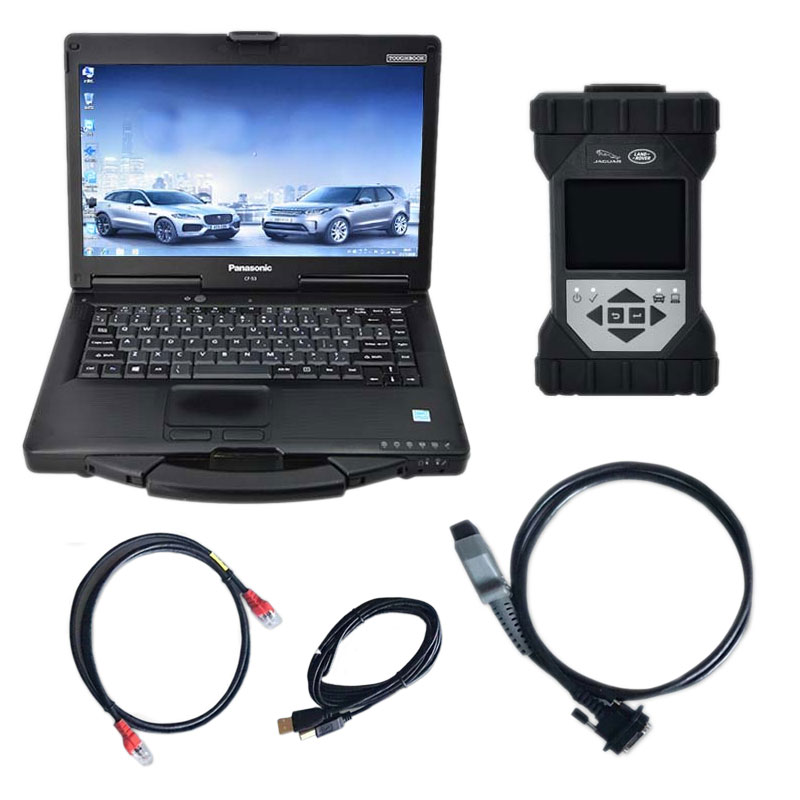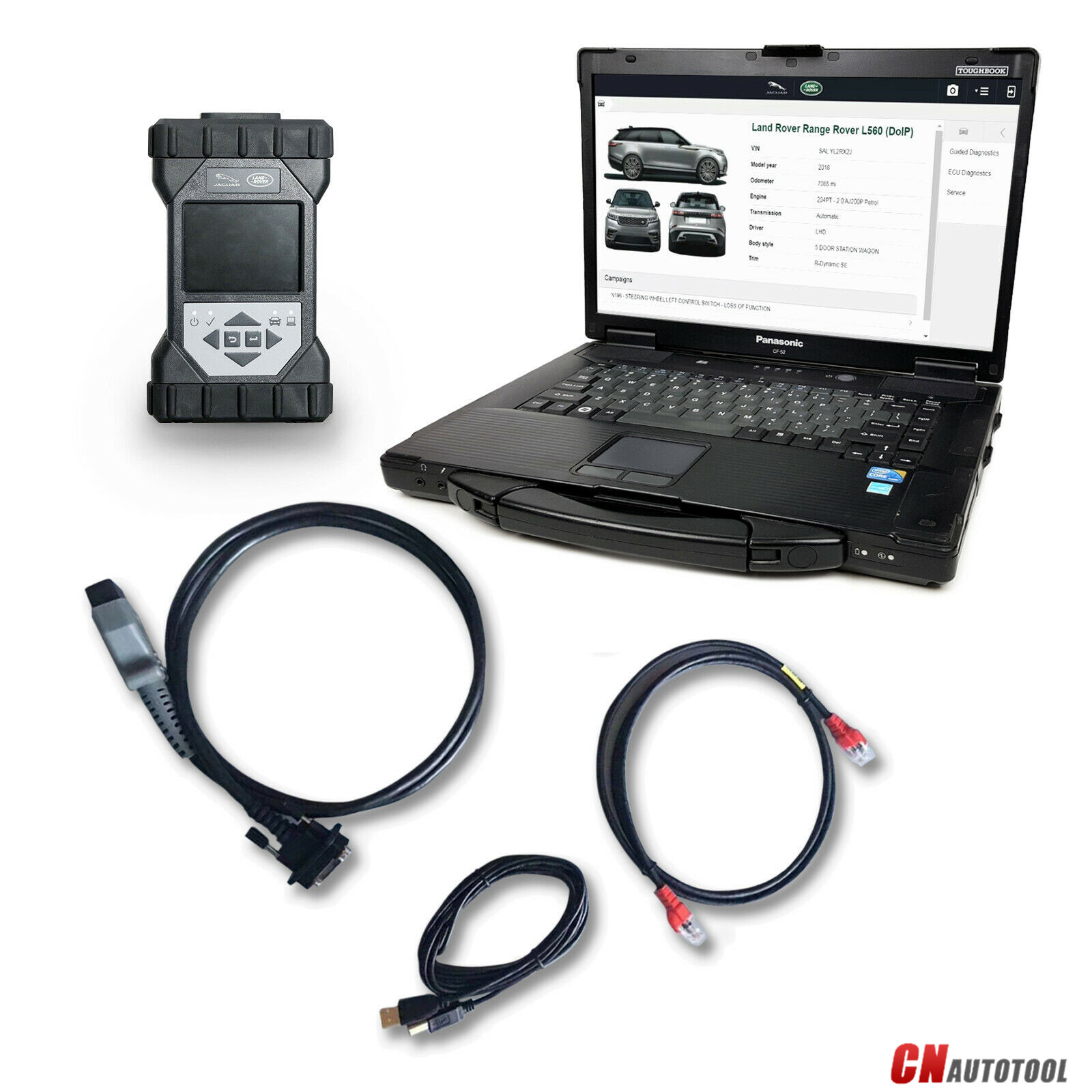 https://www.cnautotool.com/category-2-b0-Car+Diagnostic+Tools.html