Super MB STAR Plus With SATA HDD for Dell D630 or IBM T60 or IBM T61 laptop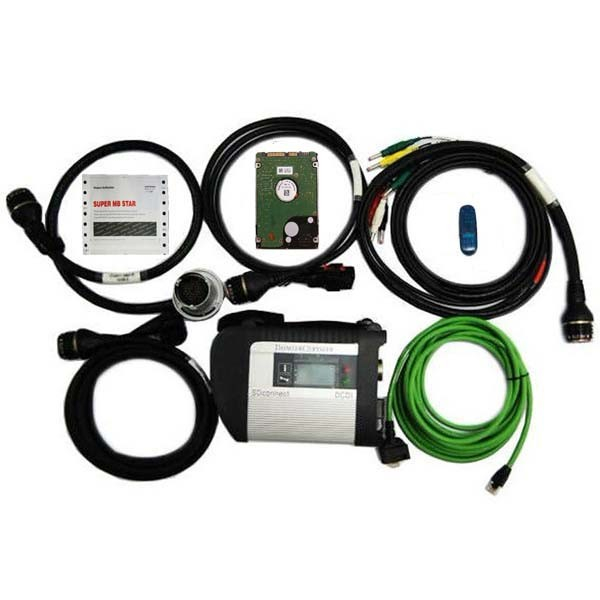 You can buy here: https://www.cnautotool.com/category-172-b0-MB+Star+C4.html
Update official website: www.cnautotool.com
Description
SATA HDD for Dell D630 or IBM T60 or IBM T61 laptops , you can choose one when you place order .
Can update online
Can do offline SCN coding
Use lan cable and WIFI  to connect laptop
New features of Super MB Star Plus 05/2012:
* Password Letter verification of your Super MB STAR Online
* Latest version 12/2021
*No need to active EPC/WIS any more, double click the icon then use it
* New car of A-Class W176, S-Class W222, GL166, B 246, CLS 218, SLK172,BHARATBENZ, CLC 171, etc., are released in this version
* Online SCN Coding/offline SCN Coding/offline coding are all available with this new version
* New function WIS and EPC DATACARD is added.
* The car PL66.1 (06-2012 Version) is added to Benz price list
* Online updater client platform v2.0.0.1 for users' easier upgrade.
* Support the hardware quick self-test and the software to be quickly recovery
* EPC Price list function (You can check parts price in EPC)
* Adjust truck Speed Limitation function (Top version only)
* SBC Reset function (Top version only)
* No need password when you choose special function in DAS (Top version only)
*Start HHT Win from desktop icon directly, no need start from DAS.
Product software includes:
DAS: the automatically Diagnosis Assistance System
WIS.net: Workshop Information System
EPC.net: Electronic Parts Catalog
ST Finder: Part location finder
STARUTILITIES: the movement management system and self-test
PL 66.1: Price List tool to find out how much price by input the parts number
Xentry: New software released by Benz Company after 04/2009 by diagnosis new cars.
Smart TAN Code: Opened special function in DAS program with Smart cars
450/451/452/454
Developer model: Mercedes-Benz engineer mode, remove limitations and open
more Special functions.
Benz Disassembly system: Video lessons to teach you how to remove each part
from Benz cars with details order steps.
Software language: Multi-languages 23 Languages, you can choose the one you
need when you using it.
Normal version: One of 23 languages
Top version: (23 Languages all)
STAR UPDATER v2.0.0.1: Online upgrade tool for Super MB STAR users.
Product hardware includes:
* Multiplexer: SD CONNCET C4 Diagnostic interface
* OBDII 16Pin: For cars with OBDII port
* Sprinter 14Pin: For sprinter cars or some vans
* 38Pin Cable: For old Benz cars with 38 Pin port
* 4Pin Cable: For old Benz cars fit for 4 Pin port
* Lan cable : Connect Multiplexer to PC/Laptop
* SATA HDD : with all the software per-installed work for Dell D630 or IBM T60 or IBM T61
* USB KEY: Security USB Encryption
* Verification Letter with Password inside: Used for verify the Super MB STAR and upgrade password.
F&Q
1 How many years of free updating can we enjoy?
Super MB STAR Plus provides one year free update online service.
2 What else shall I do before using this item?
You need setting some configurations before using this tool, we have both video and user manual to teach you how to do that, just follow the steps.
3 Super MB STAR Plus is able to work with Trucks and change the speed limitation?
Yes, Super MB STAR Plus is able to work with different kinds of Benz trucks, and it is able to change the speed limitation, please do that under the legal permission.
4 What should I do if I do not know how to setting or face some difficulty when install the software?
We provide online service 24 HRs, our after-sales service men can help you solve the problem through teamviewer, just contact the sales.
5 Is this tool able to work with Reset the Mercedes-Benz SBC Function?
The Super MB STAR Plus provides you SBC Reset, TV active and some other functions