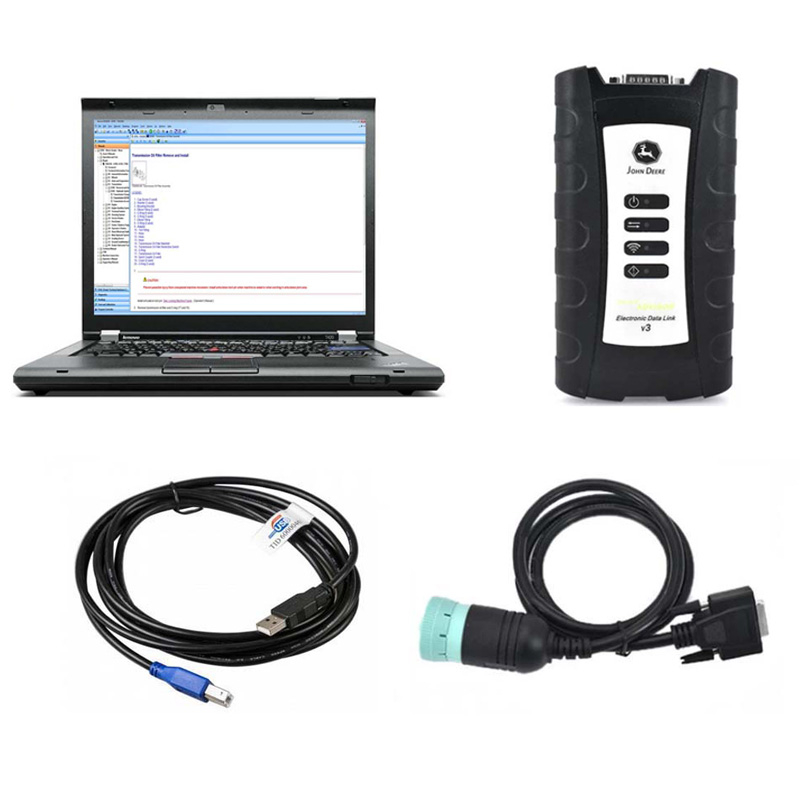 The John Deere Service Advisor combines several versions of the program. As well as a number of related programs and diagnostic equipment. For the Agriculture division please check the John Deere Service Advisor 5.3 2021 Agriculture Equipment Division product link. Before you proceed, please check the product requirements below.
V5.3 John Deere Service Advisor V5.3 AG + V5.3 CF Software
Supports John Deere vehicles up to 2021
Size: 500 GB SSD
Region: All regions
Type: Service and Repair Information
Version: V5.3
Note: HDD comes in English in default. If you need other language, please contact our customer service before ordering.
(When offline access expired , please change the date of laptop to 2021-01 , restart the software will be working )
JD Service Advisor v5.3 support only Genuine JD EDL V3 DLA Adapter kit (The previous version V2 USB and BT is also supported). If you're using any other diagnostics tool we do not make any warranties
The represented version of SA 5.3 allows you:
to start the offline version with an active internet connection
The license lasts for 3 years instead of 3 months
Windows 10 is fully supported by the EDL v2/v3 kit
Here is the list of the models included in Service Advisor 5.3 AG and Turf Equipment. If your model is not listed, please contact us, as some models might be missing in the product description.
Service Advisor for John Deere contains :
Tractors
Tractor Attachments
Transmission
Combines and Headers
Cotton Harvesting
Cutting and Mowing
Harvester
Harvester Head
Hay and Forage
Landscaping
Mate. Hand Cut. and Shredders
Planetary Drive
Planting and Seeding
Scraper
Skid Steer
Loader
Compact Loader
4WD Loader
Snow Products
Sprayers
Sugar Cane Harvesters
Sugar Cane Planter
Tillage
Vertical Tillage
Utility Vehicles
Field and Crop Solutions
Golf and Turf Products
GPS Receiver
Guidance
Hydraulic Power Pack
Information Management
LG Attachments
Motor Inverter
OEM Engines
Commercial
Display
Excavator
Worksite Pro Attachment
Axles
AG
Apollo Series
Engine
Readings
Riding Lawn Equipment
Other
Boom
PTO
Telematics
John Deere 4WD Loader
John Deere Backhoe
John Deere Bundler
John Deere Compactor
John Deere Crawler
John Deere Delimber
John Deere Excavator
John Deere Feller Buncher
John Deere Felling Head
John Deere Forklift
John Deere Forwarder
John Deere Harvester
John Deere Harvester Heads
John Deere Landscape Loader
John Deere Log Loader
John Deere Logger
John Deere Mate. Hand Cut. and Shredders
John Deere Motor Grader
John Deere OEM Engines
John Deere Scraper
John Deere Skid Steer
John Deere Skidder
John Deere Slasher
John Deere Tractor
John Deere Tractors
John Deere Tree Harvester
John Deere Truck
John Deere Utility Vehicles
John Deere Winch
John Deere Worksite Pro Attachment
Model list:
John Deere 5720
John Deere 5820
John Deere 5620
John Deere 244J
John Deere 304J
John Deere JD904
John Deere JD1054
John Deere JD1204
John Deere JD1354
John Deere 70
John Deere 570
John Deere 40
John Deere 315
John Deere 240
John Deere 250
John Deere 260
John Deere 270
John Deere 3375
John Deere 4475
John Deere 5575
John Deere 6675
John Deere 7775
John Deere 8875
John Deere 60
John Deere 375
John Deere 328
John Deere 280
John Deere 70A
John Deere 44
John Deere 320
John Deere 575
John Deere 240 Series II
John Deere 250 Series II
John Deere 260 Series II
John Deere 270 Series II
John Deere 280 Series II
John Deere 332
John Deere 325
John Deere 51
John Deere 52
John Deere 67
John Deere 675
John Deere 675B
John Deere 313
John Deere 24A
John Deere 125
John Deere 317
John Deere CT322
John Deere CT332
John Deere CT315
John Deere 850
John Deere 260
John Deere 375
John Deere 385
John Deere 960
John Deere 900
John Deere 447
John Deere 7
John Deere 8
John Deere 8A
John Deere 10
John Deere 10A
John Deere 46
John Deere 485
John Deere 448
John Deere BH8
John Deere BH9
John Deere BH11
John Deere 911
John Deere BH7
John Deere 1905
John Deere 1200
John Deere 300
John Deere 305
John Deere 300CX
John Deere 300X
John Deere 553
John Deere HX10
John Deere HX14
John Deere MX10
John Deere MX8
John Deere MX5
John Deere MX6
John Deere MX7
John Deere HX20
John Deere CX20
John Deere RC60L
John Deere RC72L
John Deere RC72
John Deere RC78
John Deere 1800
John Deere E-GATOR
John Deere DB84
John Deere DB96
John Deere 50ZTS
John Deere 27ZTS
John Deere 35ZTS
John Deere 17ZTS
John Deere 27CZTS
John Deere 35CZTS
John Deere 50CZTS
John Deere 27D
John Deere 17D
John Deere 60D
John Deere 35D
John Deere 50D
John Deere CH8
John Deere 540
John Deere 2000
John Deere MCS
John Deere 2 Bag Bagger
John Deere 5080R
John Deere 5090R
John Deere 5100R
John Deere 5100RN
John Deere 5080RN
John Deere 5090RN
John Deere 5070M
John Deere 5080M
John Deere 5090M
John Deere 5100M
John Deere 790
John Deere 670
John Deere 770
John Deere 4300
John Deere 4700
John Deere 4400
John Deere 1050
John Deere 4200
John Deere 4720
John Deere 2320
John Deere 4600
John Deere 970
John Deere 2520
John Deere 4010
John Deere 4320
John Deere 4520
John Deere 4710
John Deere 4500
John Deere 4100
John Deere 4110
John Deere 4115
John Deere 4210
John Deere 4310
John Deere 4410
John Deere 4510
John Deere 4610
John Deere 870
John Deere 1070
John Deere 990HC
John Deere 2210
John Deere 3120
John Deere 4120
John Deere 3320
John Deere 3520
John Deere 3720
John Deere 2305
John Deere 3203
John Deere 4105
John Deere 3005
John Deere 4005
John Deere 2720
John Deere 3032E
John Deere 3036E
John Deere 3038E ( Need 4.2 CCE Software )