MB Star Diagnostic Xentry software has been updated to V09.2022. It has been tested and verified 100% working fine on Win7 and Win10, and can be used for MB SD Connect C4/C5.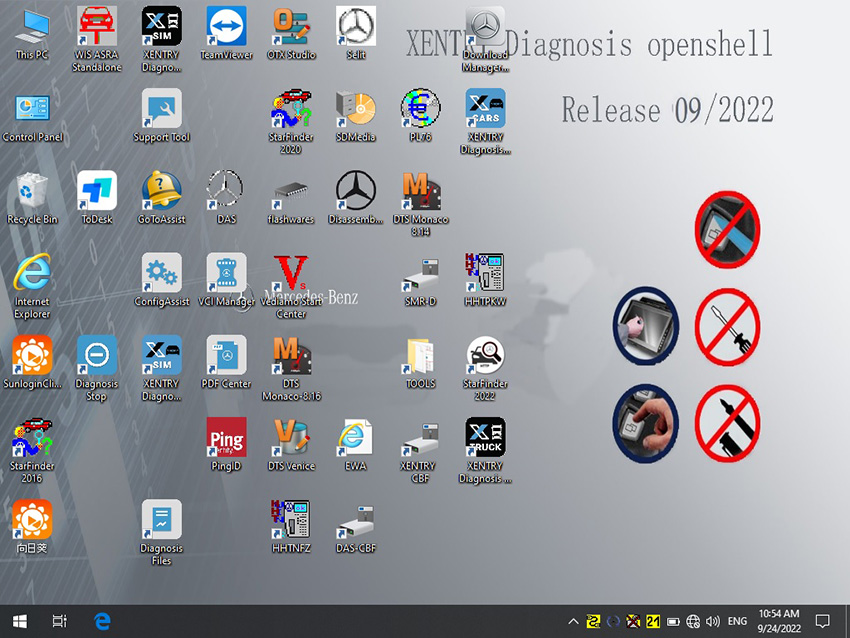 Part 1: 09.2022
MB SD C4 software update
Top Reasons to Get MB SD C4/C5 DoIP:
1.The new SDconnect C4/C5 is able to work for DoIP.
2.It's the onlyC4/C5 that supports ethernet communication (DoIP).
3.Have tested no issues on the new Mercedes with DoIP.
4.No need to worry about firmware damage during the update process
5.The wireless connection is stable. (With built-in Wifi Chip)
6.remote help is available.
7.Good Quality, It's waterproof, shockproof, and tamper-proof.
8.With Free DTS Monaco & Vediamo
9.Support both 12V Cars and 24V Trucks.
10.not only supports K line diagnosis and CAN BUS, but also UDS diagnose protocol.
11.Connector adopt Military quick swap technology, it can support 10,000 times pull the plug, more stable;
12.All core accessories adopt the original new packing chip, and a 24hours test, guarantee the quality of the products.
XENTRY Diagnostics OpenShell 09.2022 (20.6.4) tested source
https://www.cnautotool.com/goods-6508-MB+SD+Connect+C4C5+Star+Diagnosis+Plus+Panasonic+CF19+Laptop++With+Vediamo+and+DTS+Development+and+Engineering.html
DOIP is activated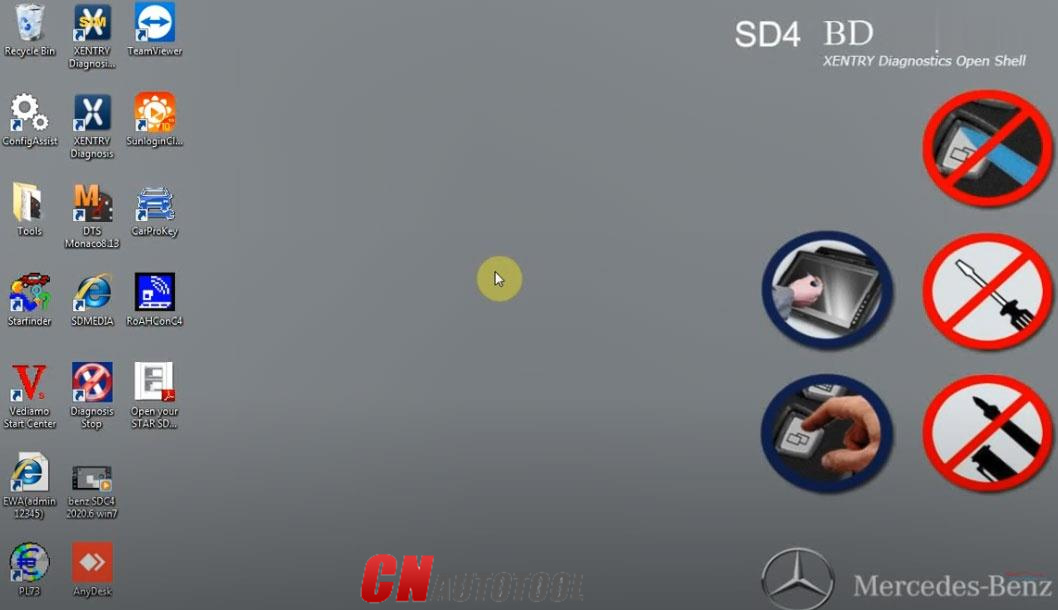 Operation system: Win7, Win10
Multi-Language available: English, Croatian, Czech, Danish, Dutch, Finish, French, German, Greek, Hungarian, Italian, Japanese, Korean, Polish, Portuguese, Romanian, Russian; Spanish, Swedish, Turkish, Chinese.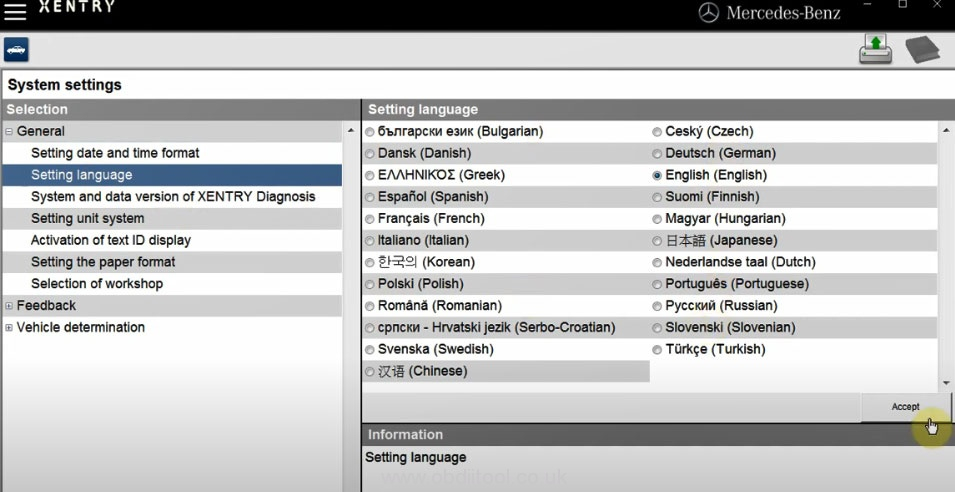 Highlights:
1.DAS/Xentry software work for Mercedes Benz Car & Truck Diagnostics till 2020
2. MB Star Diagnostic DAS/Xentry software with MB subscription support SCN Online Coding function
(Notice: mb sd software will no support online coding after v2019.12, if you want SCN Online Coding Function, pls buy v2019.09 sd c4 software)
3.Mercedes engineering Vediamo & DTS Monaco software option perform more professional functions
Support Mer-cedes Benz Cars After Year 1989
Passenger Car Support List:
A(176),  A(169),  A(168),  B(246),  B(245),  CLC(117),  C(204)  C(203),  C(202),  190(201),  E(212),  E(211),  E(210),  124(124),  S(222),  S(221),  S(220),  S(140),  S(126),
E(207),  CLK(209),  CLK(208),  CLS(218),  CLS(219),  CL(216),  CL(215),  CL(140)  SLK(172),  SLK(171),  SLK(170),  SL(231),  SL(230),  SL(129),  SL(107),  SLS(197),
M(166),  M(164),  M(163),  G(463),  G(461),  E(212),  E(211),  E(210),  124(124),  S(222),  S(221),S(220),  S(140),  CLK(209),  CLK(208),  CLS(218),  CLS(219),  CL(216),
CL(215),  CL(140),  SLK(172),  SL(231),  SL(230),  SL(129),  SL(107),SLS(197),  M(166),  M(164),  M(163),  G(460),  GL(164),  GLK(204),  R(251)
Van Support List:
MB 100(631),  T1,  SprinterIII,  SprinterII,  SprinterI,  Sprinter900,  Citan,  Vito(639),  Vito(638), V(638),   Viano(639),  T2,  Vario,  Vaneo(414)
Truck Support List:
Actros963/4,  Actros2,3,  AtegoIII,  AtegoII,  AxorII,  Eonic,  Zetros,  Actros,  Atego Light,  Atego Heavey,  HPN M96,  Atron,  HPN M2000,  SKL,  FSK,  Further model series
Unimog Support List:
U20,  UGN,  UHN
Bus Support List:
TRAVEGO,  INTOURO,  INTEGRO,  CITARO,  CAPACITY,  CITO,  TOURISMO,  O350/O403, CONECTO,  O404,  O405-O408,
Minibus,  OC500,  TOURO,  TOURINO,  MBC,  MULITEGO,  O500,  O500/OH,  OH,  OH368,  OF,  OF384,  LO,  O400, FURTHER MODEL SERIES
Super Sports Car Support List:
SLR(199)
Part 2: 09.2022 MB SD C4 software activation
1.Activate V2020.06 Xentry and DTS software
Step 1: Add a new notepad
Open "ConfigAssist" application
Select "SDconnect"-> "Configure"
Copy the Hardware ID and paste to the notepad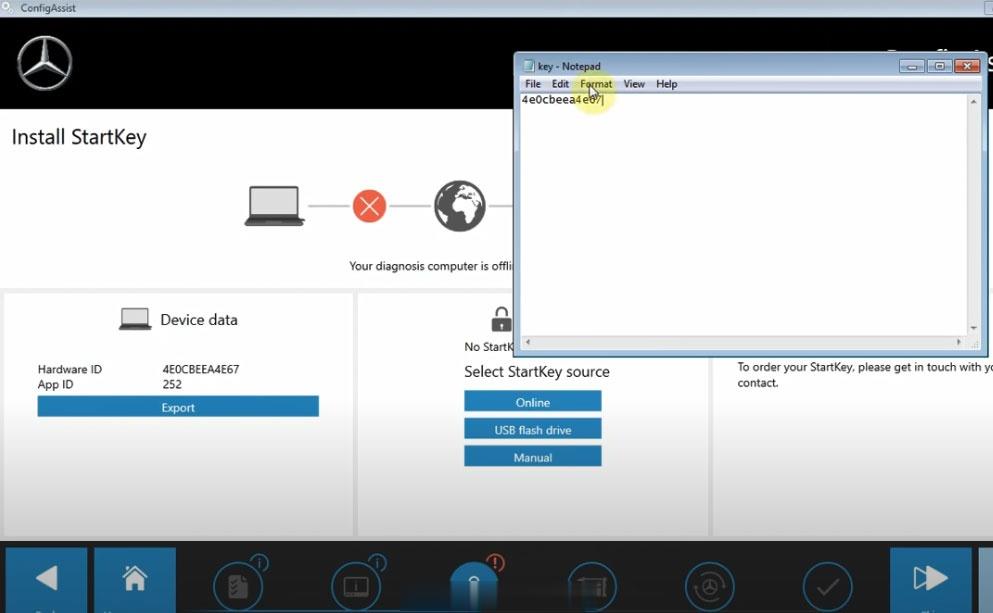 Step 2: Open "DTS Monaco 8.13"
It will copy the ID automatically
Paste ID to notepad as well
Send two IDs to your dealer
When you receive the activation file from your dealer, open it and copy ID inside.
Step 3: In ConfigAssist menu
Click on "Manual" and enter StartKey manually
Paste the ID activated in the StartKey textbox
Click on "Save" to continue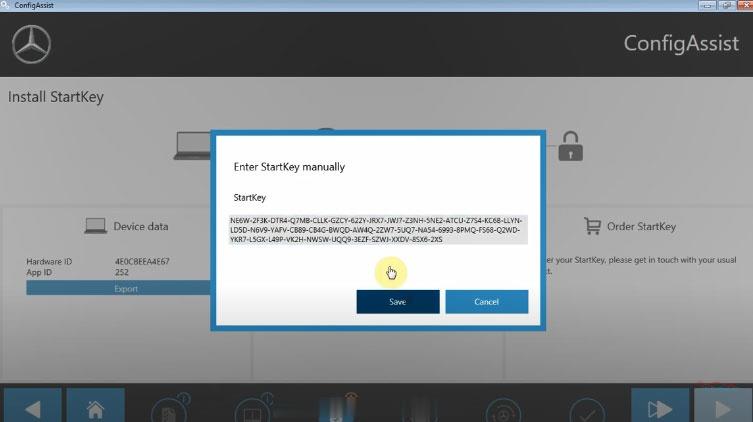 Activate Xentry software successfully
Step 4: Copy the file from activation zip file
Paste all the files to "Softing/Diagnostic Tool Set 8/8.13/bin"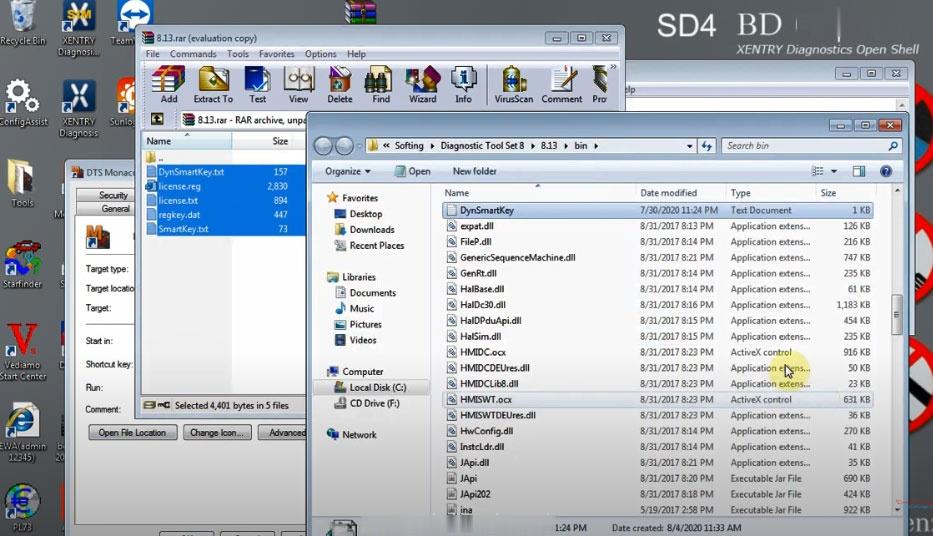 Activate DTS Monaco software successfully
Step 4: Open "Xentry software"
Enter "System settings" menu
Select "Setting language"
Then choose the language you want
Click on "Accept" to finish the process
2.Activate 09.2022 MB Star C4 EPC & WIS
Step 1: Visit "EWA" system
Input user name (admin) and password (12345)
Click on "Log in"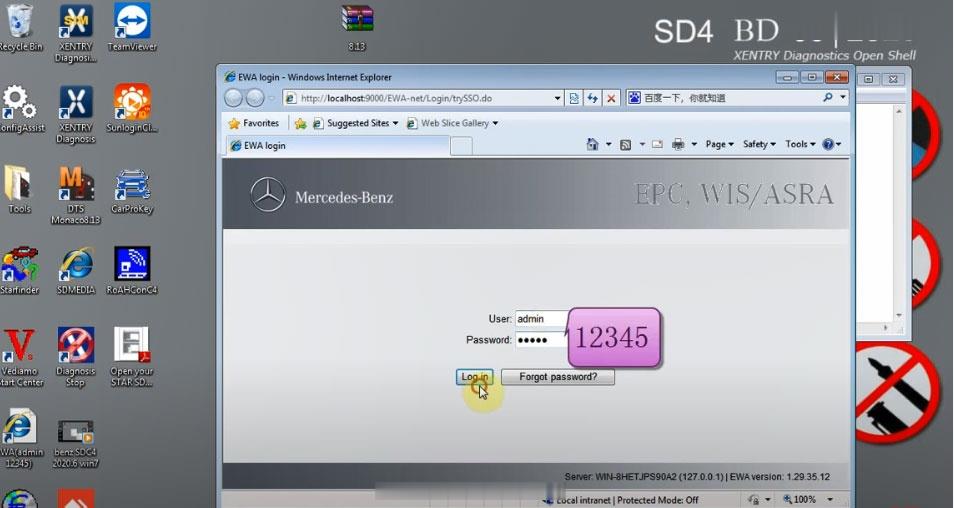 Step 2: In "Programs" menu
Select "Administration"-> "Server"-> "Edit the access authorization"
Copy the current LAN-ID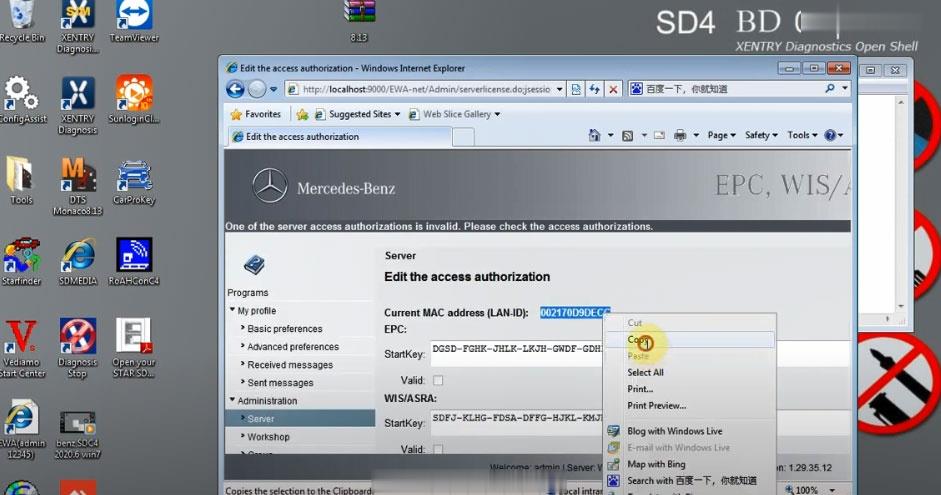 Step 3: Open "CarProKey" program
Select "EPCnet/WISnet for EWA
Paste the LANID, input user's name and change the expiration date
Then click on "GENERATE"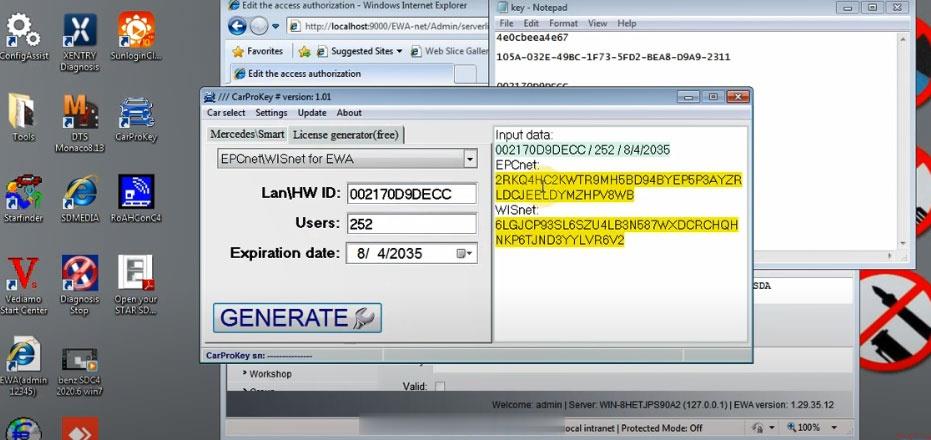 Step 4: Copy the EPCnet and WISnet activation key from the last step
Paste to the corresponding EPC and WIS/ASRA StartKey location
Click on "Save"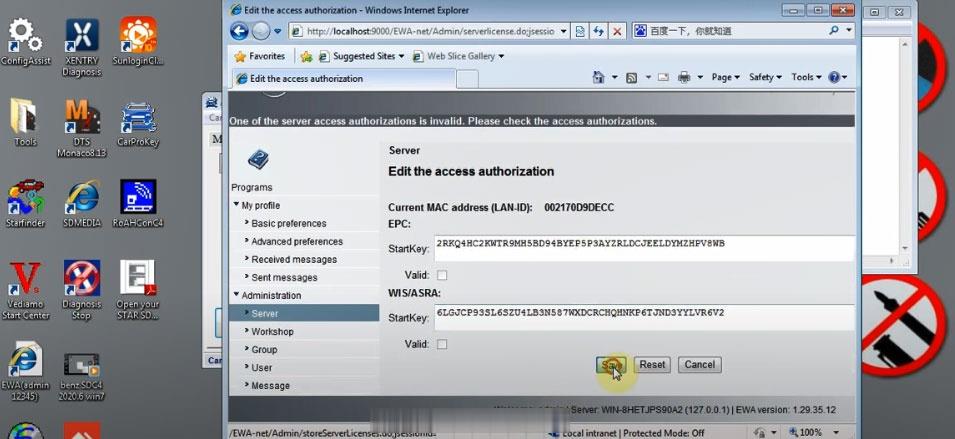 Open EPS and WIS.ASRA program to select the language you desire
Activate EPS and WIS software successfully
Part 3: 09.2022 MB SD C4 software WLAN configuration
Step 1: Open "Network and Sharing Center"
Change adapter settings
Set the local area connection 2 and wireless network connection 2
Step 2: Click on the blue icon marked at the bottom left of the screen
Select "Administration"-> 01/Cable accessible->Register/configure option
Just set [WLAN parameters, road]
Encryption: WEP/Hex
Key: input 26 lowercase letters: a
Click on "Start"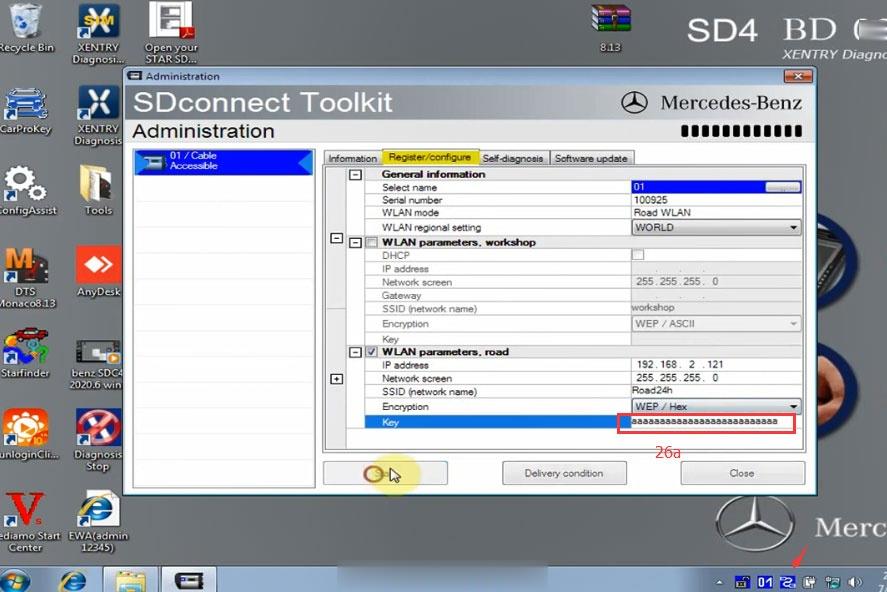 Step 3: Open "RoAHGonC4" program
Click on "Make Road 24h Ad-hoc Profile" and "2 Connect to MUX via Road24h"
It will show "A network security key is required to connect to Road24h."
Click it to enter the key (26 "a")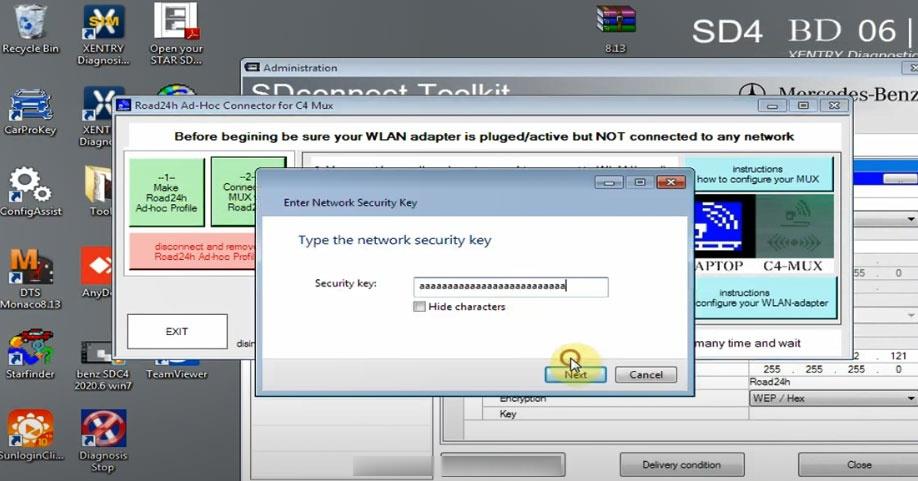 Click on the SD connect Toolkit icon at the bottom left of the screen
Go on Equipement selection
Select "01 Accessible" and then click on "Select"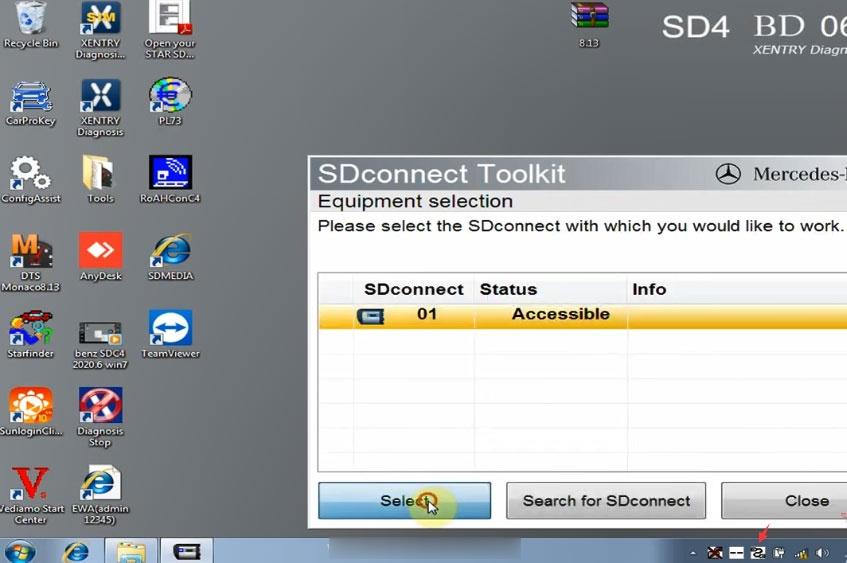 Then you can diagnose the car you want.