Genuine 2022 Volvo Vocom II Diagnostic Kit 88894000 Truck Diagnostic Adapter- Include Latest PTT 2.8.150 SoftwareGenuine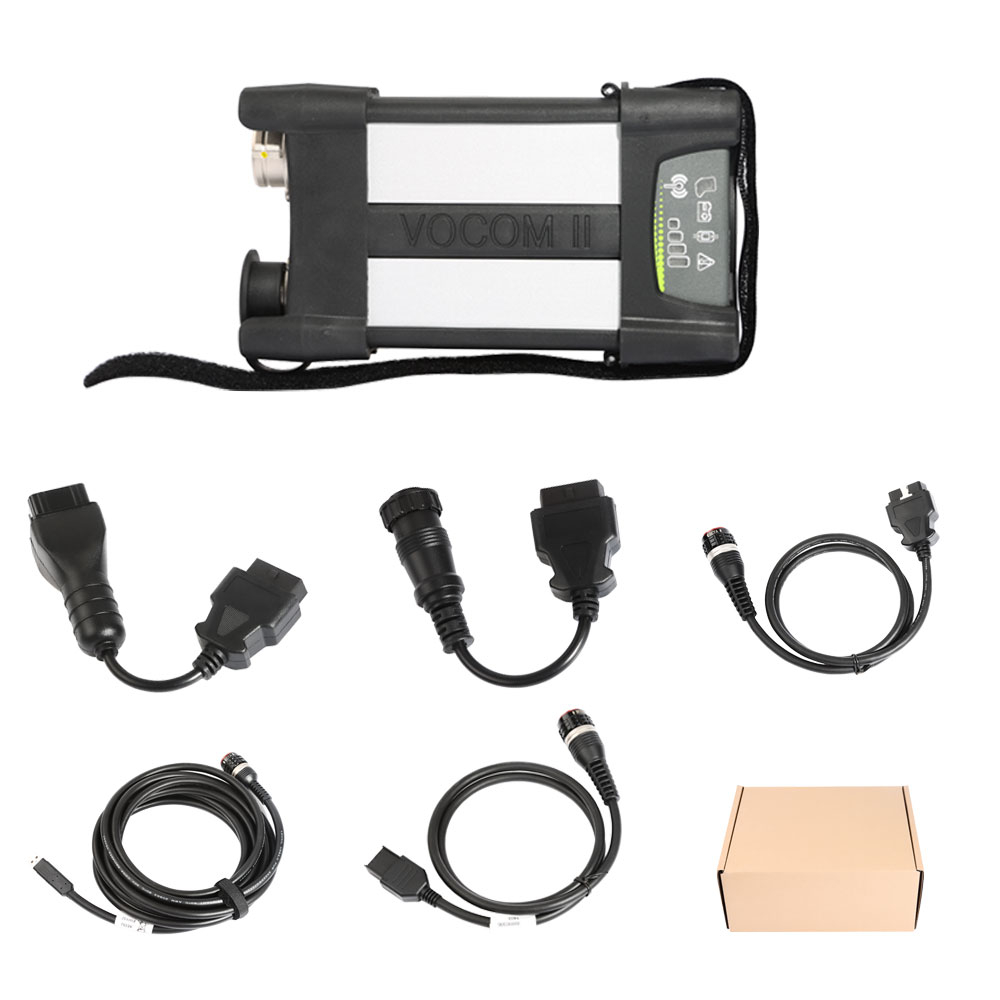 Volvo Vocom II Diagnostic Kit 88894000 Truck Diagnostic Adapter-Include Latest 2022 PTT 2.8.150 Software !
Full Online Installation Service Included
Include Worldwide DHL Express Shipping !
Vocom Data Link Adapter Kit – Interface for Volvo Diagnostic Tool Scanner Full Set !
The Only Kit That Include 9 Pin Adapter For USA VOLVO Models !
88894000 Vocom Interface is a diagnostics application that covers the whole repair process through the use of plug-ins. With 88894000 Vocom Interface you can diagnose, test, calibrate, and program a product. A product could be a vehicle, engine, or a machine. 88894000 Vocom Interface also provide functions for updating the tool, communication with the product, and other external applications. The set of plug-ins, user authorizations, and available languages is adjustable to provide every user with what they need.
The basic workflow in Tech Tool is the same for all products:
• Identify a product.
• View information history.
• Diagnose a selected product.
• Test a selected product.
• Program a selected product.
• Calibrate a selected product.
88894000 Vocom Interface Supported Companies and Electrical Systems:
• Volvo Trucks (Older el. system, Vehicle el. '98, VERSION2, VERSION3);
• Volvo Trucks (VERSION4 – FH4/FM4);
• Volvo Buses (Conventional, Multiplexed, Multiplexed v2, Multiplexed v3);
• Volvo Construction Equipment;
• Volvo Penta (VERSION2);
• Volvo OEM Component Customer (VERSION2, VERSION3);
• Mack Trucks (V-MAC I/II/III, ITC, IV, IV+);
• Renault Trucks (VERSION2, VERSION3, VERSION4);
• UD Trucks (VERSION2, VERSION3).
Package list:
1) 88890305 USB Cable
2) 88890304 OBD Cable
3) 88890306 FCI/8 PIN Cable
4) 88890302 12 Pin Cable
5) 9993832 14 pin diagnostic cable
6) Vocom II 88894000 interface
7) PTT2.8.150 or PTT 1.12 (Optional)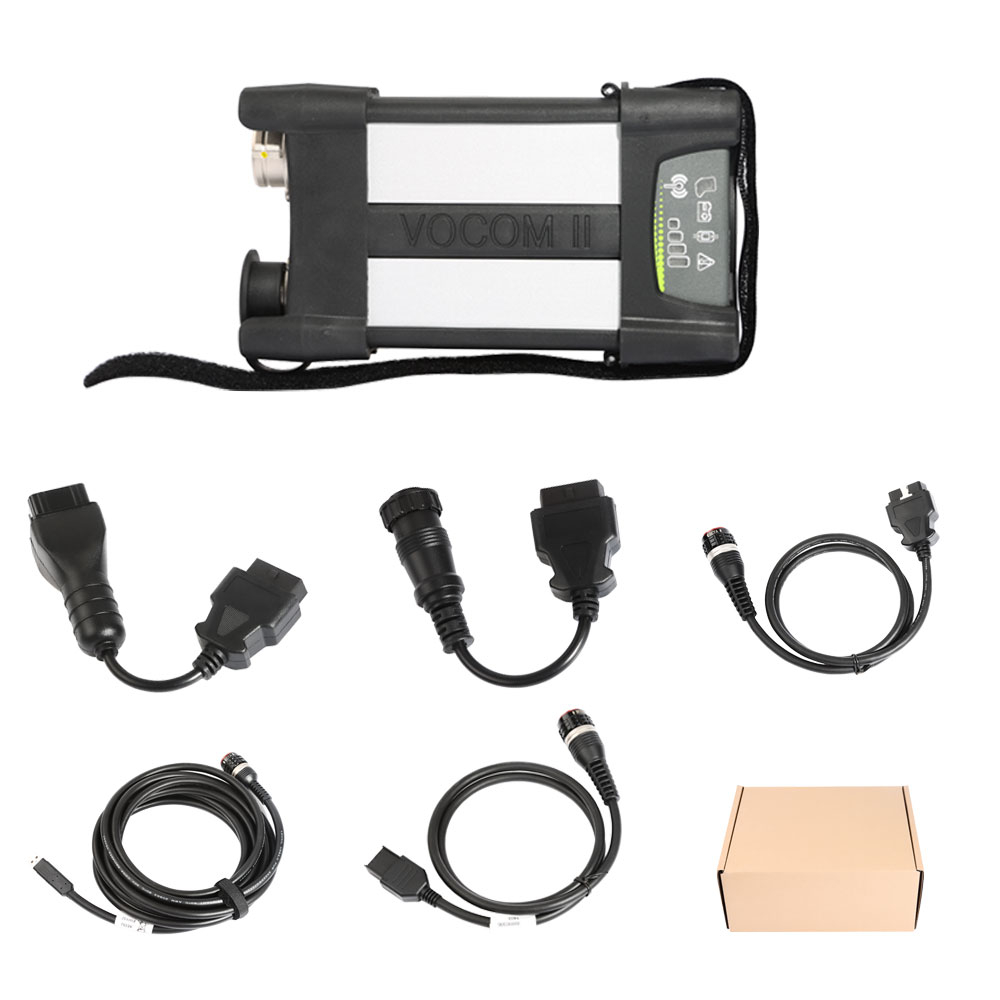 All Volvo Models Supported, Partial Models List:
Volvo Trucks :
AC Compo4 F10 F12 F16 FE FH FH12 FH16 FH565 FL FL10 FL12 FL6 FL7 FM FM10 FM12 FM9 FM7 Nh12 NH525 NH565 NL10 Nl12 VAh VHD Vm VN VT WC WG WI WX
busses:
B10B B10L B10M B10R B11R B12 B12B B12M B12R B13R B58 B5LH B5RH B6 B6R B7FB B7L B7R B9L B9R B9S B9TL BXRC COMP12 PREVH PREVX OLYMPIAN SUPEROLY
construction Equipment
Wheel Loader:
L110E L110F L110G L120E L120F L120G L150E L150F L150G L180E L180F L180G L220E L220F L220G L250G L330E L350F L45F-TP L45F-TPS L50F-TP L50F-TPS L50G-TP L50G-TPS L60E L60F L60G L70E L70F L70G L90E L90F L90G
Articulated Hauler :
A25D A25E A25F A30D A30E A30F A35D A35E A35F A40D A40E A40F T450D
Excavator:
EC135B EC140B EC140C EC140D EC160B EC160C EC160D EC180B EC180C EC180D EC200B EC210B EC210C EC235D EC240B EC240C EC250D EC290B EC290C EC300D EC330B EC330C EC340D EC360B EC360C EC380D EC460B EC460C EC480D EC700B EC700C ECR145C ECR235C ECR235D ECR305C EW140B EW140C EW140D EW145B EW160B EW160C EW160D EW180B EW180C EW180D EW200B EW210C EW210D EW230C FB2800C FBR2800C FC2121C FC2421C FC2924C FC3329C PL3005D PL4608 PL4808D PL7015
Grader:
G710B G720B G726B G730B G740B G746B G780B G930 G930B G940 G940B G946 G946B G960 G960B G970 G976 G990
Skid steer Loader :
MC110B MC60B MC70B MC80B MC90B
Compact Excavator:
EC55C EC80D ECR88 EW60C
Paver :
ABG7820B ABG8820B P7820C L882C
Other:
CARETRAC
We Are Offering Full Teamviewer Support , After You Download The Files Or Got Your DVD's We will Connect To your Pc And Install The Software For You !!
Product Details :
2.8.150 version –latest version
if you choose this software version ,the software login: User ID:P123456,No Password,Pls choose the work offine
supports Volvo FH series & FM series vehicles.
SUPPORTS Volvo Trucks / Volvo busses/ Volvo construction Equipment like Wheel Loader/ Aryiculated Hauler / Excavator/ Grader / Skid steer Loader / Compact Excavator /Paver / Others
If you want more 88894000 Vocom tool,please click below link: https://www.cnautotool.com