Our Advantages :
We offer two years free udapte on offical website, becasue we have purchased one more year update on line for our customers.
The Autel Maxisys Pro MS908P with MaxiFlash provides OE diagnostic functionality and J2534 programming capabilities.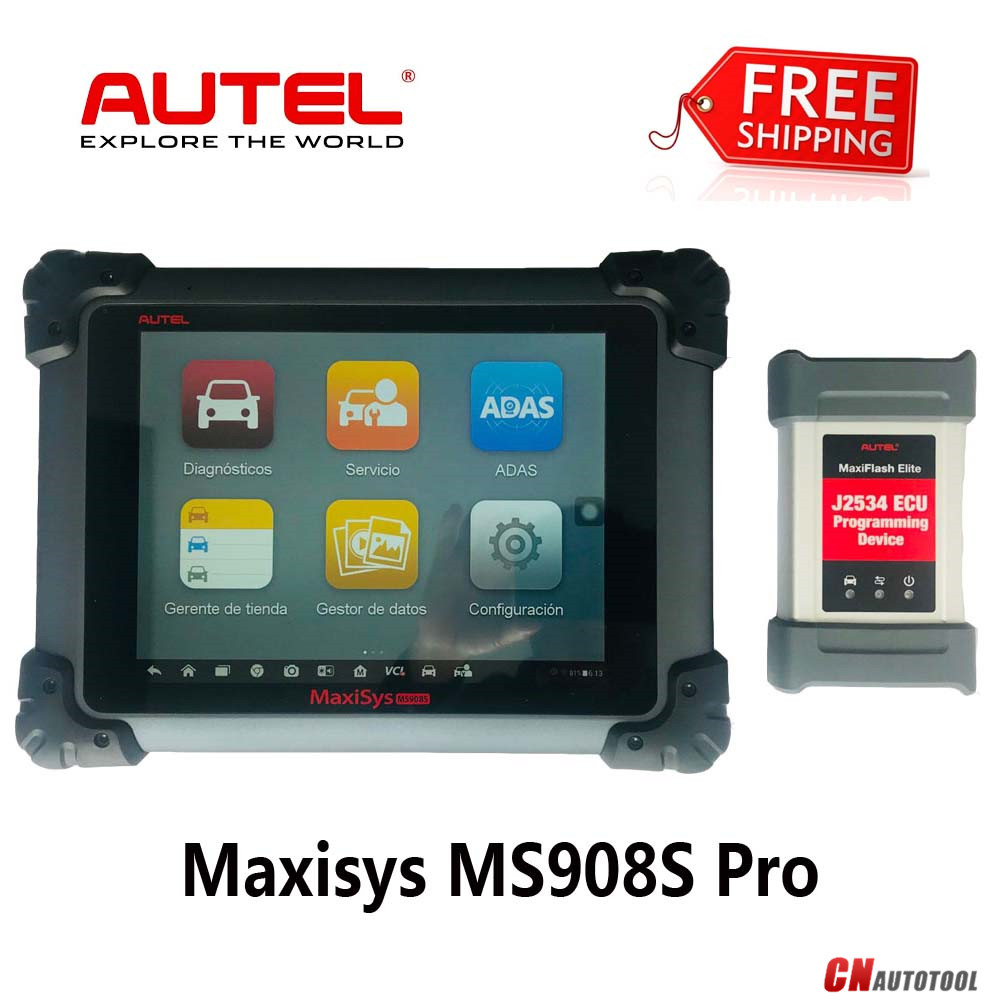 What the Autel ms908s Pro can do for you…
– Complete OBD2 generic functions
– Loads of bi-directionals (hot functions) and system tests
– Provides OE-level functionality (varies from model to model) such as: Initialization, Calibrations, Immobilizer (not Toyota/Lexus)
– Sometimes the Autel is faster and easier to use than an OE tool
– PCM or WIN replacement functions on Chrysler
– Parameter reset on Ford and Mazda
– Graphical Ford misfire
– The 908s probably add keys unless OE requires a login to NASTF. If OE requires a pin code / security code, so will Autel. Autel does not pull pin codes
– Continues to work after the update subscription has expired
– No penalty for skipping updates
– Warranty extended with each update subscription renewal
The Autel universe of tools
The ms908s Pro is compatible with Autel add-ons (sold separately): ADAS, MaxiScope, MaxiVideo MV105/MV108
Coverage
– Extensive vehicle coverage for more than 80 US, Asian and European vehicle makes, including supercars
– Exceptional OE-Level system coverage for all electronic systems
– Complete capabilities for codes, live data, active test, ECU information, adaptation, matching, etc
– Protocols: ISO 9142-2, ISO 14230-2, ISO 15765-4, K/L-Line, Flashing Code, SAE-J1850 VPW, SAE-J1850 PWM, CAN ISO 11898, Highspeed, Middlespeed, Lowspeed and Singlewire CAN, GM UART, UART Echo Byte Protocol, Honda Diag-H Protocol, TP 2.0, TP 1.6, SAE J1939, SAE J1708, Fault-Tolerant CAN.
– Coverage details available here.
Kits Contents
• MS908s Tablet with 1-year update Subscription (TCP)
• MaxiFlash
• VCI (70 meter wireless range)
• Main Cable (1.5 m long) tablet to vehicle
• Adapter for Benz-38
• Adapter for BMW-20
• Adapter for Chrysler-16
• Adapter for GM/Daewoo-12
• Adapter for Honda-3
• Adapter for Kia-20
• Adapter for Mitsubishi/Hyundai-12+16
• Adapter for Nissan-14
• Adapter for VW/AUDI-2+2
• Mini USB Cable (connects tablet to VCI)
• Standard 2.0 USB Cable (connects tablet to VCI)
• AC/DC External Power Adapter
• Cigarette Lighter
• Fused Cigarette Lighter Adapter
• Screen Wipe Soft Cloth (Black)
• Packing List
• Quick Start Guide
• User Manual
• Plastic Storage Case
• 1-Year Software Updates
• 1-Year Warranty
• AESwave tech support available after the sale
MS908sp Tablet Specifications