Launch X-431 Diagun V is a cost-effective product independently developed by Launch, It inherits many advantages of X-431 Diagun IV, such as wide coverage of car models, powerful diagnostic functions, and accurate test data.
Highlights:
1. 2 Years Free Update Online
2. Upgrade Version of Diagun IV
3. 32GB large storage for smoother operation
4. The connector can be inserted into the host, which is easy to use, and not easy to lose.
5. Both the front and back of the connector can be inserted into TYPE C interface, making operations more convenient and charging more stable.
6. One-click Smart Upgrade: Support online one-click smart upgrade for car software.  To enjoy better functions and upgrade services, upgrade software aperiodically.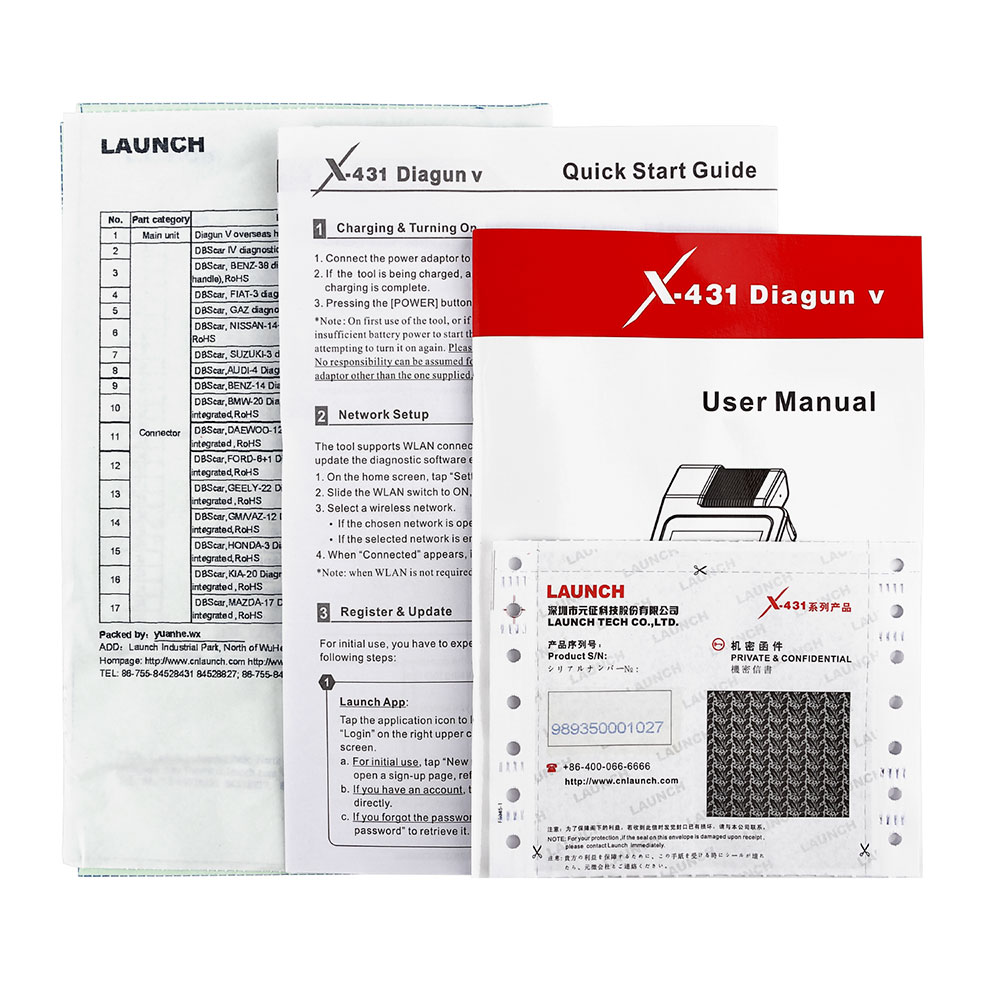 Dear friend, when you buy Launch X431 Diagun, have you confused with the diagun software update? if yes, please don't worry, now I will show the common question and answer about the x431 diagun update
Launch X431 Diagun Full set 2 years Free Update Multi-language -Engineer version 110 Softwares
Q. Why won't my computer download the updates?
A. Your Internet browser may have a pop-up blocker enabled. You may have seen a gold bar appear at the top of your browser window entitled 'Information Bar'. This signifies a popup blocker is active. To override the pop-up blocker settings, you must press and hold the 'Ctrl' key on your keyboard while clicking the link for the download. Keep the 'Ctrl' key depressed until you see the 'Save As' dialog box appear for the download. You may need to do this for each download. Another possible reason for not being able to download the updates is an expired subscription. Contact your local dealer for current subscription rates and/or to purchase.
Q. How to get the updated car-line diagnostic software?
A. Launch is publishing all new versions on the website (http://www.x431.com/). You need to log in with your username and password and download the software to your hard drive, then transfer them from hard drive to the CF card.
Q. Why doesn't my unit recognize my updated CF Card?
A. There are two possible causes for this: 1. Some programs are lost or damaged. Download the latest 'System Data' and 'Display Program' from the download page at www.x431.com, and update again. 2. CF Card is damaged. Contact your local dealer for replacement.
More Auto Diagnostic tool will be offered at low price.