Xtool X100 PAD3 (X100 PAD Elite ) wins X100 PAD2 Pro in hardware configuration and the added car models.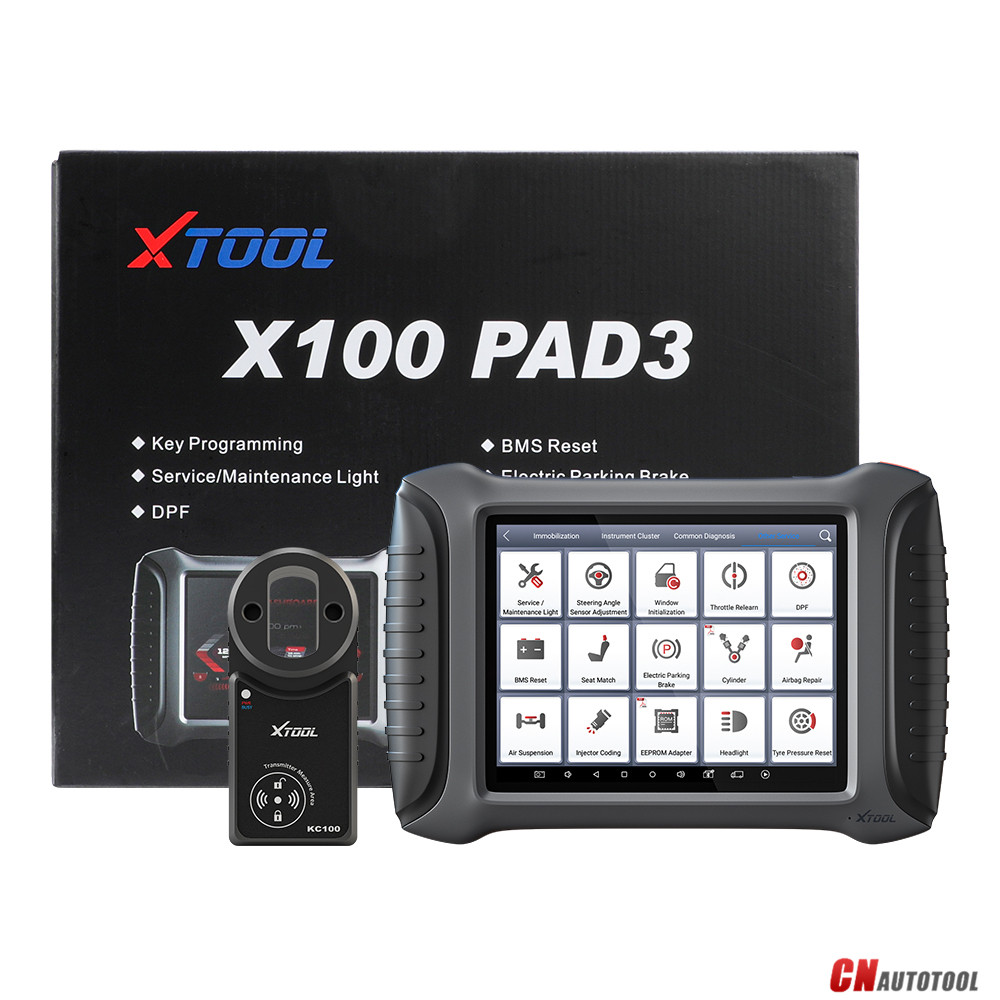 XTOOL X100 PAD3 Functions:
* Key programming
* Oil Reset/Engine oil light reset
* Odometer Adjustment
* Tire Pressure Warning Light Reset (Manual Operation)
* Timing belt light reset (Manual Operation)
* EPB Electrical Parking Brake Adaptation
* TPS Throttle Body Adaptation
* Steering Angle Calibration
* Battery Reset
* PIN Code Reading
* Hexadcimal editor(Win Hex)
* OBDII Diagnosis
* INJ Code
* Support the latest vehicles with CAN BUS and UDS protocol
* Update Via WIFI (always equip your device with the latest software)
*More….
Specification :
Operating System: Android 5.1.1
Memory: 2GB RAM,64GB Flash
CPU: Quad Core, 1.8 GHz
Display 8.0 Inch IPS 5-Point Multi-touch Screen with 1024×600P Resolution
Sensors: Gravity Sensor, Light Sensor
Input/Output: Microphone, Dual Speakers, 3.5 mm headset jack, Mini HDMI Port, 2.0USBPort, TF Card Port
Battery: 10000mAh, 7.4V
Wi-Fi WIFI 2.4Ghz
Bluetooth 100 Meters
Power Voltage: 12V
Power Consumption: 29.6W
Operating Temperature: -20 to 50℃(-4 to 126℉)
Humidity: <90%
Dimension:(L*W*H): 240*177*30m
Please look at the comparison table between Xtool X100 PAD3 and X100 PAD2 Pro:

Learn more details on Xtool X100 PAD3:
Xtool X100 PAD3 ( X100 PAD Elite ) is a professional tablet key programmer for all makes, also it supplies advanced special functions, OBD2 diagnostic functions etc. Equipped with KC100 key programmer, X100 PAD3 can perform: Key programming, oil service light reset, timing belt service light reset, tire pressure warning light reset, EPB reset, throttle body reset, DPF reset, battery reset, steering angle calibration and OBD-II engine diagnosis, etc.
Xtool X100 PAD3 Pros:
-All aluminum alloy & silicone: Covered with all aluminum alloy and silicone, X100 PAD Elite has more crash-resistant and durable hardware.
-Android Operating System: The Android-based touch screen tablet features powerful Quad core processor
– Multi-color UI
X100 PAD Elite features simple & elegant appearance design, excellent workmanship and multi-color UI, high-definition display is clearly visible even in direct sunlight
Xtool X100 PAD Elite Package list:
Main Units:
Mini B to USB 3.0 Type C Cable
X100 PAD Elite Cable
KC100
EEPROM 2 Adapter
Charger For tablet
Charger US Adapter
Charger EU Adapter
Test Connectors:
OBDII-16
HONDA-3
MAZADA-17R
KIA20
HYUNDAI/KIA-10
DB15 Main Cable
USB3.0 Main Cable (1m)
Accessories:
Certificate of quality
Packing List
User Manual
Tool Case
Carton
Enjoy!