Multi-language wiTech MicroPod 2 V17.04.27 diagnostic and programming interface for Chrysler fits in your shirt pocket and provides 100% CAN coverage for Chrysler, Dodge, Jeep and Fiat.
Language : English, French, Spanish, German, Italian, Russian, Japanese, Korean and Chinese
Top 6 Reasons to Get wiTECH MicroPod 2 Diagnostic Tool:
1. the copy is 1:1 of the genuine, of high quality and good stability, its connector matches the car OBD plug perfectly.
2. With high-quality USB cable which transfer data stably and reliably
3. The package is anti-static, moisture-proof, anti-electromagnetic interference
4. Works with your current wiTECH software
5. No smart cables required
6. No drivers needed
WiTECH MicroPod 2 Diagnostic Tool Basic Info:
1.Works with your current wiTECH software Version: 17.04.27
2.Multi-Languages available: English, French, Spanish, German, Italian, Russian, Japanese, Korean and Chinese
3.PC-Based: Requires PC connection
4.Warranty: It can be returned and replaced for a new one within one year, if non-human damage.
5.Update: you could update when the newest software is released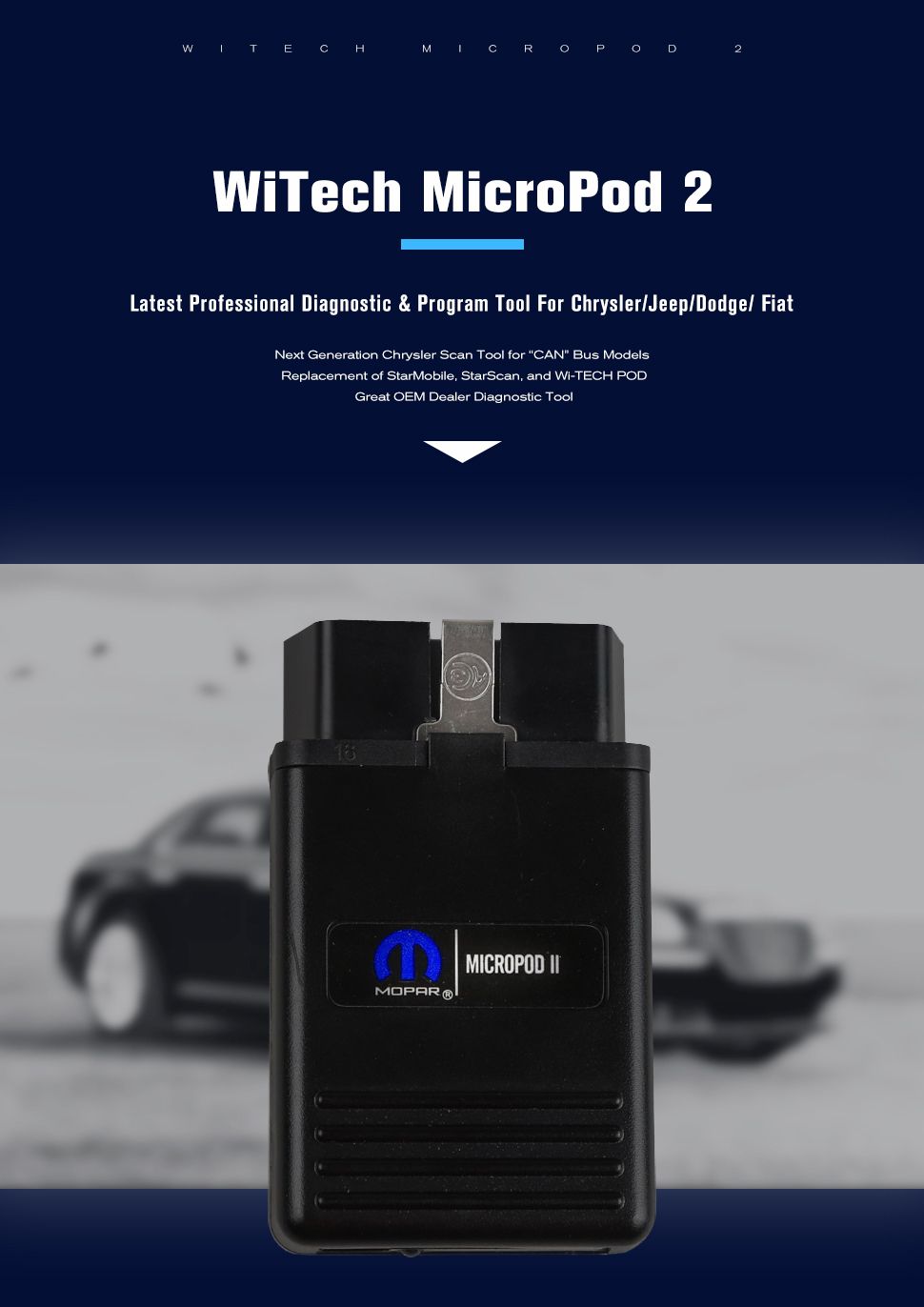 V17.04.27 wiTech MicroPod 2 can work on Chrysler, Dodge and Jeep till year 2020. Here have collected some frequently asked questions from customer and offered the corresponding answers. Hope it's helpful!
Q: Does the scanner MicroPOD II witech 2.0 also read the old Chrysler?
A: No, the Micropod 2 with WiTech 2.0 software will only work on most CAN compliant vehicles 2007 and newer, and some Chryslers back to 2004.For vehicles not covered by WiTech software you will need a DRB III or DRB III emulator.
Q: The communication is not stable when use wiTech MicroPod 2, how to do?
A: Check whether the OBD interface has been connected well or not. Or change another wiring cable.
Q: Which car model and year can be supported by V17.04.27 wiTech MicroPod 2?
A: Chrysler, Dodge and Jeep till year 2017 are supported.
Q: I connect micropod 2 with my laptop, but there is not green light, only flashes red light.
A: Please check whether you connect micropod 2 with your car or not?
Q: Does wiTech MicroPod 2 V17.04.27 support JEEP grand cherokee 2001 year?
A: Yes, it does.
Q: Can MicroPod 2 wiTech support online programming?
A: Yes, it can.
Q: Can wiTech MicroPod 2 V17.04.27 support flash BCM module? Other modules can? If have changed BCM module, can I backup BCM module by the software?
A: Online programming is supported, but cannot backup data.
Q: I want use wiTech MicroPod 2 to do 2002 Dodge Ram. Do I need DRBIII software?
A: If the new software cannot detect your car, you'd better choose old software.
Q: I can't update the ECU without proper access by wiTech MicroPod 2.
A: You need to have an account from original factory so that you can program online.
Q: How to work online micropod2 through witech 17.04.27?
A:
-First you need to get a TechAuthority subscription, directly from TechAuthority or from AEtools (You can order a 3-day subscription).
-Then open the Witech program and when the Micropod 2 is detected click the "Next" button at the right bottom in the screen.
-In the next screen you have to enter your license credentials but the first option is only for dealers: username, password and dealer code.
-To use the TechAuthority account you need to click in the tab "change server" and select "Techauthority", then you only need your username and passsword, not dealer code needed because TechAuthority access is intended for aftermarket or independent workshops.
With TechAuthority access we can use all functions in Witech 17.04.27 for diagnostics, calibrations and programming. We can Update or reprogram the PCM, TCM, TIPM… also we can program a new key or make "Restore vehicle options", "Reset Ecu" and many other calibrations like "Learn ETC", "proxy alignment"…, also we can install a new module and make a full flash or configuration. All of this is only possible for vehicles until 2017, for vehicles from 2018+ we need to use Witech 2.0.
Q: Does wiTech Micropod2 Clone Work on Chrysler 2020 2021?
A:
As titled, Can we dial with Chrysler (Dodge Jeep) 2020 2021 models with the Microod2 China clone wiTECH 1.0 (17.04.27)? Here are some clues. 2018 + FCA cars have new ecu SGW which need to be unlocked online WITECH 2.0 for diagnostic session or need to bypass SGW. wiTECH 1.0 will not be able to dial with 2018+ FCA models.
If you have any problems, don't hesitate to contact us, send email to sale@cnautotool.com. FREE, Professional & Unlimited Technical Support, Factory Price!