Description
*All Systems Scanner+Module expansion Functions: Not only supports all cars' systems such as Engine/SRS/ABS/Gearbox, but also supports ADAS, endoscope, TPMS tool(TS GUN ), X431G anti-theft key matching tool, LAUNCH wifi printer; Equipped with LAUNCH heavy truck module-HDIII, it can measure 24V vehicles!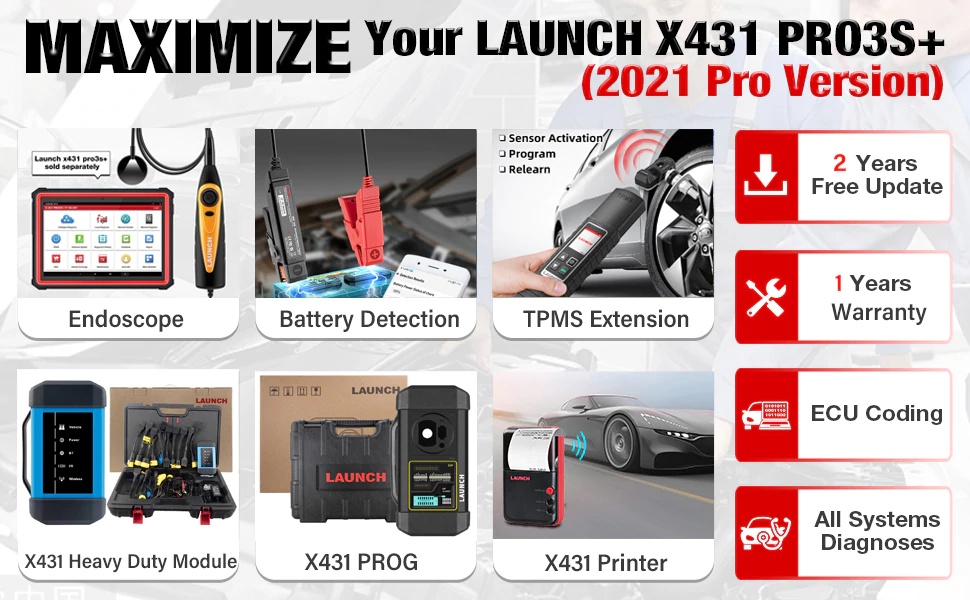 *31 Kinds of Service Reset Functions+ECU Coding(Mercedes-Benz not supported)+Initialization+Matching: It supports various advanced car diagnostic functions (without programming function), and there are many special functions, SAS, BRAKE, GEAR, OIL, IMMO, INJEC, TPMS, BMS, ABS, ETS, PDF, SUS, AFS, SUN, GEARBOX, Windows matching, Seats matching, Transport Mode, GPF regeneration, High voltage battery diagnostic, A/F, Coolant Bleed, NOx Sensor, Stop-Start, Tyre Reset, AdBlue Rest, A/C relearn, Intelligent cruise control, Engine power balance monitoring, Motor angle calibration, Key program.(The last 16 functions need to be purchased to use)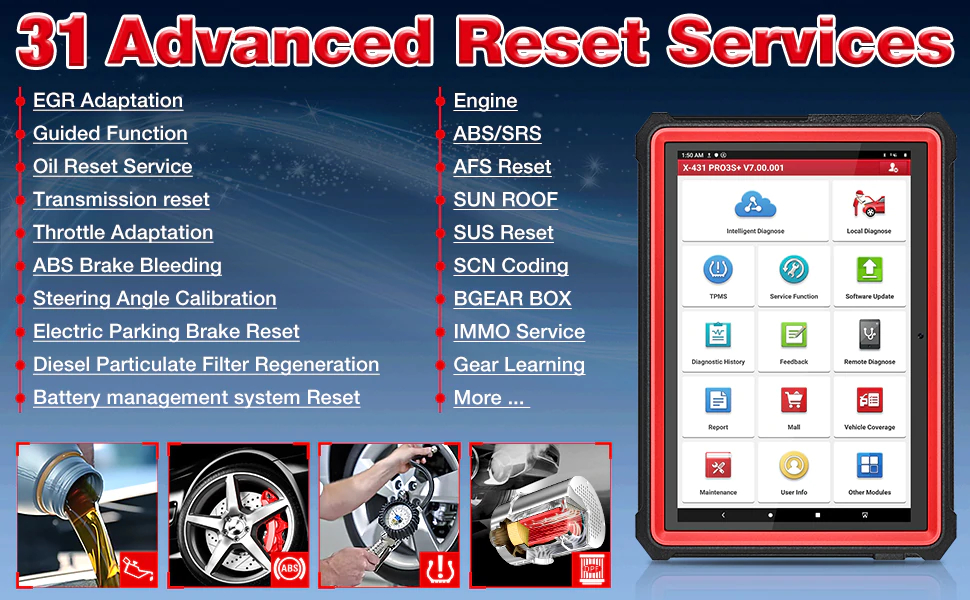 *A Variety of Convenient Operations: LAUNCH X431 PRO3S+ supports one-click automatic VIN detection, one-click WiFi update, and one-click graphics generation. In addition, this LAUNCH scanning tool also supports remote diagnosis, diagnosis feedback and response, real-time data graphics, data stream recording and playback, and generating health reports (sharing and printing). To a large extent, it will bring you a more convenient and comfortable experience.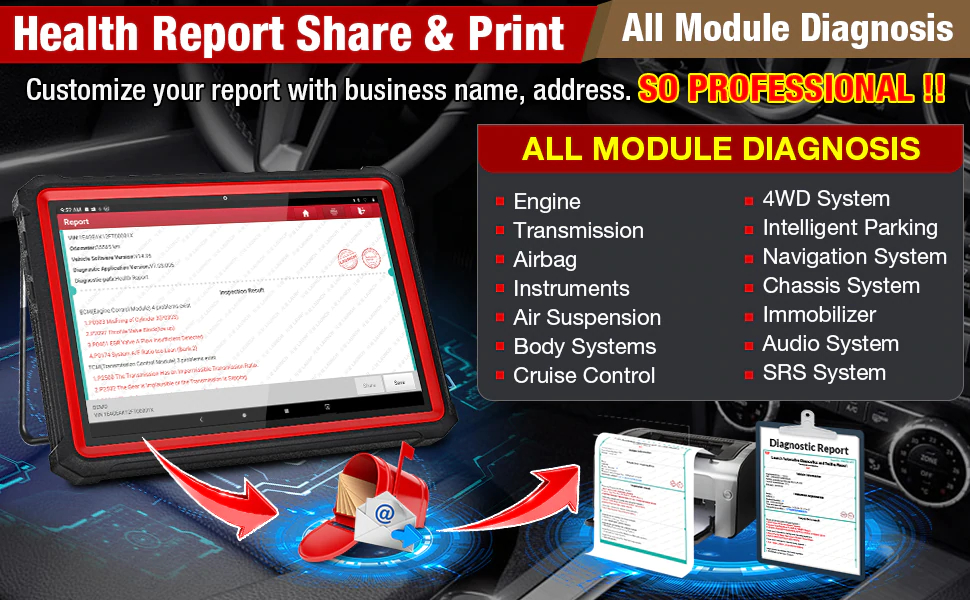 *Best High-quality Hardware: LAUNCH X431 PRO3S+ car scanner, equipped with Android 9.0 operating system, 8-core & 1.8GHZ CPU, 10.1-inch high-definition IPS (1920 * 1200) touch screen, 7000mAh rechargeable battery (battery life up to 12 hours or more), 3 + 32G memory (support 128G extended memory), 2.4GHz/5Ghz wifi, 500W front & 800W rear camera.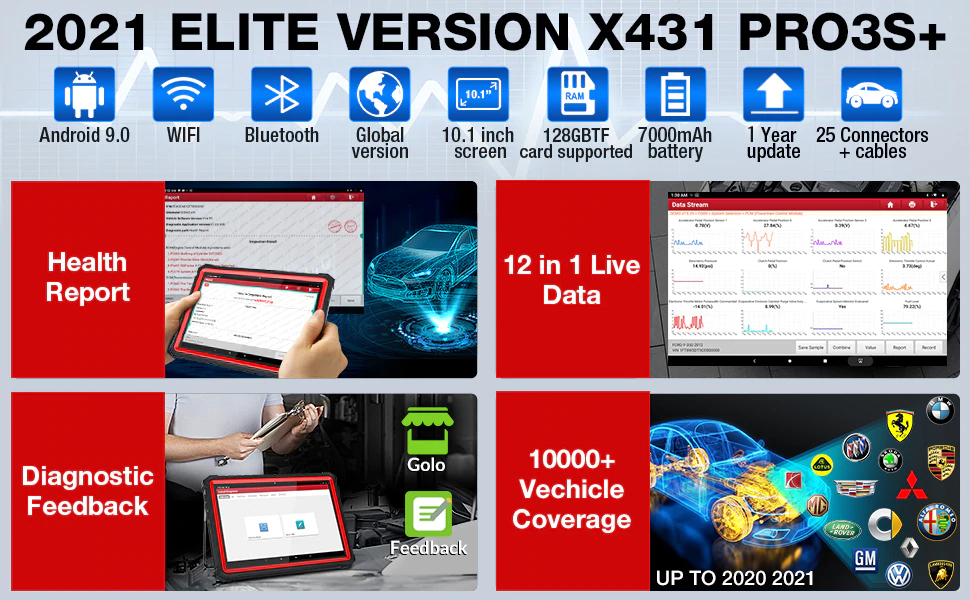 *24 Languages & 134+ Brands Car Coverage: English, French, Spanish, German, Russian, Korean, Japanese, Portuguese, Italian, Polish, Dutch, Hungarian, Finnish, Simplified, Czech, Turkish, Greek, Arabic, Danish Persian, Romanian, Serbian, Swedish, Chinese …Compatible with more than 150 brands models, and the 2020 new car can also be tested.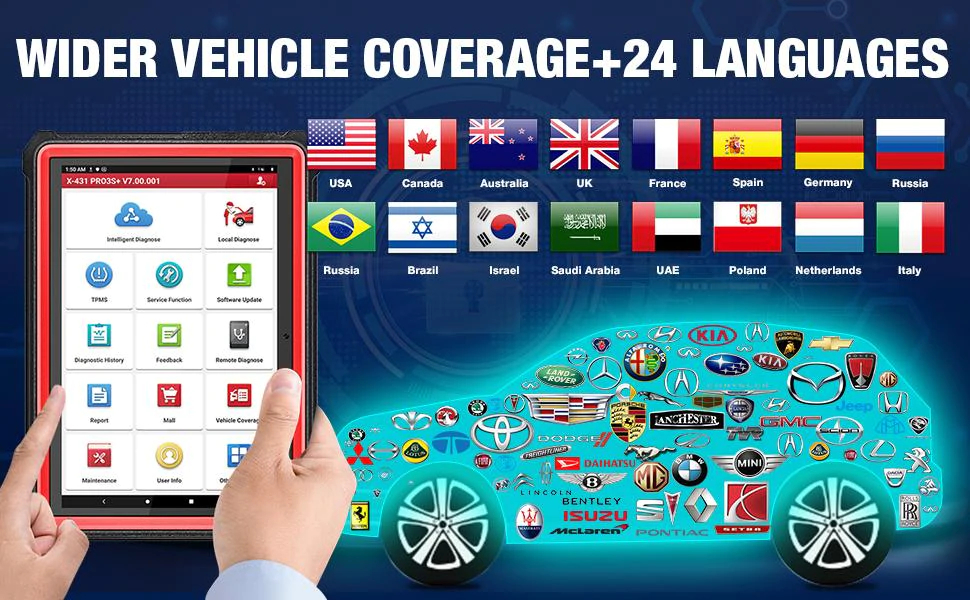 *The Difference Between LAUNCH X431 PRO3S+ and LAUNCH X431 V+: In appearance, the screen of PRO3S+ has bigger and clearer. PRO3S+ has a smaller overall size and lighter weight, and the bracket of PRO3S+ makes storage more convenient. PRO3S+ has more connectors and cheaper prices! The software functions of the two products are the same!
1 Year
2. Update?
2-year free update(Now change to 2 years free upgrade!)
3. The difference between LAUNCH X431 Diagun V, LAUNCH X431 Pro Mini 3.0, LAUNCH X431 V 4.0, LAUNCH X431 PRO3S+, and LAUNCH X431 Pad V
2022 New Added OE-LEVEL Advanced Functions of LAUNCH X431 PRO3S+:
Cylinder Balance test/Cylinder leakage test/Cylinder Pressure variations.
Component Matching: Compatible with Volkswagen/Skoda/Seat/BMW/GM/Ford/Opel/Mazda/Fiat/Honda/Nissan/Hyundai/Kia/Subaru etc.
Online Coding: Compatible with Volkswagen/Audi/Benz/BMW/Seat/Porsche etc.
Online Account Login Service: Compatible with Volkswagen/Audi/Skoda/Seat etc.
Online Calibration: Compatible with Volkswagen/Audi/Skoda/Seat etc.
Online Parameterization: Compatible with Volkswagen/Audi/Skoda/Seat etc.
Anti-theft IMMO Service: Compatible with Volkswagen/Audi/Skoda/Seat etc.
Guided Functions: Compatible with Volkswagen/Audi/Skoda/Seat etc.
Power Balance: Compatible with Chrysler/GM/Ford etc.
Programmable Module Installation: Compatible with Ford/Mazda etc.
Flash Hidden Functions: Compatible with BMW/Porsche/Toyota/Subaru etc.
Key Programming: Add, Delete & Reprogram Keys, Rewrite smart keys, Replace smart key ECU, Replace knob ignition; Reset Key: Relearn a key.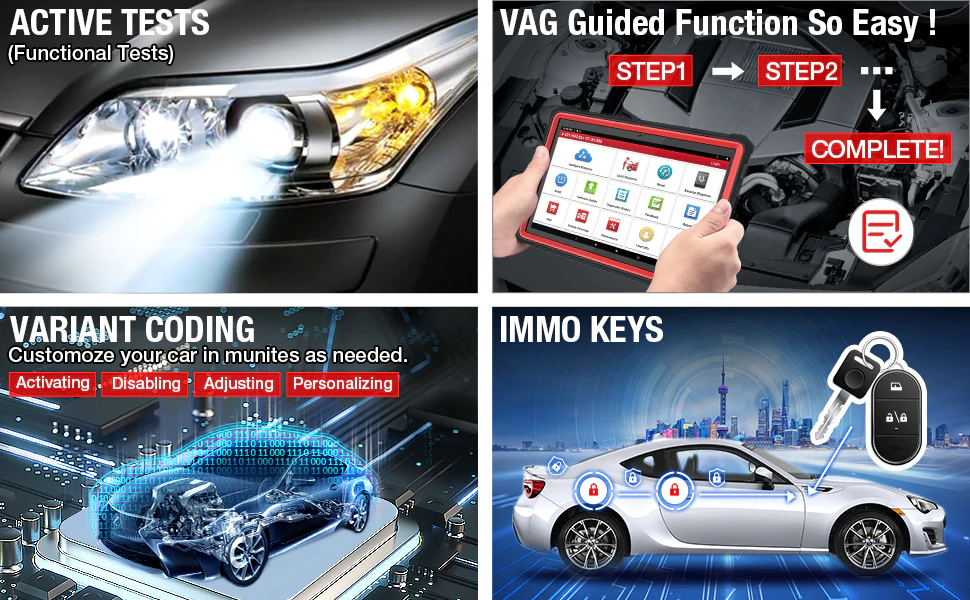 Specifications:
About the Pad:
Operating system: Android 9.0 tablet
CPU: 8 cores
Battery: 7000mh, rechargeable polymer lithium battery
Expansion memory card: 32G (maximum storage 128GB)
Storage capacity: 3G
Liquid crystal display: 10.1 inches
LCD screen resolution: 1920 * 1200
Touch screen: FHD IPS capacitive touch screen
Camera: front 5.OMPcamera + rear 8.OMPcamera
Wi-Fi/Bluetooth: 802.11a/b/g/n/ac  (2.4GHz /5GHz)
Size: 267mmX191mmX33mm (length * width * height)
Working temperature: 0℃~50℃
Storage temperature: -20℃~70℃
About the Connector:
Size: 58×47×24 mm (without plug)
Working voltage: 9V DC–18V DC
Test voltage: DC12V
Typical power consumption: ≤2W
Diagnosis method: Bluetooth
Working temperature: 0 ℃ to 50 ℃
Red indicator light: red when connected to power
Blue indicator light: blue when wireless BlueTooth is working
Package List:
1 * LAUNCH PRO3S+
1 * User Manual
1 * OBDI Power Cord
1 * OBDI Adapter Cable
1 * Packing box
28 * Connector Tool