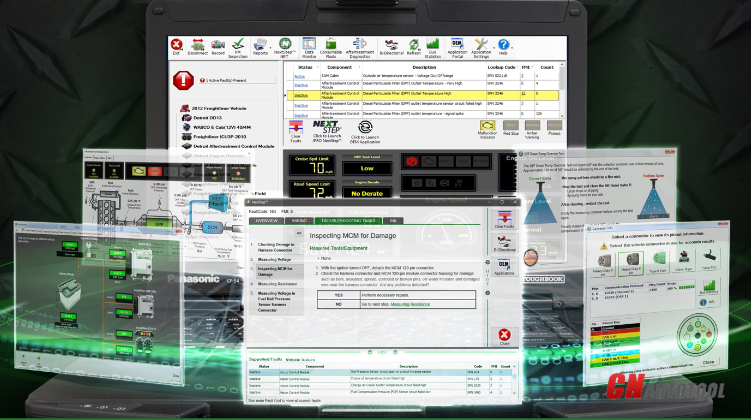 JPRO Professional Diagnostic Tool automatically detects all components on the vehicle, down to the serial number, so you don't have to choose which application is needed to diagnose the vehicle. If you do need additional information from your OEM applications, JPRO will launch the application and/or its associated troubleshooting manuals directly.
A History of Reliability
Noregon's in-shop diagnostic and repair tool, JPRO, has been trusted for more than a decade by the nation's
largest fleets, service centers, military branches, and others who perform maintenance on heavy-duty
vehicles to streamline their repairs and improve technician efficiency.
Throughout each year, Noregon adds features that help technicians solve emerging industry problems. These
additions, which are free to active JPRO subscribers, ensure users have access to the most up-to-date
functionality and coverage required to work on the latest vehicles. Users consistently praise Noregon for
making the best industry solution even better with each update and commonly ask the company "How do you
decide which features to add to JPRO?"
JPRO – Creating a New Feature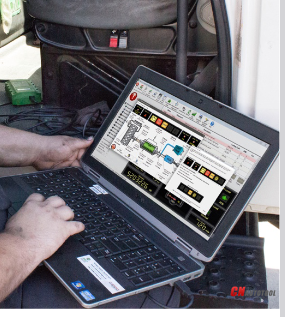 The Implementation Process Noregon chooses and implements features from a variety of methods, including market research and customer feedback, but the root of every decision starts with the same question; "Does this solve an industry problem routinely faced by technicians?" JPRO's product manager, Jason Hedman, explained, "JPRO is a tool designed by technicians, for technicians. As a former mechanic, it's easy for me to connect with the men and women who spend their days repairing vehicles and listen to their pain points so we can come up with solutions to address those issues." JPRO's Repair Mentor feature, which guides users to the optimal diagnostic steps, is an example of a feature created to speed repairs and solve the common difficulties of locating the root cause of issues. However, Repair Mentor was not possible without the groundwork laid throughout JPRO in previous releases, with features such as Power Diagram.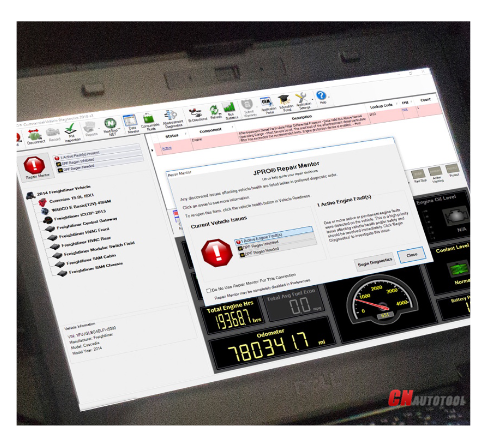 Power Diagram – Solving a Problem
"One day I was at my desk looking at an SAE schematic for battery information and thought to myself 'so few technicians can actually get something out of this,'" explained Hedman. "I realized we had discovered an industry problem that needed a solution to improve the process of troubleshooting wiring and electrical problems, so we started brainstorming ways to visually represent this in JPRO."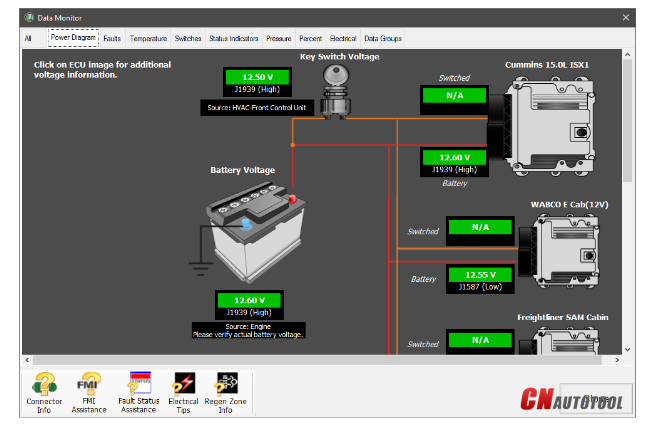 Low voltage on a vehicle subsystem can lead to a whole host of problems, so Hedman wanted to simplify the
issue through a graphical interface on JPRO. "It is essential for a technician to understand where a low voltage
problem initiates. It can be difficult to pinpoint where the problem starts, so we knew it was imperative we help users locate the source. By doing so, technicians can quickly move on to the repair process and get vehicles
back on the road making money."
Customers consistently praise JPRO for its user-friendly, intuitive interface. Hedman and his staff of in-house
ASE certified technicians understand the importance of visually representing a feature in JPRO in a manner the
average technician can easily benefit from. The JPRO team works with Noregon's developers and designers to
ensure the feature works correctly and provides relevant diagnostic information, but also does so in a manner
that is easily digestible and does not slow down the process of getting the truck repaired.
"Trucks are increasingly complex today and require computer-aided diagnostics more than ever before," said
Hedman. "If I can't help visualize a truck system in JPRO Diagnostic Software in a way that simplifies the technician's job and serves
as a clear-cut replacement for a manual process, then I've failed. My job is to improve a tool that gets trucks
repaired faster, with a higher level of accuracy, and the way we visually represent JPRO's vast capabilities has a
lot do with our success."