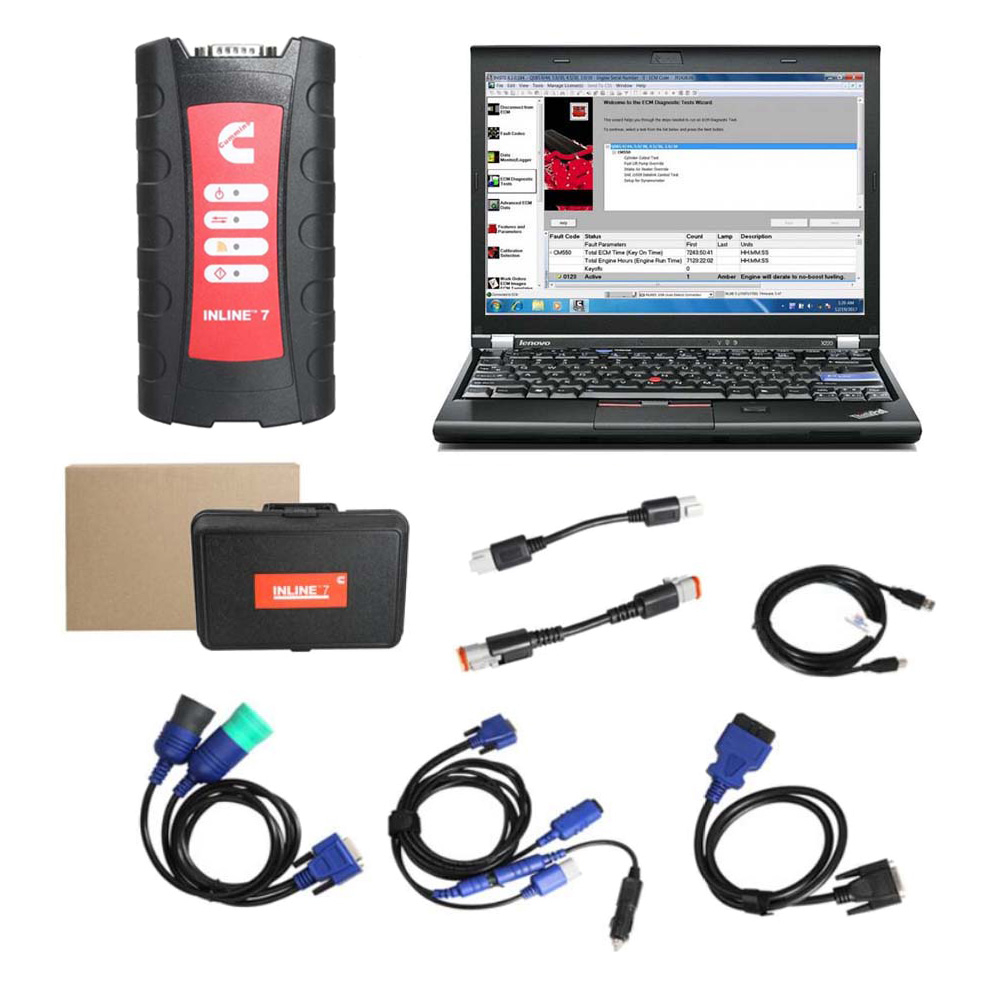 Cummins Inline 7 supports USB, WiFi, and Bluetooth technologies in a single device. INLINE 7 Cummins insite data link that is cummins adapter communicates with your PC and cummins power designed for future capability with mobile products.
The INLINE 7 Data Link Adapter is designed to function with a wide array of adapter, OEM, and third-party service and information tools, including the following:
Cummins INSITE, Cummins Power Spec, Detroit Diesel Diagnostic Link.
CAT Electronic Technician (On-Highway only).
Navistar® -ServiceMaxx Fleet Pro.
Volvo PTT.
VCAD Elite Mack/Volvo.
V-Mac Service Tools.
Allison DOC® For PC Service Tool.
Allison DOC® for Fleets (1000/2000/3000/4000).
Eaton ServiceRanger.
Bendix ACom.
WABCO Toolbox.
Freightliner ServiceLink.
International DLB, Intune, and IPC v2.02.
International ServiceMax, PF-Diagnosis, and many more!
The INLINE 7 cummins power data link adapter communicates with your PC using a Universal Serial Bus (USB)
through a standard USB connector as well as through WiFi or Bluetooth. Cummins Inline7 is fully compliant with the Technology and it also Maintenance Council's RP1210 standard and supports three simultaneous CAN connections and offers baud rates of 250k, 500k, and 1 megabaud. INLINE 7 supports several other protocols such as J1708, J1587, ISO 15765, and ISO 9141 (K and L line).
Cummins Inline7 Industrial-Strength Design.
Cummins INLINE 7 Data Link Adapter also incorporates strain relief secure cables for a robust connection. The rugged carrying case provides extra protection for the most demanding service environments. The main unit also comes with a full one-year warranty against software and hardware malfunction.
Cummins Inline Contents
Everything you need from locking USB cable. 6-Pin, and 9-Pin Deutsch Wye adapter with a security chip, 3-pin Cable, and rugged storage case is included in the complete INLINE 7 kit.
Cummins Inline7 OBD Cable.
It is also compatible with iOS and Android Apps.
It also has Push-button pairing activation.
It also has Automatic CAN data rate detection.
It also supports Protocols : SAE J1939 (250 or 500 Kb/s), CAN (250 or 500 Kb/s), ISO 15765 (500 Kb/s), SAE J1708 (9600 b/s).
Packing List:
1pc x Cummins INLINE 7 Data Link Adapter
1pc x DB26Pln-OBDll Cable
1pc x USB Cable
1pc x DB26/2Pin/3Pin Cable
1pc x DB26/9Pin Data Link Cable
1pc x 3Pin Connector
1pc x 3Pin Connector
1pc x Second Hand Laptop Lenovo X220 Laptop (All software activated. All system ready to use)
Second Hand Laptop Lenovo X220 Laptop Specification :
Brand: Lenovo
Condition: Used
Type: Laptop/Notebook
Screen Size: 12.0
Processor Type: Intel (R) Core(TM) I5-2520M CPU
Processor Speed: 2.50 GHz
Processor Configuration: Dual Core
Memory: 4GB
Compared with other laptop, this one is better quality and run faster.