We share our Consumer reviews of diagnostic scanners and hope to help you the Mercedes-Benz owner who are looking to perform your own MB repairs and diagnostics.
Customer review:
I had myself own a 2009 Mercedes Benz GL 350 CDI X164 model. I have hooked up my newly got MB Star C4 diagnostic system to do self-test on my second-hand Dell 630 win xp laptop. But I chose wrong vehicle X166 model by mistake and the device failed to communicate with my vehicle and computer. Besides, there was no ignition signal detected. But the self-test result shows the car was not being started, but actually, my car was started.
I managed to get the Star C4 device back to work but it just failed to do so. The device put me into a dilemma. I had to turn to help at mbstarshop technical service.
Here is the solution:
Unwrapped the wiring loom to the diagnostic plug in the car. I was told to identify the total 5 wires. Pin 4 and 5 wires are brown wires, Pin 6 is gray with a white stripe, Pin 14 is gray and Pin 16 is red color. That indicates C4 supports CAN BUS protocol.
Please check all the ignition on the device are definitely on, and enter the VIN number by hand. In that case, Star C4 is ready to read the vehicle automatically. It identified a malfunctioning wheel sensor, and I was able to read the transmission oil temperature.
I want to give a little advice to those who already have Compact C4 or ready to get one: Please confirm your vehicle model protocol and select exactly correct vehicle model to avoid such problem.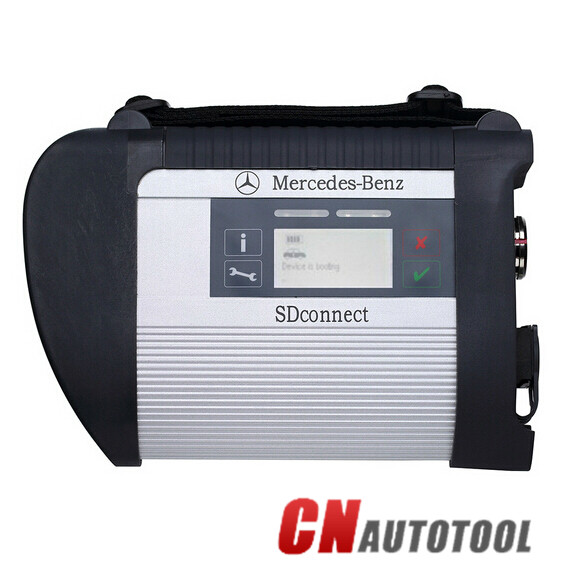 New MB Compact 4 Features
1. New MB SD Connect Compact 4 Star Diagnosis support wireless diagnose;
2. New MB SD Connect Compact 4 Star Diagnosis not only support K line diagnose and CAN BUS,but also UDS diagnose protocol.
Because old MB STAR C4 main board do not have UDS chip, so old MB STAR C4 can not support it;
3. Multiplexer now use Lan cable to connect
4. Connector adopt Military quick swap technology, it can support 10,000 times pull plug, more stable;
5. All core accosseries adopt original new packing chip, and 24hours test, guarantee the quality of the products;
MB SD Connect Compact 4 Supported Vehicle List:
MB SD C4 Support Mercedes Benz Cars After Year 2000
Passenger Car Support List:
A(176), A(169), A(168), B(246), B(245), CLC(117), C(204) C(203), C(202), 190(201), E(212), E(211), E(210), 124(124),
S(222), S(221), S(220), S(140), S(126), E(207), CLK(209), CLK(208),  CLS(218), CLS(219), CL(216), CL(215), CL(140) SLK(172),
SLK(171), SLK(170),SL(231), SL(230), SL(129), SL(107), SLS(197),M(166), M(164), M(163), G(463), G(461), E(212), E(211),
E(210), 124(124), S(222),S(221),S(220), S(140), CLK(209), CLK(208),  CLS(218), CLS(219), CL(216),CL(215), CL(140),
SLK(172), SL(231), SL(230), SL(129), SL(107),SLS(197), M(166), M(164), M(163), G(460), GL(164), GLK(204), R(251)
Van Support List:
MB 100(631),  T1,  SprinterIII,  SprinterII,  SprinterI,  Sprinter900,  Citan,  Vito(639),  Vito(638), V(638),   Viano(639),
T2,  Vario,  Vaneo(414)
Truck Support List:
Actros963/4,  Actros2,3,  AtegoIII,  AtegoII,  AxorII,  Eonic,  Zetros,  Actros,  Atego Light,  Atego Heavey,  HPN M96,  Atron,
HPN M2000,  SKL,  FSK,  Further model series
Unimog Support List:
U20,  UGN,  UHN
Bus Support List:
TRAVEGO,  INTOURO,  INTEGRO,  CITARO,  CAPACITY,  CITO,  TOURISMO,  O350/O403, CONECTO,  O404,  O405-O408,
Minibus,  OC500,  TOURO,  TOURINO,  MBC,  MULITEGO,  O500,  O500/OH,  OH,  OH368,  OF,  OF384,  LO,  O400,
FURTHER MODEL SERIES
Super Sports Car Support List:
SLR(199)