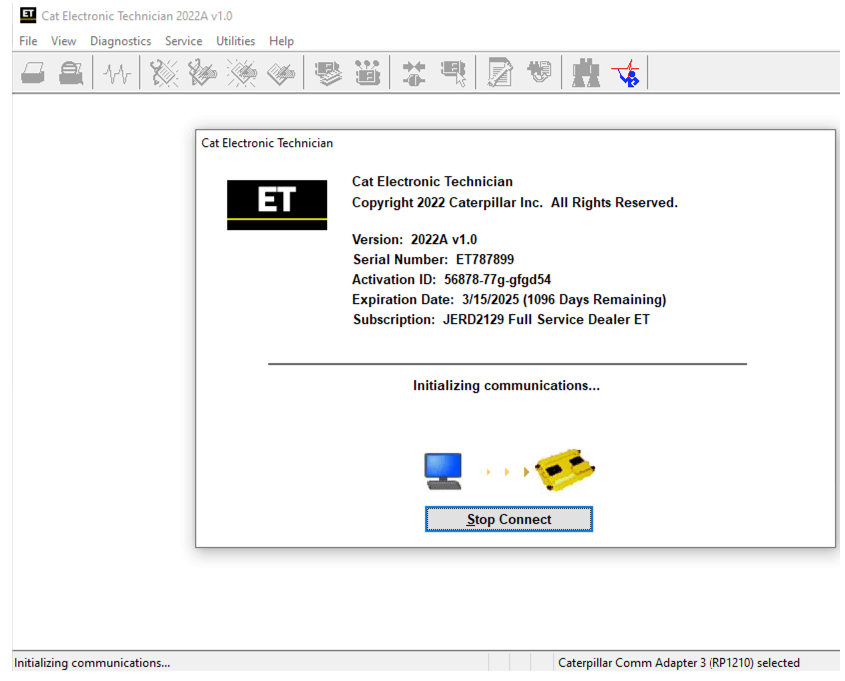 2022A Cat ET software as Cat Caterpillar ET 2018C 2019A 2019C 2021A  2021B Software update version, 2022A Caterpillar Electronic Technician software With CAT ET 3 Cat caterpillar adapter 3 support caterpillar diagnostic till 2022.
Caterpillar ET Electronic Technician Diagnostic Software
Brand: Caterpillar
Type: Catalog
Format: Software
Language: English, Deutsch, Spanish, Italian, German, Chinese, Indonesian, French
Size: 524 MB
OS: Win 10, Win 8, Win 7, Win Vista, Win XP
Region: All regions
This program works Et Cat dealer diagnostic distributor of Caterpillar Communication Adapter
Caterpillar ET 2022A program provides comprehensive information and troubleshooting your CAT machinery.
Among its features it is that CAT Caterpillar ET has the ability to do analysis and testing of all sensors and real-time systems.
And also it allows you to view all error codes of Caterpillar machinery and has integration with Caterpillar sis in this way to see all technical information for how to fix the fault.
Cat ET allows.
. View active and logged diagnostics.
. View events where irregularities occurred and were recorded by the ECM.
. See the status of a group of parameters (temperatures, pressures, etc.) simultaneously.
. Register and log performance data.
. Graph a group of status parameters.
. View the current configuration of an ECM.
. Change ECM configurations.
. Diagnostic testing.
. Calibrations.
. Print reports and diagnostic results.
What's new
Update 2019A Trainer – Wheel Loader
988K XE wheel loader 988K XE has been added to the Trainer application.
Update Communications Adapter 3 (CA3)
The service tool contains a new version of software Adapter Communication 3 (CA3). The new software allows 500 kilobits flash compatible applications.
Changes in testing marine sea
In state function test marine sea, manual input parameters 9xx have been updated. Some numbers have been removed and some existing numbers have new descriptions. New numbers have been added with new number designations 900 for existing engines, including engines based on SCR aftertreatment level 4. The names and content of the configuration files steady state have changed and are based on the Engine cooling system. Feature sea trial now supports fixed speed marine engines.
Updates Product Status Report The Status Report
product has been updated to include certain features compatible with ECM history, as the history of subsequent regeneration treatment and service history test.
Update Winflash screen
display for Winflash function has been updated. A new Expand All button opens all sections of the screen to show all the details of the ECM detected by WinFlash. A new Collapse All button hides all the sections of the screen except the header rows that display the names of ECM detected.