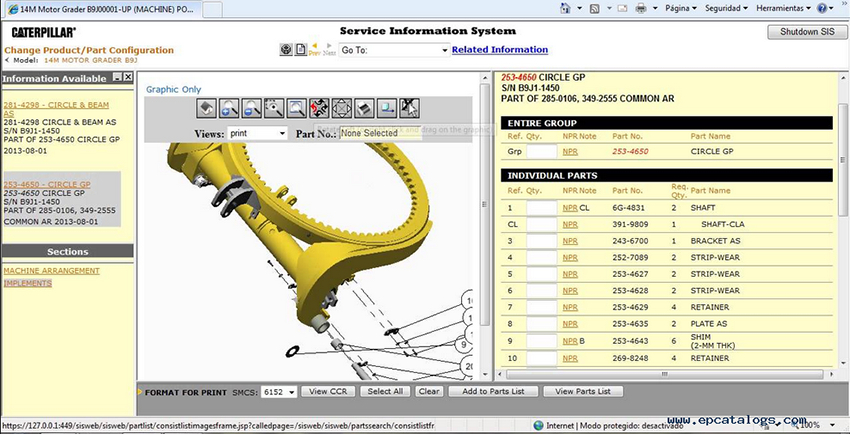 Caterpillar SIS (CAT SIS) 2022 is illustrated as a guide to the maintenance and repair of the full range of cat vehicles, contains guidance on repair equipment and machinery caterpillar, program help diagnose production caterpillar, operating instructions spare parts and equipment caterpillar.
Repair manual caterpillar SIS 2022 is intended for engineers and will be useful to all interested in the given direction.
E-program caterpillar SIS 2022 allows the owner of specialized equipment to quickly and easily find the required information about the machine because it contains a search function references; helps professionals to calibrate equipment caterpillar, diagnose it and troubleshoot equipment to solve any problems.
2022 CAT SIS EPC Installation Requirements
1. Please check that your HDD has enough free space. We recommend at least 400 Gb.
2. The CAT SIS works only under Windows 7/8.1/10/11 operation systems. Mac OS, Linux, Windows 11 Home Version etc are not supported.
3. Internet Explorer 9-11 is the only Supported browser because of the application using the WinDjView image plugin, which works with IE only.
4. The setup process estimated time is 2 hours if the download and extraction of the setup files have been finished.
5. If you don't want to install it yourself, please choose our option 2 : Software would be installed well in a second hand Lenovo T410 Laptop before shipment, you could use it directly after you receive Lenovo T410 Laptop
Brand new release of Caterpillar Service Information database – 2022.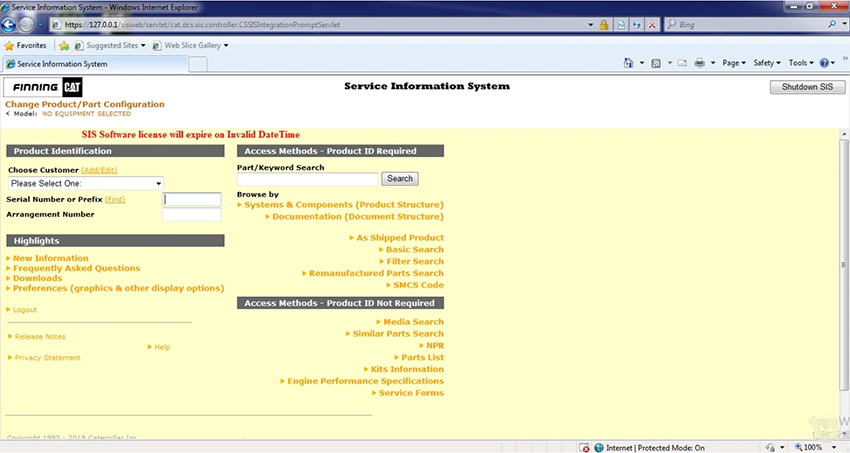 Caterpillar SIS = Service Information System ( part book and shop manual)
One safe source
Oring dimension and material
Exhust dimension
Undercarriage dimension
Bolt dimension
Special tools
SIS has been tested using Microsoft Internet Explorer 7.0/8.0 on these platforms:
Windows XP
Windows Vista
Windows 7.0
Windows 8.0
Windows 10
CNumber of DVDs in library: 16
New products
Families/Models/Prefixes
WHEELED EXCAVATOR, M315D2, CA4
BRUSH CUTTER, BR418 XC, HP4
EXCAVATOR, 340D2 L, JEE
MINI HYD EXCAVATOR, 307E2, KC9
COMPACTOR, CB-36B, M36
EXCAVATOR, 336D2 L, MBP
COMPACTOR, CB-32B, 3H2
WHEELED EXCAVATOR, M322D2, EN2
WHEELED EXCAVATOR, M322D2 MH, EN9
EXCAVATOR, 336D2 L, GJA
EXCAVATOR, 336D2 L, HBH
EXCAVATOR, 336D2 L, JED
PIPELAYER, PL72, P73
COMPACTOR, CC-34B, XC3
GEN SET ENGINE, 3406C, 4ZR
GENERATOR SET, C32, AL6
TRUCK ENGINE, C15, BS9
COMPACTOR, CB-22B, LR2
EXCAVATOR, 349F LXE, RAX
GENERATOR SET, CG137-12, SC2
COMPACTOR, CB-36B, XSB
COMPACTOR, CB-24B, 2X4
COMPACTOR, CB-34B, 3B4
COMPACTOR, CC-24B, C24
WHEELED EXCAVATOR, M314F, F4A
EXCAVATOR, 336D2, FAJ
EXCAVATOR, 336D2 GC, FBT
TRACK-TYPE TRACTOR, D6N, GB6
EXCAVATOR, 336D2 L, HBK
COMPACTOR, CB-32B, J32
EXCAVATOR, 336D2 L, LAH
EXCAVATOR, 349F LXE, SFG
MINI HYD EXCAVATOR, 303E CR, SGE
EXCAVATOR, 330D2 L, SZK
COMPACTOR, CB-34B, XB4
BRUSH CUTTER, BR318 XC, XPB
WHEELED EXCAVATOR, M320D2, EN8
WHEELED EXCAVATOR, M316F, F6N
EXCAVATOR, 352F, XAL
COMPACTOR, CB-34B XW, XWJ
COMPACTOR, CB-22B, 2B2
COMPACTOR, CC-34B, CC3
COMPACTOR, CB-24B, J2T
COMPACTOR, CB-34B XW, JTX
TRACK-TYPE TRACTOR, D6N LGP, MG5
PIPELAYER, PL72, P72
WHEELED EXCAVATOR, M317D2, CA6
MINI HYD EXCAVATOR, 307E2, CE2
WHEELED EXCAVATOR, M324D2 MH, EN3
COMPACTOR, CC-24B, HCB
If you want more CAT Caterpillar ET Diagnostic Adapter 3 tool,please click below link:https://www.cnautotool.com/goods-2485-2017A+Version+CAT+Caterpillar+ET+Diagnostic+Adapter+III.html