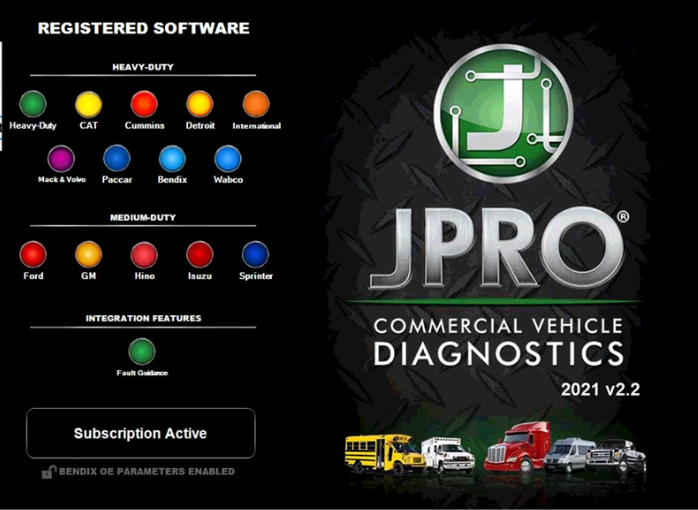 Providing some of the most advanced and thorough diagnostic tools, Noregon is the premier diagnostic and repair company used by the largest garages and fleets of cars today. With JPro you benefit from a detailed insight into every vehicle that you are currently working on. If you want to identify vehicle problems quickly and accurately, JPRO's exceptional capabilities will give you the vehicle solutions you are looking for.
After 26 years of developing advanced vehicle repair solutions, it's easy to see why Noregon is the best heavy-duty software in the industry. The JPRO Professional diagnostic tool is becoming the first choice when it comes to helping technicians and businesses maximize their productivity.
The high-performance JPRO Professional scan tool is incredibly easy to use and will help you spot the problem quickly and efficiently. In this useful guide, we want to dig a deep dive into this advanced tool, reviewing its key features, plus its pros and cons. You can also find the answers to some frequently asked questions there.
Whether you are a large service center or an independent repair shop, if you are considering adding the Noregon JPRO professional to your repair kit, this guide is sure to be helpful. So without further ado, let's take a look at this extraordinary vehicle diagnostic tool.
Noregon JPro Product Overview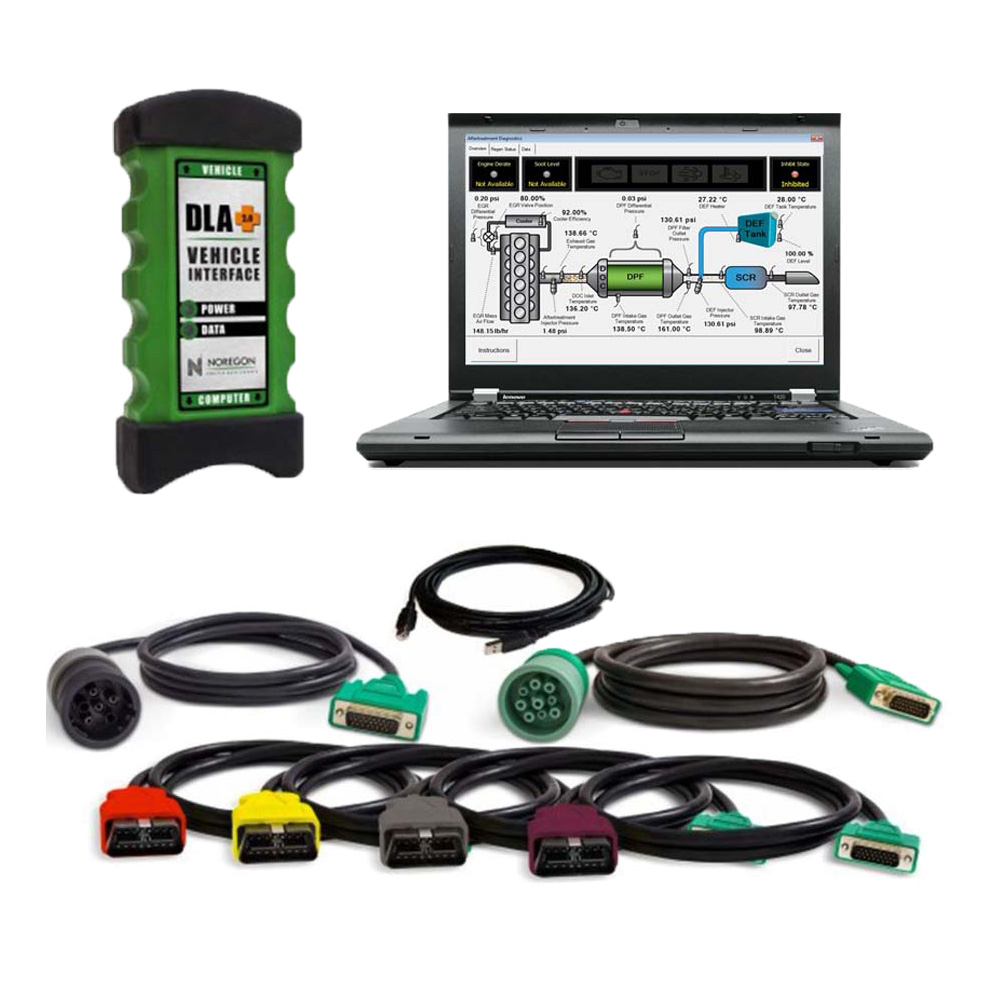 Key Features:
1 – Next Step Fault Guidance Feature
This feature allows users to make a full diagnosis of the truck in under 60 seconds. The diagnostic software requires only one screen and it will offer technicians over 44,000 possible OE level fault codes, and will also give in-depth repair information for a fast vehicle solution.
With an incredibly easy to use interface, the vehicle systems are listed and can be read easily in one place on just one screen. FMI assistance has also been added to help you find, read, and understand all FMI definitions. The functionality was also improved on Cummins and Detroit Diesel engines. Not only that but the heavy-duty emissions fault support was improved.
The NextStep Repair is also an annual subscription feature – add it to your JPRO Professional subscription for the ultimate diagnostics and repairs powerhouse.
2 – Virtual Truck Feature
The Virtual Truck is an incredibly useful feature that allows you to use all of JPRO's advanced features without even pairing to a vehicle. If you have trainees you'll likely find this will be an invaluable feature for them. It would also be ideal for classrooms when connecting to a vehicle isn't feasible. Students will have hands-on practice and knowledge without the inconvenience of visiting an actual service center.
Bi-directional tests can be simulated without the risk of an actual connection. You will also be able to view live data in Data Monitor, experience the guidance of NextStep when diagnosing vehicle health, and lots more. It also allows potential customers to use the diagnostic tool before deciding to purchase it.
3 – TripVision Feature
TripVision is a new feature designed to prevent easily-fixed issues that could become extremely costly. With TripVision, you'll be able to detect errors that will affect fuel consumption, issues with emissions, and many more, helping you to keep your vehicle road-worthy and avoid expensive fines and potential violations.
TripVision will alert you to any faults that could potentially become bigger problems so you avoid time consuming and inconvenient roadside breakdowns and expensive repair bills.
In the trucking industry, it's vital to be prepared for any obstacle that could prevent you from being productive and therefore unprofitable. Thanks to TripVision, you can increase your productivity and decrease any potential repair and maintenance bills.
The diagnostic software helps make sure your equipment is working correctly and safely, making it possible to get trucks back into use quickly, in a more economical manner.
Unfortunately, when a vehicle fails, the repair costs and lack of transport are just two factors that could affect your fleet. The additional expenses can add up as well, from towing costs to mobile breakdown services.
The great news is, breakdowns are not the only issue that this software helps to prevent. It'll also alert you to potential CAS violations, fuel inefficiencies, and issues with emissions.
Noregon has also made the TripVision function available in an app form, from Apple and Google Play stores. This gives managers and technicians lightning-quick access to essential information even if they happen to be away from their PC or laptop, thus increasing productivity and profits.
4 – Repair Mentor Feature
This improved Noregon vehicle health indicator and diagnostic tool prioritizes issues with the vehicle and offers help with the diagnosis and repairs. Repair Mentor shows all of the current issues with the vehicle and offers alerts to the high priority issues.
It also guides the user to start the correct repair process. Repair Mentor guides the operating technician to the correct starting point for the highlighted issue. For example, the DPF Regen screen or NextStep for troubleshooting guidance.
5 – Vehicle Data Acquisition Feature
In order to perform the correct repairs on any truck, it's essential to obtain the right vehicle data and decipher it correctly. Quite often, it's easy to know what information you're looking for, but you do not know how to interpret the right data.
The Noregon Vehicle Data Acquisition service is an unprecedented and expert feature that helps you to interpret data correctly. By choosing the Noregon Vehicle Data Acquisition, your technicians will save time trying to clarify vehicle data, time that can be spent reducing vehicle downtime, and increasing profits.
If you're looking for innovative technology, Noregon is the company you'll want to partner with. They are the go-to brand for vehicle data acquisition, which could revolutionize the way you collect data and manage your fleet or center.
As a business, not only does this feature improve the services and products you provide your customers with, there are many more advantages and benefits to VDAs. You'll be able to provide your customer with accurate data. A lot of vehicles produce at least 1500 data points so it's time-consuming to evaluate these points.
A VDA will enable you to evaluate these data collections easily. Any downtime can be costly to your customers. You can't afford to ignore a potential problem or have a truck sent in for unnecessary services. With accurate and detailed OEM fault descriptions and codes, you'll have perfect knowledge of what is wrong with the vehicle and how to solve it without affecting profits.
Increase the safety and performance of the vehicle by changing the parameters remotely without the hassle of a shop visit. This will also reduce liability and potential violations.
Pros
The industry leader in diagnostic and repair software
Incredibly user friendly
Helps to decrease repair bills and increase your profits by maximizing efficiency
Quickly diagnoses problems and provides vehicle solutions
Heavy-duty diagnostic software is time-saving and cost-effective
Easy for average truck enthusiasts, but sophisticated enough for professional service centers
Easy to read wiring diagrams, vehicle temperatures, and other vital information
Product updates three times a year, free of charge with an active subscription
Provides the option of test driving JPRO software and functions before purchasing
Cons
It is quite pricey
JPro Compatibility
The Heavy Duty Scanner JPRO Professional heavy-duty diagnostic software is compatible with all car models and types. This is great news for professional garages who deal with all manner of different vehicle brands. Not only will it save time, but it'll also allow you to increase your profits by being able to work on many different vehicle makes.
The time-saving benefit comes from the fact that you can scan the car in one go and all of the vehicle data and repair information will be available on one screen, making it easy and convenient. Parameter changes are also possible with this vehicle diagnostic software.
If you're looking to extract reliable repair information and vehicle data, then the JPRO Professional heavy-duty vehicle diagnostic software can do it. Not only that, it's compatible with iOS or Android devices and if you have Windows 8 or later models, you're all set. Using the JPRO Professional diagnostic software, you can also obtain a reading on your phone, for even more convenience.
Functionality
Noregon is the industry leader in vehicle diagnostic tools. The functions are so comprehensive, it's no wonder it's the most trusted scanning tool you can buy. The software has bi-directional controls and is capable of making parameter changes for Volvo and Mack.
The heavy-duty JPRO Professional also performs DPF Regens for Detroit Diesel and Cummins. It also provides OE level fault code information. The easy to use Noregon systems means you get quick fault detection and diagnosis. You'll be able to view and print off files containing LOV reports and vehicle health results.
Save and store the vehicle data even when the truck isn't connected to the software. In a single scan, you can see the entire vehicle stats so a swift diagnosis can be made. The JPRO Professional has powerful software and a DLA 2.0 adapter. On top of that, it has a Panasonic Toughbook for an even more effective diagnosis.
Verdict
What is making the JPRO Professional heavy-duty diagnostic tool stand out is the sheer amount of functions it boasts and how many different uses it has. The functions enable you to read and diagnose problems so quickly and efficiently, it's easy for anyone. The results from the Noregon diagnostic and repair tool are displayed in easy to decipher graphs, meaning you'll be able to read all of the codes easily and make the correct repairs.
If you own a heavy-duty truck or you're a professional mechanic, this advanced and comprehensive piece of software will save you time, money and will give you the vehicle solutions you need to improve your business.
FAQs
How to install the JPro software:
Because JPRO is a software program, you'll need a PC or laptop in order to run it. You'll also need the correct diagnostic cable and an RP1210C compliant adapter. You don't need OEM software as JPRO is a standalone device.
It's clear to see that Noregon JPRO is exceptionally easy to use and the installation is no different. Updating to the latest version of JPRO Professional simply requires that version 5.0 or later is installed on your PC already.
To run your software a Panasonic Toughbook is recommended, however, you can use a modern PC that uses Windows 7, 8 or 10, to run your JPRO software. You can use any RP1210C compliant adapter, but if you want full functioning capacity, you can purchase the Noregon DLA+ 2.0 adapters.
For the initial startup and activation process, you'll need access to the internet. You'll also need internet access if you choose to add on any modules.
What makes JPRO so convenient is the fact that it's an annual subscription. JPRO updates happen three times a year and if you keep your subscription active, these updates are given free of charge.
How to use the JPro software:
Whether you're a complete novice or a professional service center owner, the JPRO Professional is super easy to use. The education portal offers easy access to a library of JPRO specific resources and educational opportunities.
From the education portal landing page, you can navigate to the JPRO certification course, webinar, discover technology tips, view educational videos, and lots more.
As soon as JPRO scans your vehicle, it will display easy to understand wiring diagrams, the vehicle temperatures, battery voltage, switches, and much more. It will read and clear inactive fault codes and will also detect active ones. It'll also perform commanded tests, bi-directional tests, and cylinder cut-out functions.
In one simple and easy to read screen, the JPRO heavy-duty software lets you see your vehicle's overall health in the after-treatment system. You'll be able to clearly see information such as Soot Level and DPF Regen status.
Noregon has made their software incredibly user friendly. You simply connect your heavy-duty vehicle to your PC via a USB cable, to diagnose, reprogramme, or adjust any parameters.
There are six different annual subscription packages to choose from. This allows you to select the package that is most suitable for your fleet so you get a perfectly tailored match.
What can the JPro software be used for?
The JPRO software has a multitude of uses. Whether you're a first time user or an experienced mechanic, you'll find this heavy-duty diagnostic software extremely useful. Use it to quickly and efficiently diagnose your truck's problems so you can get a swift and easy repair.
Trucks that are off the road are not cost-effective, but the efficient Noregon systems mean you get a quick diagnosis which in turn results in a swift repair, so you can get your truck back on the road and back to work.
Simply put, the JPRO diagnostic repair software can help your fleet run smoothly and efficiently. Not only will you benefit from the myriad of technical benefits, but you'll discover that Noregon's products and services are specially engineered to be flexible and versatile.
The competitively comprehensive diagnostic and repair software ensures that you only need to use one system to diagnose different truck brands. Mack, Volvo, and Freightliner are just a few brands you'll be able to work on with ease. The software also works with all the components from engines to brakes and chassis.
Is the Noregon software easy to use?
Simple to use but incredibly effective and comprehensive, the Noregon Software is compatible with all car models, making it the perfect addition to any professional service center. Providing complete and real-time diagnostic solutions, it's specifically designed to give an accurate diagnosis and vehicle information.
It's also fully supplied with bi-directional functions. If you're looking for hassle-free vehicle diagnosis, the Noregon diagnostic software is the way to go. As a heavy-duty truck owner, you'll be able to get to the root cause and fully diagnose your car without leaving your garage.
Another easy and useful benefit to the Noregon software is that it allows you to print out reports and give them to your customers. This enables the customer to see exactly what's wrong with their vehicle and whether they want the problem repaired straight away or not. If you're a service center manager this benefit could be invaluable to your company.
Noregon prides itself on its incredibly fast, user-friendly products. Business life is busy and you'll require software that works with you and can keep up with hectic schedules. Noregon products do just as they say, ensuring that your fleet runs like clockwork, resulting in increased profits and happy customers.
The friendly US-based customer service is always at hand to make sure you have a great shopping experience. If you have any problems or you need advice about a product you've bought, they'll be happy to help. All Noregon products come complete with a warranty for worry-free shopping.