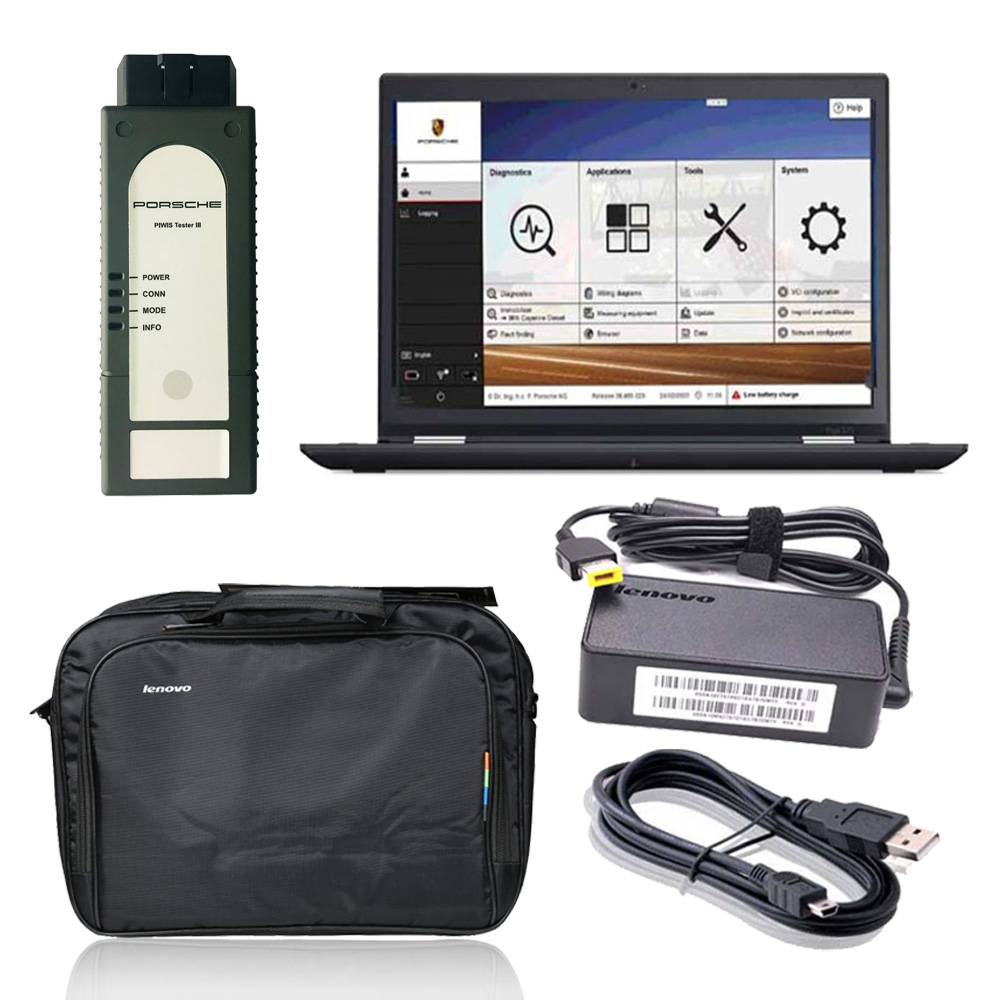 The Porsche PWIS 3 Full System is the latest generation of diagnostic programming systems specifically designed for Porsche vehicles. This advanced tool offers comprehensive support for full series Porsche diagnosis and programming, making it an essential asset for engineers, technicians, and Porsche enthusiasts.
One of the key features of the PWIS III is its offline authorization diagnosis and programming capabilities. This means that users can perform diagnostic and programming tasks without the need for an internet connection. This feature is particularly useful in situations where internet access may be limited or unavailable.
Furthermore, the PWIS III also supports remote system functionality, allowing users to perform online programming and data recovery. This remote accessibility feature enables technicians to diagnose and resolve issues in real-time, even if they are not physically present at the vehicle's location. Additionally, the system provides access to online circuit diagrams, further facilitating efficient troubleshooting and repairs.
The PWIS III scanner utilizes the Porsche Integrated Workshop Information System (PIWIS) technology, which is specifically tailored to diagnose problems in Porsche cars. This latest version, PIWIS 3, builds upon the compatibility and functionality of its predecessor, PIWIS 2, ensuring seamless integration with the latest Porsche models.
Equipped with the latest software version, the PWIS III Diagnostic Tool offers a comprehensive range of control functions to effectively diagnose and address various vehicle systems. From the engine and transmission to the suspension and electronics, the PWIS III provides advanced diagnostics and programming capabilities to ensure optimal performance and reliability.
Moreover, the PWIS III scanner enables users to program and control new modules of electronics and components. It also facilitates calibration and software analysis, allowing technicians to verify the condition and integration of vehicle safety systems. This ensures that Porsche vehicles are operating at their best and in compliance with the highest safety standards.
The PWIS III's user-friendly interface is intuitive and easy to navigate, providing clear graphics and advanced diagnostic features. Leveraging Porsche licensed technology and solutions specifically tailored for Porsche vehicles, the PWIS III offers a seamless and efficient diagnostic experience.
Key features of the Porsche PWIS III include a powerful diagnostics application that enables quick and accurate issue identification, guided fault finding with step-by-step instructions, real-time monitoring of actual values and input signals, drive links/tests function for on-road component testing, maintenance and repair information, coding and programming capabilities, detailed logging for performance tracking, and a comprehensive filter for easy information retrieval. Additionally, the PWIS III provides detailed wiring diagrams, simplifying the identification and diagnosis of wiring issues.
In conclusion, the Porsche PWIS III Full System is a revolutionary diagnostic tool that has transformed vehicle diagnostics for Porsche models. Its advanced features, offline authorization capabilities, and remote accessibility make it an indispensable asset for engineers, technicians, and Porsche enthusiasts. With its intuitive interface and comprehensive functionality, the PWIS III ensures efficient and accurate diagnostics, programming, and repairs for Porsche vehicles.