Cars have become more modern and digital over time. In-vehicle electronics are becoming more versatile, and the entire car appears to be more connected. We need professional diagnostic tools to help us.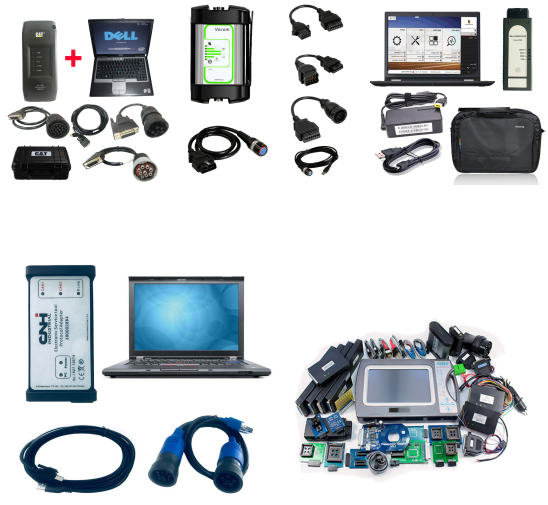 1.The latest generation of Caterpillar Electronic Technician
Cat electronic technician tool – diagnostic scanner interface is a cat group dealer workshop diagnostic tool built to work with Caterpillar heavy vehicles and Caterpillar engines. It is the latest generation of the cat Communication Adapter group and replaces the cat Comm Adapter II & the old 466-6258 and 317-7487 tool number.
Caterpillar Electronic Technician (Cat ET) is a service tool designed to run on a personal computer (PC) under Microsoft Windows. It will communicate with the Electronic Control Modules (ECMs) through a communication data link thus allowing you to diagnose existing and potential problems, configure the product and obtain data for analysis.
With the CAT Diagnostic Tool, you can:
View active and logged diagnostics
View events where irregularities occurred and were logged by the ECM
View the status of a group of parameters (temperatures, pressures, etc.) simultaneously
Record and log performance data
Graph a group of status parameters
View the current configuration of an ECM
Change ECM configurations
Perform diagnostic tests
Perform calibrations
Print reports and diagnostic results
For some machine and engine products, additional functionality has been included with the service tool program
The list of supported CAT machines and engines can be found below:
Engines:
Electric Power
Electric Power Generation
Industrial
Marine Power Systems
Oil and Gas
Machines:
Articulated Trucks
Asphalt Pavers
Backhoe Loaders
Cold Planers
Compactors
Dozers
Drills
Excavators
Feller Bunchers
Forest Machines
Forwarders
Harvesters
Hydraulic Mining Shovels
Knuckleboom Loaders
Material Handlers
Motor Graders
Off-Highway Trucks
Pipelayers
Road Reclaimers
Site Prep Tractors
Skid Steer and Compact Track Loaders
Skidders
Telehandlers
Track Loaders
Underground – Hard Rock
Underground – Longwall
Underground – Room and Pillar
Utility Vehicles
Wheel Dozers
Wheel Excavators
Wheel Loaders
Wheel Tractor-Scrapers
Caterpillar ET 2023A 2019C Electronic Technician Software Free Download:https://www.cnautotool.com/goods-7087-Cat-Caterpillar-ET-2021A-Electronic-Technician-Diagnostic-Software-Free-Activation.html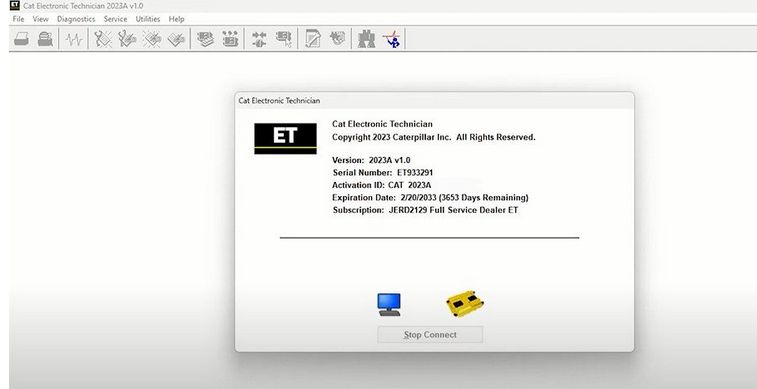 2.Volvo VOCOM diagnostic adapters for VOCOM
Volvo Vocom 88890300 is a truck diagnostic tool for Volvo/Renault/UD/Mack, supports online update, repair and diagnostic process. vocom interface is designed with focus on robustness and durability to withstand the tough workshop environment. This is the most recent adapter from Volvo, and replaces all old adapters including 88890180 and 88890020. this tool offers complete range of diagnostic operation on for V-olvo trucks and other heavy vehicles made since year 2002 with a high speed connection to the ECU. For older for V-olvo heavy vehicles made in year 1998 or earlier all diagnostic operations available on the usual (lower) speed connection to the ECU.
Then, Vocom 88890300 interface has several useful functions and design features. These include a much more durable housing than the for V-olvo Communication Adapter. This increases reliability and longevity. Also, like the previous interface, the for V-olvo 88890300 Vocom supports 802.11 wireless connectivity.
For our Volvo 88890300 Vocom Interface we offer PTT 1.12 Or PTT 2.8.150 software version
For PTT 1.12 you should install software yourself , and for PTT2.8.150 version software we will install software well on hard disk
Vocom 88890300 Interface Powerful Functions
Identify a product.
View information history.
Diagnose a selected product.
Test a selected product.
Program a selected product.
Calibrate a selected product.
3.Piwis 3 For Porsche Which One You Should Have?
Piwis 3 diagnostic tool for Porsche, the third generation of Porsche diagnostic tool. New diagnostic system and an upgrade from the previours piwis 2 system, covers all functions of piwis 2 tester. Piwis 3 tester supports all models in the Porsche range and conducts different operating modes, is much better and covers mode function previous version,supports diagnosis, coding and programming via engineering mode for new Porsche models after 2018 released, definitely grow your business to the new highest level of services.
Why Need Piwis 3 Diagnostic Tool?
The diagnostic tool can significantly reduce the vehile breakdown time, as piwis 3 software has the developer Porsche piwis mode intergrated supports
Comparing with Piwis 2, Why Piwis 3 Is Better?
Unlike the previous modification of the Porsche Piwis 2, the modernized device updates the applicability of the auto scanner by updating the
software and fault codes, and increased productivity; modern user interface; reset service intervals; online programming; demonstration of current data;
Piwis 3 tester displays of freeze frames of malfunctions with parameters at the time of the error; carrying out a set of works on service maintenance of Porsche cars; activation, deactivation of components; the ability to browse technical
documents online; greater work efficiency; integrated troubleshooting system; base for electrical circuits; license auto-renewal.
V42.000.011 + V38.250.000 pre-installed on Lenovo Lenovo Yoga12 I5 8G 5300U Laptop Free Update.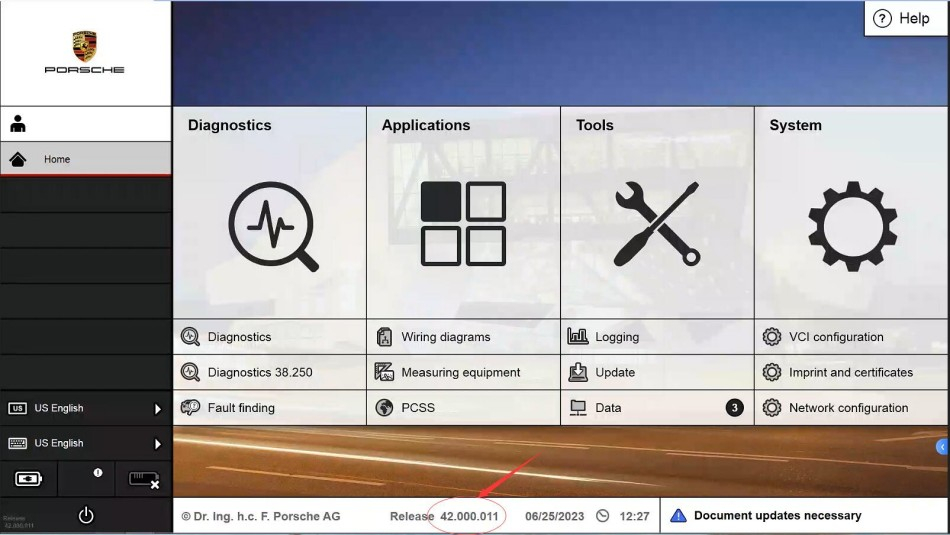 4.Original DSPIII+ DSP3+Odometer Correction Tool Full Package Include All Software And Hardware
DSP3+ Odometer TOOL full package (include all software and hardware)
Free 2022 update with DSP3+ Full version!Adjusting kilometers with DSP3+Popular milage programmerAdvanced device programmerConversion from Miles to KilometersMotorola device programmerEEPROM device programmer
The most advanced odometer adjustment tool for professionals
The most complete version to cover odometer mileage adjustment, airbag reset, some immobilizer programming and radio decoding. No limitation on odometer software! Can be used as stand along device programmer to access any EEPROM and MCU found in automotive industry these days.
Software:
"Full software" includes FULL ODOMETER and some AIRBAG/RADIO/ IMMO coverage using OBD2 and direct programming of EEPROMs and MCUs. For complete coverage advice with "Vehicle List" below.
Hardware:
PDA main unit. Includes the full set of all available adapters: EEPROM, Motorola, NEC, TMS 374, HC711, HC908, 9(S)12 in-circuit, HC705, EWS, NDM457, ST624, TMS 370, CMM, OBD, JC, AVR/PIC, D80/160, Multiplex, C-04, Denso. Includes all connectors and clips: MERCEDES-38 connector, BWM-20 connector, BMW CAS cables, Mercedes cluster cable, FCA chrysler cable, SD card, WiFi adapter, SOIC8 clip, touch-holders (T-01, T-02, T-03, T-04), USB cable, power cables.
Technical reference
Power by ARM 10 TDI and CORTEX ARM cores, speeds up to 600MHZ, 800*480 TFT LCD and touch screen(7.0″.16:9).
Convenient keyset. USB host and USB device. SD card interface. 128MB NandFlash, 128MB SDRAM.
Self-check function integrated in system.
Enhanced OBD functions, including CAN-BUS / J1850 / CCD-BUS / ISO9141 / SPI protocols.
Intuitive operability by full menu and picture guidance. All data can be edited, stored and loaded.
Color connection picture is on the screen whenever you need.
The stored data can be transferred to a PC by USB port or SD card, and also can be transfer to wherever you want
5.2023 New Holland Electronic Service Tools 9.8 9.7 CNH EST Software Free Download
CNH EST diagnostic software will prompt you to update firmware if your CNH DPA5 adapter firmware with old version when you connect it to PC and machine.
New Holland Electronic Service Tool Function List:
Check the status of parameters;
• Retrieve faults;
• Run diagnostic tests;
• Make ECU and parameter programming;
• Monitor active and logged diagnostics;
• View and change ECU configuration;
• View diagnostic procedures and schematics.
• Troubleshoot problems;
• Use assist database;
• Run scope diagnostics;
E.A.S.y – additional engine diagnostic and download tool for connection directly to ECU to perform diagnostic, programming and ECU reload by K-Line protocol.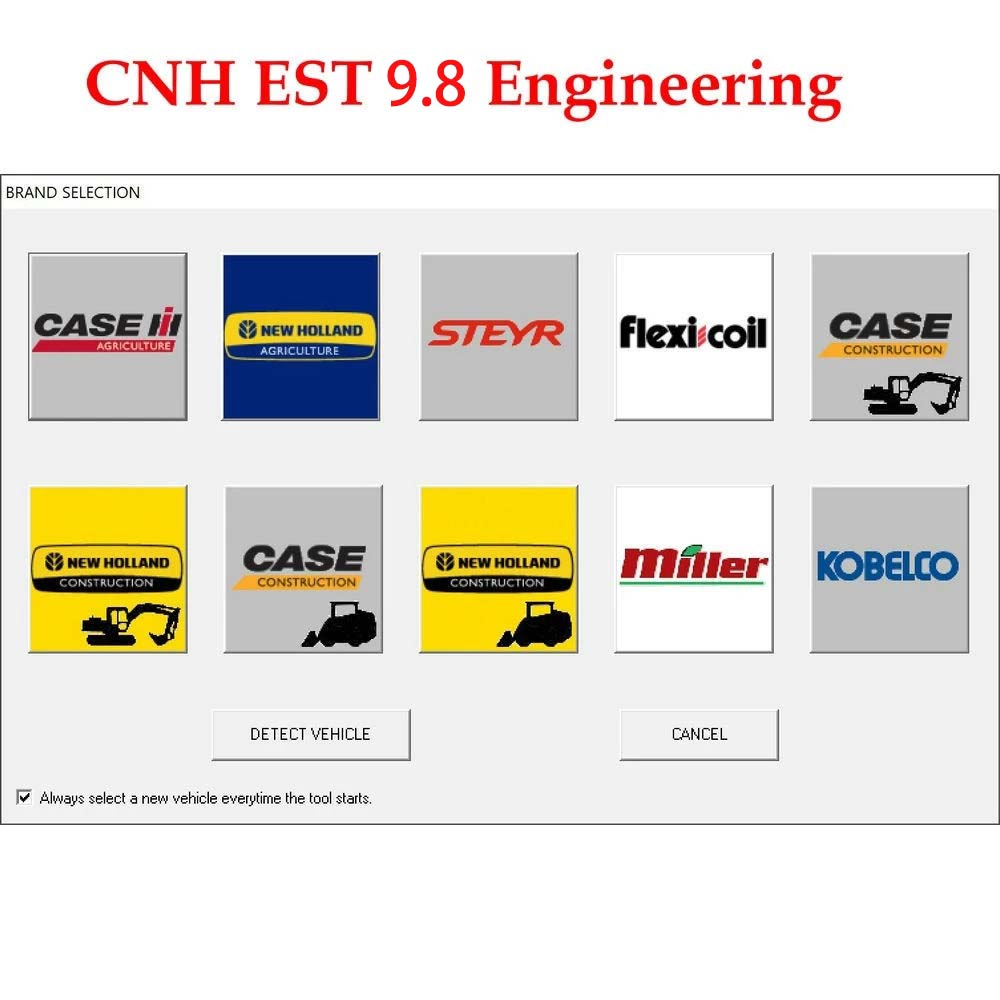 CNH Engine Download Tool operates from within the EST program to perform the following engine download operations:
• Provide Engine Control Unit (ECU) programing update capability;
• Provide blank ECU initialization and programming capability;
• Provide ECU programming reassignment for blank and other ECUs;
• Provide ECU download crash recovery.
The brand new version of New Holland CNH EST works with OS Windows 10 64 bit / 11 64 bit, except Home editions). If you have windows 7/ 8, we can offer you a previous version of CNH EST, as the 9.6/9.7 versions no longer support Windows 7 / 8and in some cases won't even loading.
New Holland Electronic Service Tool Support Languages:
English, Spanish, Italian, Mexican, German, Norwegian, Russian, French
New Holland Electronic Service Tool Supported Brands:
New Holland (Agriculture and Construction);
New Holland FK (Fi at-Kobelco);
New Holland O&K (Orenstein & Koppel);
CASE (Agriculture and Construction);
STEYR;
KOBE-LCO;
Iveco (Astra) (articulated dump trucks only);
Flexi-Coil;
Sumitomo (S.H.I.)