JPRO Professional Diagnostic Tool 2022 V1 Heavy Duty Truck Scanner Noregon JPro DLA+ 2.0 Adapter Kit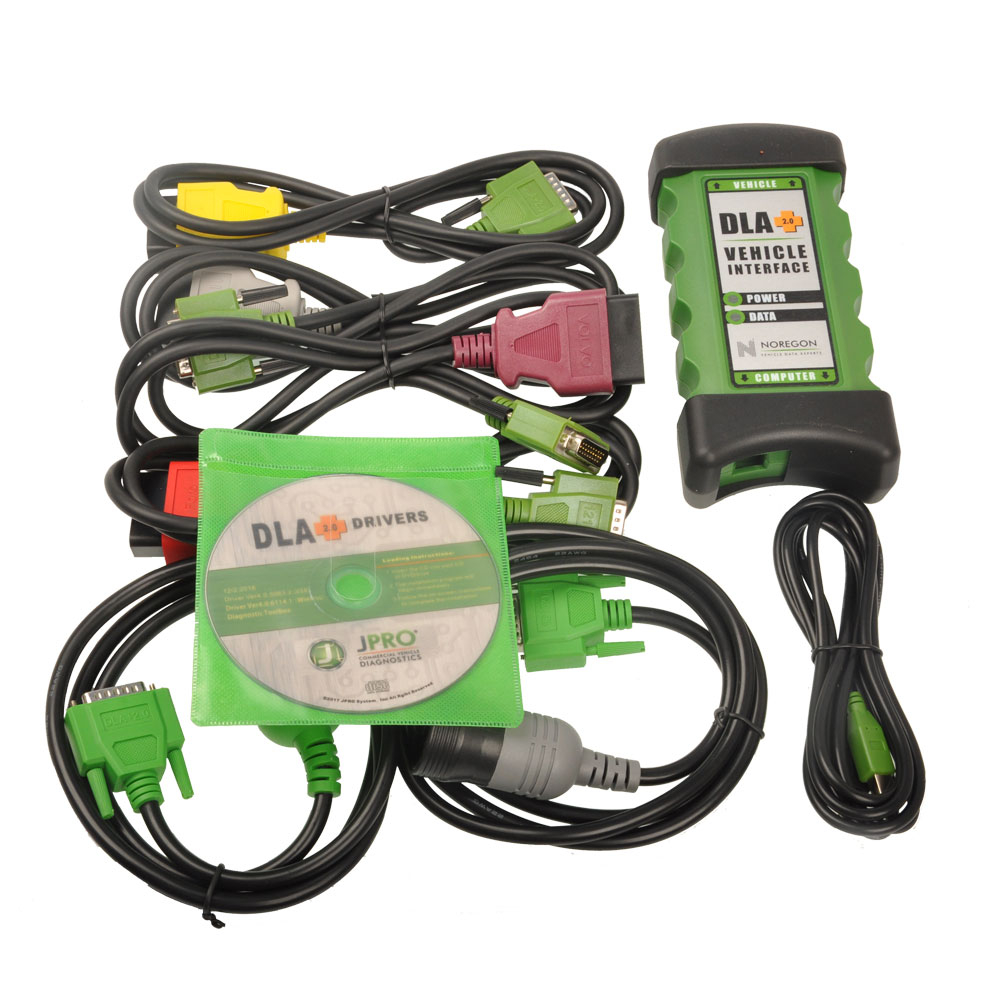 JPRO Professional is the most comprehensive and powerful all makes, all models diagnostic tool available in the industry today. In one, easy annual subscription, JPRO provides a complete & unparalleled diagnostic service & repair solution with bi-directional functionality.
Next Step Service Information module helps speed up repair times by providing users with detailed engine repair information and troubleshooting guides for ABS and Transmissions – with the click of a button.
Noergon's DLA+ 2.0 adapter is a diagnostic communication device designed to interface between a vehicle and PC via USB cable for diagnostic and vehicle information, re-programming or parameter adjustments.
JPRO Diagnostic Software V2.2 Free Download:
JPRO 2022 V1
https://mega.nz/folder/89sXzTYZ#HqAMtn0Xd5w89Qc9P1Z7BQ
JPRO Truck Dignostic Tool Features:
1.Includes Heavy-Duty Modules: Mack, Volvo, Cummins, Detroit Diesel, International & PACCAR
2.Includes Medium-Duty Modules: Ford, GM, Isuzu & Sprinter
3.Bi-Directional Controls – Perform parameter changes (Mack & Volvo), DPF Regens (Mack, Volvo, Cummins, Detroit Diesel, International & PACCAR) & bi-directional tests with proprietary data & faults
4.OE Level Fault Code Information – Display over 99% of Heavy-Duty & Medium-Duty fault codes with detailed OEM level component and trailer descriptions
5.Fault Management – Clears faults and diagnoses all vehicle components in a single, easy to use application
6.Vehicle Reporting – View and print log files, including: Vehicle Health, Trip Reports & LOV Reports
7.Store & Save Data – Record data log files for playback at a later time, even away from the truck
8.Total Vehicle Health Status – See the entire vehicle in one pass on one screen + Up-to-Date – Provides 99% coverage of all heavy-duty truck DTCs through 2022
JPRO Professional Diagnostic Basic Coverage includes the ability to read & clear codes on the following list. You can also view all live data and perform basic diagnostics.
Body and Chassis:
Bluebird, Ford, Freightliner, GM, International, Kenworth, Mack, Peterbilt, Sprinter, Sterling, Thomas Built, Volvo, and Western Star
Engines:
CAT, Cummins, Detroit, Ford, GM, International, Mack, Mercedes, PACCAR MX, Sprinter, Volvo
ABS:
Bendix, Ford, GM, Haldex, Sprinter, Wabash, WABCO
Transmission:
Allison, Detroit, Eaton, Ford, GM, Mack, Sprinter, Volvo, ZF
Notice: our products have one year warranty
Looking forward to your consultation
Whatsapp: +8618437976115
Website: www.cnautotool.com