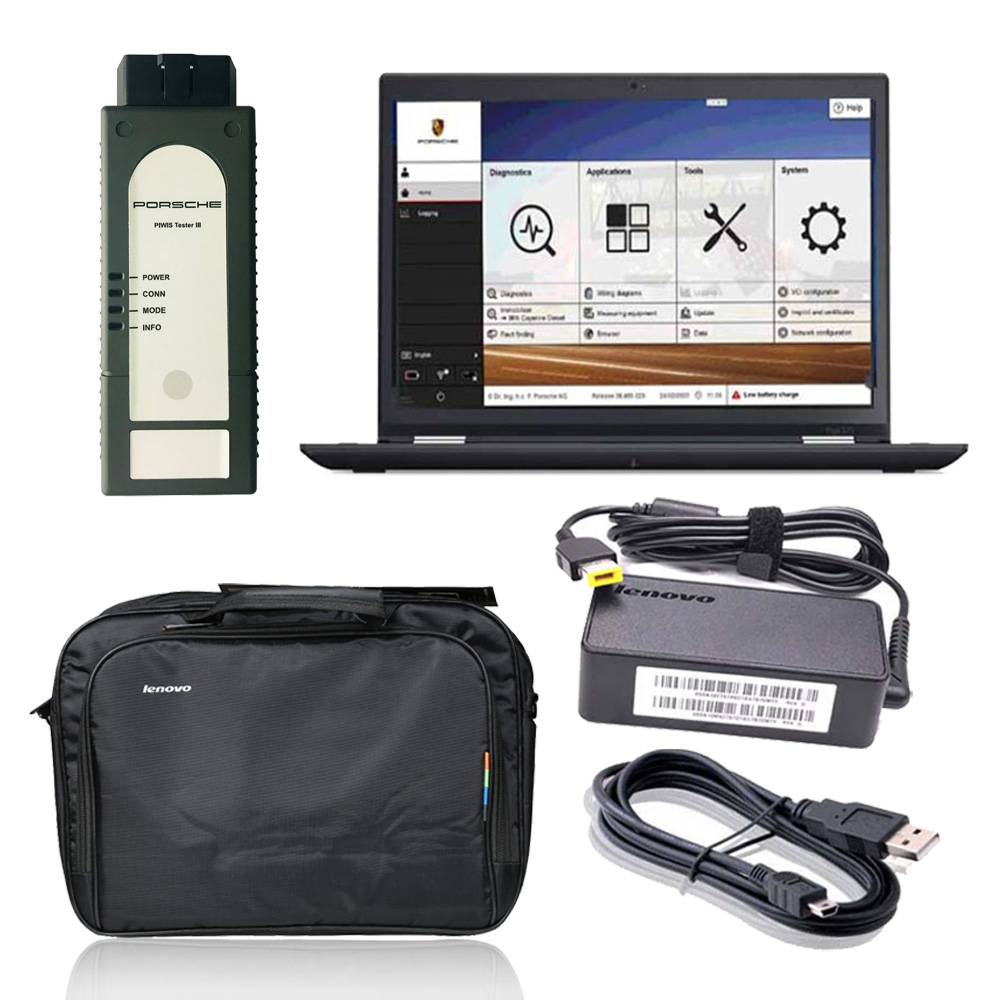 With the help of computer diagnostics of a car, you can get information about the state of all its electronic systems. The principle comprises reading error codes from all units and mechanisms inside the car and their further elimination. The analysis of the car condition takes a minimum of your time, but you will noticeably save on further repairs of more serious car malfunctions. Using Porsche Piwis 3  in the workshop professionals will be able to quickly:
Read and clear DTCs;
Set, change electronic keys;
Program the immobilizer;
Record and then reproduce on any device technical parameters and freeze frames from the electronic control unit and any vehicle sensors;
Carry out diagnostics of executive blocks, assemblies, parts;
Process PCM data stream;
Read information from the log;
Make ECU coding and programming and so on.
The Porsche piwis 3 software program is multilingual. The colorful updated piwis 3 interface contains a full-fledged database for the Porsche cars repair. It supports the latest models: Panamera, Cayenne, Targa, Porsche 911 Carrera, Porsche Macan, Porsche 918 Spyder, Turbo, and more. The software version is V42.100.02 & V38.250.000 with the most complete engineering mode.
V38.250.000 (with Engineering software support offline programming)
V42.100.02 (with Engineering software support online programming,but you should have an online account and certificate)
Porsche Piwis 3 With V42.100.02 + V38.250.000 Software On Lenovo T450 Laptop Ready To Use. Piwis 3 is the third generation of a diagnostic tool developed by Porsche for use in their workshops. It is a specialized piece of equipment that allows Porsche technicians and mechanics to diagnose and troubleshoot issues in Porsche vehicles. The Piwis 3 is an advanced diagnostic system that can cover cars of all years, including the new 2021 Taycan. It provides a range of functions including diagnostics, guided fault finding, actual values/input signals functions, drive links/tests function, maintenance/repairs function group, coding/programming function group, logging, filter, and wiring diagrams application. Overall, the Piwis 3 is a critical tool for any serious Porsche workshop looking to provide high-quality service and repairs to their customers.
Porsche Piwis 3 Tester Coverage
All Porsche from 2005-2023,some porsche from 1996-2005:
Porsche 911:
992
992 Campaign
991
997
996
996 GT2
996 GT3
993
964
Porsche Boxster:
982
981
987
986
Porsche Cayman:
982
981
987
Porsche Cayenne:
9YA
9YA Campaign
92A
9PA
Porsche Panamera:
971
970
Porsche Macan
Porsche 918 Spyder
Porsche Racing Cars:
935
991 GT2 RS Clubsport
982 Cayman GT4 Clubsport
981 Cayman GT4 Clubsport
Miscellaneous:
Carrera GT
GT1
968
944
928